17 Dog Friendly Beaches in Lake Tahoe. All Tips
Dog Friendly Beaches in Lake Tahoe:
Kiva Beach
Nevada Beach
North Beach at Zephyr Cove Resort
Regan Beach
Echo Lakes
Carson Pass / Mokelumne Wilderness
Bijou Community Park
Taylor Creek Trail
Blackwood Canyon
Coon Street Dog Beach
Carnelian West Beach
Skylandia State Park & Beach
Lake Forest Beach
Patton Beach
Hidden Beach
Bonsai Rock
North Tahoe Regional Park
Looking for dog-friendly beaches Lake Tahoe? Look no further! This list includes all the best beaches for your furry friend to enjoy. From North Shore to South Shore, there's a perfect beach for every pup. So pack up the car and hit the road – your pooch is sure to have a paw-some time!
Dog-Friendly Beaches and Outdoor Places South Lake Tahoe
During our stay, we tried to visit each of the South Lake Tahoe dog beaches.
Kiva Beach
Address: 35 Visitor Center Rd, South Lake Tahoe, CA, US, 96150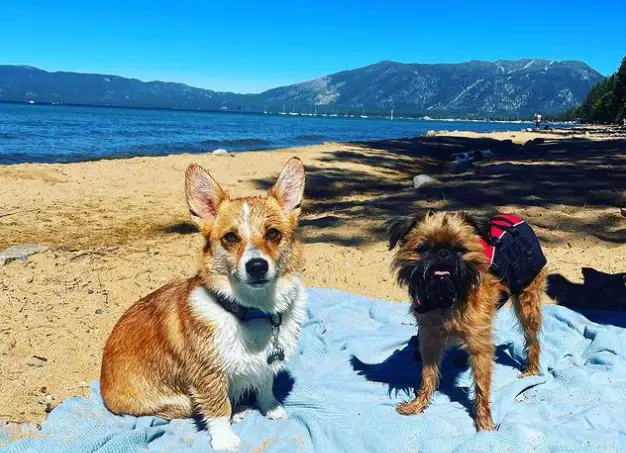 Kiva Beach is a great place to take your dog for a walk, and they are also allowed to swim off-leash in certain areas. Dogs may be taken for walks on leash in the eastern part of Tallac Point (an El Dorado County ordinance). It is important to keep them on a leash in that area to protect the wildlife.
Dogs are not permitted on the federally protected wetlands west of Tallac Point, where the Lake of the Sky trail comes to an end. Unfortunately, dogs are not allowed on the beautiful, sandy Baldwin Beach that is near Kiva Beach on the west side.
Kiva Beach is also free to park at, but there are no bathrooms available. The beach is not usually crowded.
The Kiva Beach and Tallac Historic Site's gate is closed throughout the late fall to early spring period. You'll need to park on the side of the highway and walk in, since the gate is shut.
Nevada Beach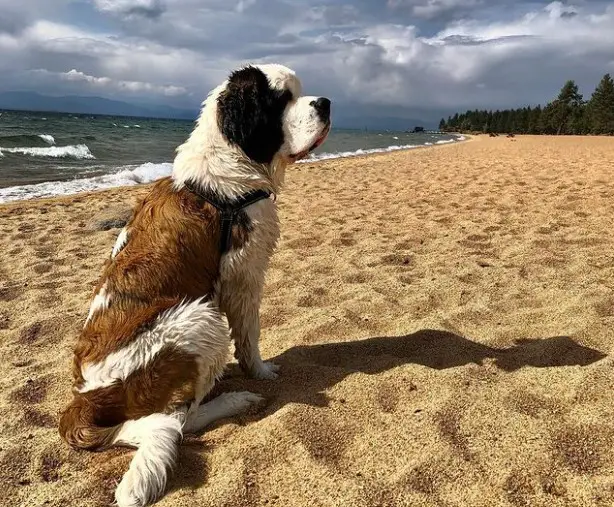 Address: located on the southeast shore of Lake Tahoe, 2 miles north of Stateline, Nevada. It is on Elks Point Road, 1/2 mile west of Roundhill Shopping Center, at Highway 50.
Nevada Beach is a great place to watch the sunset with your pooch, but be aware that the dog-friendly portion of the beach is very small and can get crowded. During the late fall to early spring season, the Nevada Beach campground is closed, so you'll have to park along the street outside the gate and walk to the beach. It's probably about a mile or so one way, although I didn't track the distance when we walked it. Dogs are prohibited on the beach but are allowed on leash in picnic areas. Use a bag to pick up after your pet, and use a leash to protect your pet's privilege to share the beach!
North Beach at Zephyr Cove Resort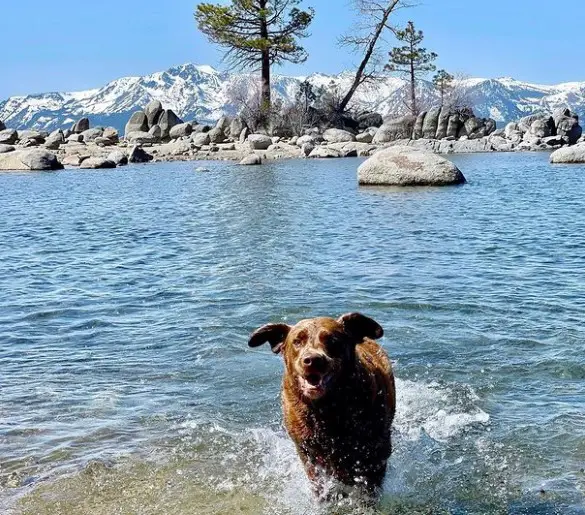 Address: 760 U.S. Hwy 50, Zephyr Cove, NV 89448
Is Zephyr Cove beach Dog Friendly? The beach at Zephyr Cove is a great place to bring your dog, but you should only go to the north of the dock at Zephyr Cove Marina. It's important to pick up after your pet and keep them on a leash. By doing this, you're helping to protect their privilege to be able to enjoy the beach. The sand wasn't too deep when we were there and we only walked a short distance to the rock formation, but it's still one of the best non-rocky beaches on the east side of South Lake Tahoe.
Regan Beach
Address: 3199 Sacramento Ave, South Lake Tahoe, CA, US, 96150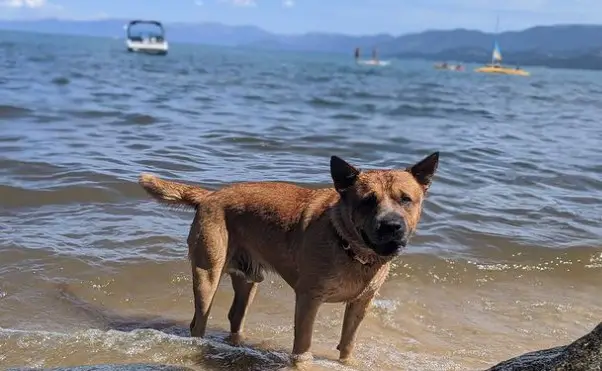 Off-leash dogs are permitted on this beach, but they must be kept under strict voice control at all times. A dog-friendly stretch of sand is available at Regan Beach. Please bring your own bags to pick up after your pet! Your canine companion is only allowed in the dog water park section of the beach near the entrance to the parking lot.
Regan Beach, South Lake Tahoe's oldest beach facility, provides spectacular views of the lake.
Regan Beach is open to the public:
April 1 – April 30 from 7am to 4pm
May 1 – September from 6:30am – 9:30pm (weather permitting)
Echo Lakes
Address: 9900 Echo Lakes Rd, Echo Lake, CA 95721
Echo Lakes is a great place to hike with your family and your dog. The lakes are located in a granite basin, and there are easy hiking paths around them. The Echo Chalet has parking, a restaurant, and a water taxi that takes people and their pets across Lower Echo Lake. Hot Tip: Get to the parking lot early in the morning to find a good spot, or head up there in the evening for a sunset hike.
Carson Pass / Mokelumne Wilderness
Address: Highway 88
The Mokelumne Wilderness and Carson Pass area offer a variety of trails, lakes, and views for families and their dogs. Some trails allow dogs with or without leashes, making it a great place to explore with your furry friend. Be sure to check out the Hope Valley Resort for a dog-friendly place to eat and drink.
Bijou Community Park
Address: 1201 Al Tahoe Blvd, South Lake Tahoe, CA 96150, US
The Bijou Community Park is a great place to take your dog. It has a huge fenced-in area for them to run around and play, plus an agility park with lots of fun obstacles for them to try. There are also pet sanitary stations and water fountains, so you can keep your furry friend healthy and hydrated.
The Bijou Dog Park is also a great place for people to get some exercise, with a basketball court, volleyball courts, and a disc golf course. And if you just want to relax, there's a beautiful meadow where you can sit and enjoy the scenery.
Taylor Creek Trail
Address: Take Emerald Bay Road (89) about 3.5 miles from the intersection of 89/ Hwy 50
This is a beautiful and easy trail to walk with your dog. Off-leash dogs are permitted as long as you keep them under vocal command. If you want to continue around Fallen Leaf Lake, the route will take you there. October is a lovely time to walk this path due to the fact that it's also when the Kokanee salmon migrate upstream. Keep your dog close since bears are attracted to the fish as well. Parking is usually readily available.
Dog-Friendly Beaches and Outdoor Places North Lake Tahoe
Blackwood Canyon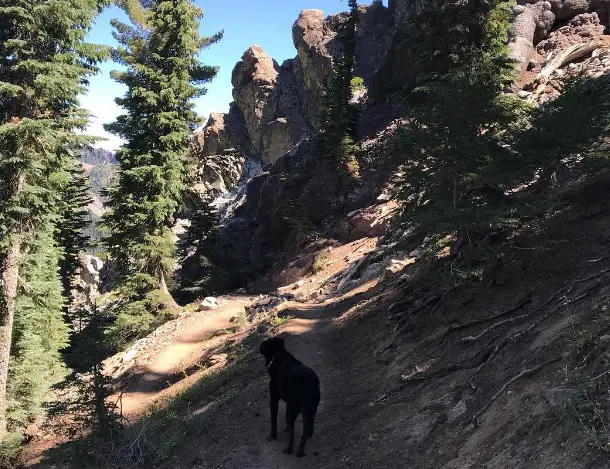 Address: located on the west side of Highway 89, three miles south of Tahoe City in Placer County
The Blackwood Canyon beach is located on the west side of Highway 89, three miles south of Tahoe City in Placer County. It is half way along the west shore of Lake Tahoe, so it can be accessed from the north and south portions of the lake. The beach has a pebbly shoreline. Across the highway from the beach is Blackwood Canyon, the only state managed sno-park on Lake Tahoe's north shore. It is a great place for cross-country skiing, snowshoeing, and dog sledding in winter. The top of the pass provides panoramic views of the canyon.
Coon Street Dog Beach
Address: Coon Street and CA Highway 28, Kings Beach, CA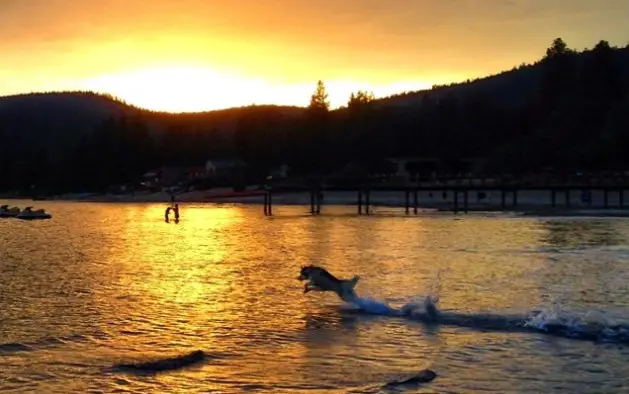 The Coon Street Dog Beach is located in Kings Beach, CA and is only accessible to dogs on the rocky section of the beach south of the boat launch. This beach can be difficult for dogs to walk on because of the rocky terrain. Additionally, there is a $10 parking fee at Kings Beach. However, there is free parking available a short walk away from the beach.
Carnelian West Beach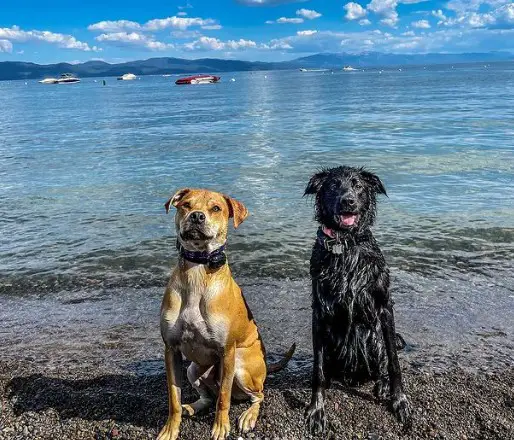 Address: 5074 N Lake Blvd, Carnelian Bay, CA, US, 96140
Carnelian West Beach is a beautiful, wide sandy beach located in Carnelian Bay, CA. The beach is flat and perfect for picnics, sunbathing, and swimming. There are plenty of benches, picnic tables, and barbeques available for use, and the parking is free.
Patton Beach at Waterman's Landing is also nearby and perfect for taking your dog for a walk or run. Leashed dogs are always welcome at Carnelian West Beach, as long as they are cleaned up after. Bags are provided for convenience.
Skylandia State Park & Beach
Address: Lake Forest Rd, Tahoe City, CA 96145
Located in Tahoe City, Skylandia State Park & Beach is a great spot to enjoy stunning views of Lake Tahoe. The park offers two distinct areas- a park with beautiful lake views and a beach area. 
Pets are allowed at the park, but not on the beach. Skylandia Park and Beach is relatively unknown compared to other beaches in the area, so it tends to be less crowded. Dogs are allowed off-leash in the fall and winter months, but must be on a leash at all other times of the year. 
Lake Forest Beach
Address: Corner of Bristlecone and Aqua, Tahoe City, CA, US, 96145
The Lake Forest Beach is a great place to bring your dog for a swim and to enjoy the sun. Dogs are only allowed on the western end of the beach, so be sure to keep them leashed when you're not in the water. There are also picnic tables and barbecue areas nearby, so you can enjoy a meal with a great view of the lake. Keep in mind that the beach is only open during daylight hours.
Patton Beach
Address: 5002 North Lake Blvd
Patton Beach is a beautiful spot located in Carnelian Bay. This beach features stunning views of Lake Tahoe and the surrounding mountains. This place have also several picnic tables and a nature walk for visitors and several great restaurants and a mini golf course nearby for the whole family to enjoy.
The beach allows off-leach dogs and tends to stay fairly uncrowded during the summer months. However, dog owners must clean up after their pets and have them under voice command at all times. 
Hidden Beach
Address: 1713 Tahoe Blvd, Incline Village, NV
Hidden Beach is a lovely stretch of sand on Lake Erie's North Shore, located roughly 1 mile south of Incline Village and just off Hwy 28. With rocky nooks and lots of nearby boulder coast, it's approximately 750 feet long. Limited street parking is available 1 mile north near Incline. It is a non-fee zone, though a daily or annual Nevada State Parks pass is required for all vehicles.
Dogs are generally allowed in most public areas, but there may be some restrictions. Dogs must be on a leash on the beach.
Bonsai Rock
Address: Bonsai Rock, Carson City, NV 89704,US
The Bonsai Rock beach is located in Carson City, NV and is a popular spot for both locals and tourists alike. The beach gets its name from the large granite boulders that are found there, which make it look like a bonsai tree. Although dogs are technically allowed at the beach, getting there can be challenging due to the steep and rocky terrain. However, the view from the top is worth it and your dog will love playing in the water.
North Tahoe Regional Park
Address: 6600 Donner Rd, Tahoe Vista, CA 96148, US
Dogs are allowed on-leash throughout the park, including on the trails. The park's only off-leash areas are the Tahoe Unleashed Dog Park enclosures, which are available during the warmer months. Must be clean up after your pet to make sure everyone else can enjoy themselves.
Tahoe Unleashed Dog Park
Tahoe Unleashed has a one-acre play area for dogs of all sizes called The Outback, as well as two fenced enclosures for tiny and huge pups. In the Fall of 2017, Dog Day in the Park made a $8000 donation to acquire canine agility gear including "up and over" bridges, crawl tubes, adjustable hurdles, and a pause table. All of this equipment is available for use by all Tahoe Unleashed members, free of charge.
When the dog park becomes inaccessible and operational of the enclosure gate(s) is impossible due to snow or ice accumulation, it will be closed for the season. Must be follow all posted signs and keep in mind that your pet should always be cleaned up after.
We'll keep you posted as more and more beaches start to allow your furry friend:
Dog-Friendly Beaches Long Island
Best Dog-Friendly Beaches in Tampa Bay
7 Dog-Friendly Beaches in Monterey, CA
14 Dog-Friendly Beaches in Maine
8 Dog-Friendly Beaches Santa Barbara
Dog-Friendly Beaches in Half Moon Bay, CA
FAQ
Are dogs allowed in lake at Lake Tahoe?
Yes, dogs can go swimming at Lake Tahoe! Yes, there are just a few of dog-friendly beaches in Lake Tahoe, but for most dogs, one a day is enough.
Can dogs go to the beach in Tahoe?
Lake Tahoe has a number of well-known dog-friendly beaches, including: The South Shore's Kiva Beach. On the East Shore, Zephyr Cove Beach ends at the north end. Coon Street Beach on King's Beach on the North Shore is notable for its off-leash area and swimming opportunities.
Are dogs allowed at Lake Tahoe Nevada?
Dogs are welcome at Lake Tahoe Nevada State Park, but they must be kept on a leash when outside your vehicle. There are no pet fees to pay.
Are dogs allowed at Kings Beach Lake Tahoe?
Dogs are not permitted on the beach at Kings Beach SRA all year. Dogs are allowed on a leash in the picnic table areas and along the sidewalks. They are also welcome at Dog Beach, which is located to the east of the Park beyond the boat ramp (rocky area).
Are dogs allowed at Secret Cove?
Pets are permitted at Secret Cove. Leashed dogs are welcome at this recreational area with a breathtaking view of Lake Tahoe.
Conclusion
Overall, dogs are allowed at Lake Tahoe and there are a number of beaches where they can enjoy a walk or swim. If you're looking for a dog-friendly beach in Lake Tahoe, there are plenty of options to choose from. 
Kiva Beach is a great choice for a walk or swim with your furry friend, while Nevada Beach is perfect for watching the sunset. For a more secluded experience, try North Beach at Zephyr Cove Resort. Whichever beach you choose, be sure to clean up after your pet and keep them on a leash.
When you're looking for a great beach to take your dog, but don't know which ones allow them? Look no further than this list:
Dog-Friendly Beaches Rhode Island
Dog-Friendly Beaches In South Carolina
Dog-Friendly Beaches In Alabama
Dog-Friendly Beaches in Georgia
Dog Beaches in Chicago, Illinois
Dog Friendly Destin, FL. All Tips And Guide
Dog-friendly Beaches in Connecticut