Last updated on April 26th, 2023 at 01:23 pm
Dog Friendly Destin, FL. all tips and guide
Dog Friendly Destin: If you need help to decide where to stay, play, or eat with Fido, you've come to the right place.  There are many off-leash parks and dog-friendly activities available in the area. The following is a list of some of the best things to do with your dog in dog friendly Destin, Florida.
The city of Destin, Florida, is regarded as a seaside paradise with lively nightlife and a variety of activities for all ages. The town is known for its rich fishing, difficult golf courses, delectable seafood restaurants, and stunning Gulf views. Parasailing, water sports, dolphin cruises, aquariums, theme parks, and more await visitors in Destin.
Visit One Of the Dog-Friendly Beaches in Destin
Are dogs allowed on the beach in Destin? Sorry, there are no Destin Florida dog-friendly beaches. Only pets that have been registered by their owners and reside in Destin all year can frolic on the beach. The good news is that your leashed pet may accompany you along the asphalt walkway that runs along the beaches of Destin.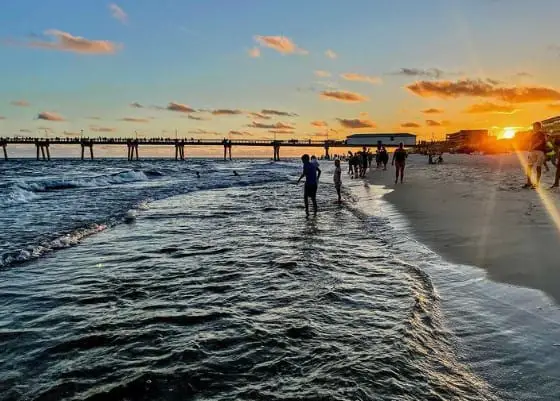 On the beaches east of Pompano Joes in Miramar Beach, you may occasionally see dogs (the beaches west of Pompano Joes in Miramar Beach), but please be aware that this is not allowed and you may be asked to leave. 
The Gulf of Mexico is located to the south and west of Destin, which lies on the Florida Panhandle and has beautiful white sand beaches, emerald green seas, and is known as the "World's Luckiest Fishing Village." Destin, Okaloosa Island, and Fort Walton Beach are all part of Okaloosa County.
Visit One Of the Many Dog Parks in Destin FL
Explore all this beautiful area has to offer. There are numerous dog parks in and around Destin, including the best of this:
Destin Dog Park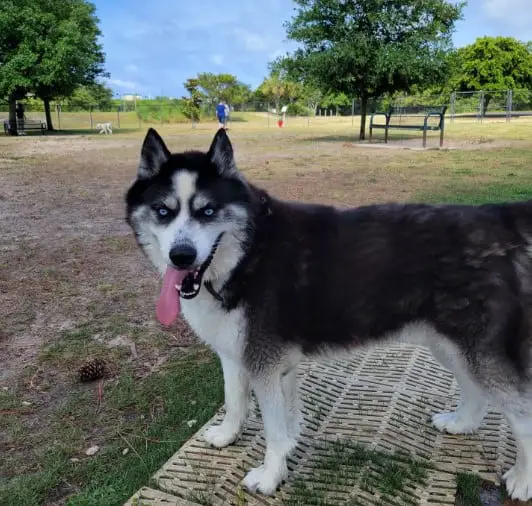 Address: 4100 Indian Bayou Trail Destin, FL 32541
The Destin Bark Park is a great place for dogs to burn off energy, especially after a long day of travel. The Bark Park is located in the gorgeous city of Destin, Florida, and is only a stone's throw from several condos, hotels, and restaurants. One fenced-in space for small dogs (under 35 pounds) is available. The other fenced-in space is for large dogs (over 35 pounds).
The Destin Dog Park features plenty of room to run around, water fountains, park benches, and best of all–unlimited FREE admission! It's no wonder this pup playland is so popular with locals and tourists alike.
Go For a Hike or a Walk With Your Dog in Destin FL
There are many scenic hiking and walking trails in Destin where you can enjoy quality time with your pup. Some of the best include:
Henderson Beach State Park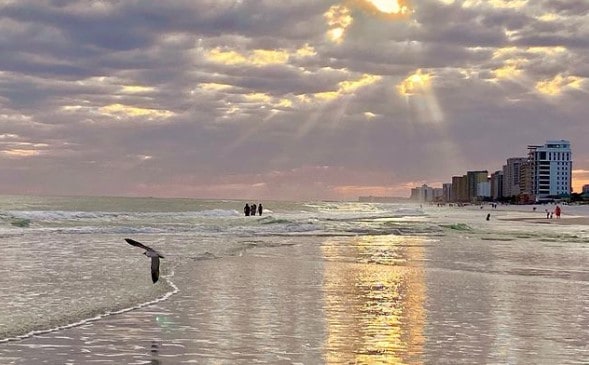 Even though dogs are not permitted on the beach at Henderson State Park, they do have a lovely pet-friendly nature walk. The Henderson State Park Nature Trail is 1 mile long and offers stunning views of the water, natural dunes, and vegetation. Dogs must be kept on a leash at all times, and dog owners must clean up after their pets.
Crystal Beach/Scenic 98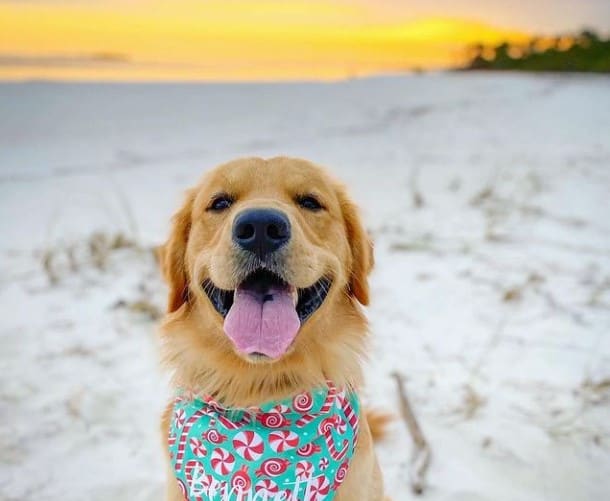 At the Crystal Beach community of Destin, FL, visit for panoramic views of white-sand beaches and modern vacation houses. This region begins at the West end of Scenic Highway 98 in Destin and extends all the way to when Scenic Highway 98 merges with main Highway 98 in the southeast. Parking is simple to come by either on the side of the road or in one of the many designated public parking lots.
Destin Commons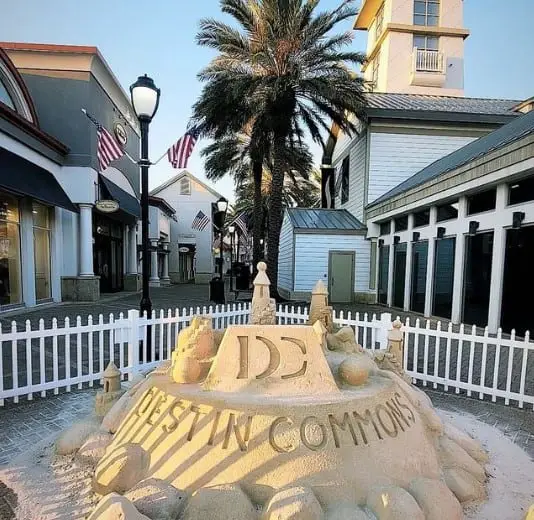 The 3,000-home Destin Commons in Destin, FL, is a vast outdoor mall and entertainment center. At Destin Commons, dog walking is encouraged with courtesy poop scoop bag dispensers along the walkways, and several stores providing water to parched pets. Outside food vendors, children's play structures, and activities ensure you have a good time as well.
Harborwalk Village in the Destin Harbor 
The historic Destin Harbor is one of the most notable features of Destin, Florida. Harbourwalk Village is a recent addition to the historic harbour, incorporating shopping, events, and kid-friendly activities into an already bustling seafood industry in Destin. Your dog will enjoy viewing the sights, noises, and scents of the Harbour, which include fishing boats, charter boats, restaurants, and more.
Holiday Isle 
Holiday Isle is a tiny peninsula in Destin, Florida, across the street from the Target and Winn-Dixie shopping plazas. The beachfront neighborhood is jam-packed with condo complexes and holiday rental homes, making it ideal for dog walking! Lovely houses and structures, lush vegetation, harbor views, and kind vacationers guarantee a pleasant walk for you and your dog.
The Village of Baytowne Wharf
The Village of Baytowne Wharf is a section of Sandestin Golf and Beach Resort in Gulf Shores. It's a nice destination to walk your dog around and admire the bay, marina, and over 20 businesses and restaurants. There is also a live outdoor performance you may sit on the lawn and enjoy during the summer and fall.
The Baytowne Wharf is the site of several of the finest festivals on the Emerald Coast, all of which are pet-friendly. The Taco & Tequila Festival, Gumbo Festival, Sandestin Wine Festival, Baytowne Beer Festival, and Sparkling Wine and Holiday Lights Festival are a few examples.
Grab a Bite to Eat at a Dog-Friendly Restaurant in Destin FL
Destin has no shortage of great restaurants, and many of them are pet-friendly. Pets are welcome at all of Destin's patio or outdoor restaurants! Many eateries in Destin offer outside seating, but a few are particularly popular among local dog owners. Some of the best include:
Hog's Breath Saloon 
The Boathouse Oyster Bar 
Marina Bar and Grill at Sandestin
Harry T's at Harborwalk Village
Boshamps on Destin Harbor
The Boathouse Oyster Bar
Dewey Destin's on Choctawhatchee Bay
Camiles at Crystal Beach
World of Beer at Destin Commons
Take a Boat Ride With Your Dog in Destin FL
Destin is known as the "World's Luckiest Fishing Village," so it's only fitting that you take your dog out for a boat ride. There are many options available, including charter fishing boats, dolphin cruises, and more.
If you want to take your dog for a spin around the harbor and Crab Island, there are several water sports rental firms on the harbor that will allow you to rent a pontoon boat for a half-day or entire day. Blue Crab Water Sports is highly recommended, as not only are the owners wonderful people who do great work for animals in the community (such as fostering, charity events, and volunteer work), but there are also usually adorable dogs present to greet you.
If you don't wish to rent a boat, there is still a solution for taking your dog on a boat trip: take the Destin Water Taxi. The water taxi serves many destinations around town. For only $7 per person, this is an affordable way to include your furry friend in a boat ride. Although keep in mind that during the busiest season, dogs may not always be allowed on board depending on how full the boat is.
Consequently, it is best to inquire about this ahead of time.
Visit the Destin History & Fishing Museum in Destin FL
The Destin History & Fishing Museum is a must-see for any pet lover visiting Destin, Florida. This museum chronicles the history of Destin from its humble beginnings as a tiny fishing village to its current status as a world-renowned tourist destination.
The museum is also home to the largest collection of mounted fish in the world, making it a perfect place to take your pet if they love to look at fish.
Go Fishing With Your Dog in Destin FL
Fishing is a popular activity in Destin, and there are many ways to enjoy it with your dog. You can go deep-sea fishing, pier fishing, or even fly fishing. If you want to take your dog deep-sea fishing, there are many charter companies that will allow you to bring your dog on board.
If you want to go pier fishing, the Destin Harbor Boardwalk has a public pier where you can fish with your dog. Just be sure to have a leash for your dog so they don't run off.
And if you want to try your hand at fly fishing, Dogfish Bay Tackle & Outfitters offers fly fishing lessons and trips where you can take your dog.
Stay at a Pet-Friendly Hotel in Destin FL
There are many great hotels in Destin that welcome pets. But it's a good idea to double-check with the hotel to ensure that your pet is welcome. To keep people traveling without pets from having to stay in a room with a pet, many hotels only have a limited number of rooms that allow dogs. 
If a pet-friendly room is not available, some hotels will allow you to keep your dog in a kennel in your room. Others may require that you leave your dog with a pet-sitter or at a doggy daycare while you're out for the day.
Some of the best dog-friendly hotels and resorts in Destin include:
Inn on Destin Harbor
Village Inn of Destin
Beachside Inn at Crystal Beach
Quality Inn and Suites Miramar Beach
Hampton Inn and Suites in Destin
The Henderson Resort in Destin
Hotel Effie Sandestin
Residence Inn by Marriott at Grand Boulevard
La Quinta Inn and Suites in Miramar Beach
Village Inn near Destin Harbor
Motel 6 near Destin Harbor
Stay at Pet-Friendly Condos and Homes in Destin FL
If you're looking for a pet-friendly house or condo to rent in Destin, FL, the best way to find one is to do a pet-friendly search on VRBO, Air BnB, or your preferred vacation rental site. There are over 200 pet-friendly properties in the Destin area to choose from, with varying policies and fees depending on the owner's rules.
Some of the more pet-friendly condo complexes in the area include:
Sandpiper Cove
Leeward Key
Maravilla
Emerald Shores
Beach Retreat
Sandestin Golf
Beach Resort
Shop at One of the Many Dog-Friendly Stores in Destin FL
Destin is home to many pet-friendly stores, including several dog-specific boutiques. Some of the best include:
The Doggy Bag
Destin Commons
Kitty Hawk Kites
PetSmart Pet Stores and PetSmart.com
Go to the beach (just not in Destin)
At Liza Jackson Dog Park, you and your dog can play in the water. Liza Jackson Park is located just off of Destin in Fort Walton Beach, but it's well worth the drive for all the entertainment your dog will have there. Liza Jackson park has a beachfront of 1000 feet on the bay, a playground, picnic tables, and a large pavilion.
Check out a dog-friendly event
There is a pet friendly Destin event for every breed of dog, from puppy parades to canine costume contests. Weekends are when things happen in Destin, with events taking place all across the Emerald Coast on a regular basis. 
During peak summer months, it's not unusual to find unique community activities happening daily. Pets that are friendly and socialized are typically welcome at most public events.
Some of the great dog-friendly events in Destin include:
Puppy Parades
Canine Costume Contests
Dog surfing competitions
Sled dog racing
Agility courses
Dock jumping competitions
Boarding Options in Destin
If you have a schedule of activities planned that your dog can't join you for, consider an exciting day at Doggy Day Care. The largest doggie day care in our region is What's Up Dog, which has a 2500 square foot indoors play area and a 4,000 square foot outdoor yard where your dogs may run and play with their new friends.
Doggie day care is an excellent option for socializing your pup, and it's a great way to tire them out so they can sleep soundly at night while you're out on the town.
Which dog beaches are the best? This post will tell you all about it:
Dog-Friendly Beaches Long Island
Best Dog-Friendly Beaches in Tampa Bay
7 Dog-Friendly Beaches in Monterey, CA
14 Dog-Friendly Beaches in Maine
8 Dog-Friendly Beaches Santa Barbara
Fines for Dog Owners in Destin, FL
Destin is a dog-friendly city that offers plenty of activities and amenities for dogs and their owners. However, it's important to remember that with ownership comes responsibility. In Destin, there are fines in place for dog owners who fail to follow local regulations and laws.
One of the most common fines in Destin is for dogs that are off-leash in areas where it is not permitted. The fine for this offense is $50 for the first offense and up to $500 for subsequent offenses. Additionally, dogs that are not properly licensed and registered with the city may be subject to a fine of up to $200.
Dog owners who fail to pick up after their pets are also subject to fines in Destin. The city has a strict "pooper scooper" law, which requires owners to clean up after their dogs in public areas. The fine for failing to do so is $50 for the first offense and up to $500 for subsequent offenses.
In some cases, dog owners may face more severe fines if their dog is involved in an incident that causes harm to another person or animal. For example, if a dog bites someone, the owner may be fined up to $500 and may be required to take additional measures to ensure the safety of their dog.
It's important for dog owners in Destin to familiarize themselves with local regulations and laws to avoid fines and ensure the safety of their pets and others. By following these rules and being a responsible owner, you can help make Destin a safe and enjoyable place for dogs and their owners.
While Destin is a great place for dogs and their owners to visit and live, it's important to understand the regulations and laws in place to avoid any fines. Remember to keep your dog on a leash, pick up after them, and take responsibility for their actions to ensure a safe and enjoyable environment for everyone.
FAQ
What are some of the best dog-friendly beaches in Destin, FL?

Destin is home to some of the most beautiful beaches in the world, and fortunately, several of them are dog-friendly. Some popular dog-friendly beaches include the Destin Dog Beach, Crystal Beach, and Henderson Beach State Park. However, it's important to check local regulations and leash laws before heading to the beach with your dog.
Are there any dog-friendly restaurants in Destin, FL?

Yes, Destin has many pet-friendly dining options that cater to both you and your furry friend. Some of the most popular dog-friendly restaurants include The Back Porch, Dewey Destin's Seafood and Restaurant, and Lulu's Destin. Many of these restaurants have outdoor seating areas where you can dine with your dog.
Are there any dog parks in Destin, FL?

Yes, there are several dog parks in Destin where your dog can run, play and socialize with other dogs. The Destin Dog Park, located on Commons Drive, is a popular spot for locals and tourists alike. Other dog parks in the area include the Niceville Dog Park and the Fort Walton Beach Dog Park.
Can I bring my dog on a boat tour in Destin, FL?

Yes, there are several boat tours in Destin that allow dogs on board. Some of the most popular options include the Sea Blaster Dolphin Cruise and the SunVenture I Catamaran. However, it's important to check with the tour company beforehand to ensure that your dog meets their guidelines and requirements.
Are there any dog-friendly accommodations in Destin, FL?

Yes, there are many pet-friendly accommodations in Destin that welcome dogs of all sizes. From hotels and resorts to vacation rentals and campgrounds, there are plenty of options to choose from. Some popular pet-friendly accommodations include the Hilton Sandestin Beach Golf Resort & Spa, the Candlewood Suites Destin-Sandestin, and the Henderson Park Inn.
Are there any dog-friendly hiking trails in Destin, FL?

While Destin is not known for its hiking trails, there are some scenic trails in the surrounding areas that allow dogs. The Timpoochee Trail, which stretches for 19 miles along the coast, is a popular spot for dog owners. Other nearby hiking trails include the Point Washington State Forest and the Eglin Reservation.
What are some dog-friendly activities in Destin, FL?

Destin offers a variety of dog-friendly activities for you and your furry friend to enjoy. Some popular options include renting a paddleboard or kayak, taking a dog-friendly sunset cruise, or going on a hike. Additionally, there are several dog-friendly events that take place throughout the year, such as the annual Mutt Strut and Doggie Easter Egg Hunt.
Are there any dog-friendly beaches that allow off-leash dogs?

While most of the dog-friendly beaches in Destin require dogs to be on a leash, there are a few exceptions. The Destin Dog Beach, for example, allows dogs to run and play off-leash in designated areas. However, it's important to always keep an eye on your dog and make sure they are under control.
What are some pet stores in Destin, FL that offer dog-friendly products?

Destin has several pet stores that offer a wide variety of dog-friendly products, from food and toys to clothing and accessories. Some popular pet stores include PetSmart, Hollywood Feed, and Pet Supermarket. Additionally, there are several boutique pet stores in the area that specialize in unique and locally-made products.
What are the requirements for traveling to Destin, FL with my dog?

If you are traveling to Destin, FL with your dog, there are a few requirements you should be aware of. Your dog should be up-to-date on all of their vaccinations and have a current rabies certificate. Additionally, some airlines and hotels may require additional documentation, such as a health certificate or proof of flea and tick prevention. It's always a good idea to check with your airline and accommodations beforehand to ensure that you have all the necessary documentation.
Conclusion. Things to Do With your Dog in Destin
In Destin, there are plenty of things to do with your dog. From visiting one of the many dog-friendly parks and trails to spending a day at the fishing, you and your pup are sure to find plenty of fun activities to enjoy together. So what are you waiting for? Get out there and explore all that Destin has to offer with your furry friend by your side.
If you're looking for a beach that allows dogs, the answer might surprise and delight you:
Dog-Friendly Beaches in Half Moon Bay, CA
Dog-Friendly Beaches in Massachusetts
Dog-Friendly Beaches Rhode Island
Dog-Friendly Beaches In South Carolina
Dog-Friendly Beaches In Alabama
Dog-Friendly Beaches in Georgia