Dog-Friendly Beaches Rhode Island
8 Best Dog-Friendly Beaches Rhode Island:
Compass Rose Beach
Sachuest/Second Beach
Napatree Point Conservation Area Beach
Block Island Beaches
Mohegan Bluff Beach
Camp Cronin Fishing Area
Blue Beach
Narragansett Town Beach
There are many beaches in Rhode Island that are perfect for spending time with your dog. These beaches have certain restrictions and limitations, such as times when dogs are allowed and whether or not leashes are required. However, these beaches are still great places to enjoy the outdoors with your furry friend.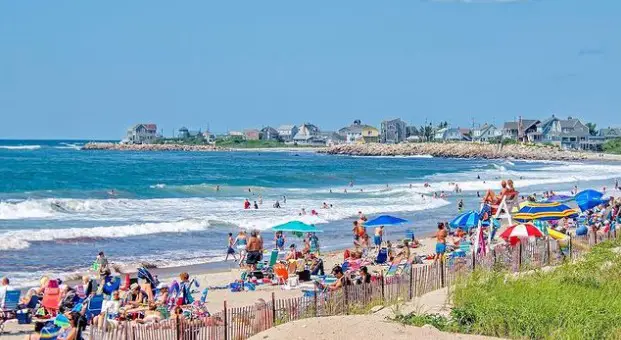 Rhode Island is a beautiful state with many different beaches to explore, so be sure to check out some of the best dog-friendly beaches next time you're in the area.
Best Dog-Friendly Beaches in RI
Whether you are going to Newport or Narragansett, there are several dog-friendly beaches in Rhode Island. This article will teach you about the best dog-friendly beaches in Rhode Island where you may spend quality time with your pet. Making special memories is also a benefit of this.
Compass Rose Beach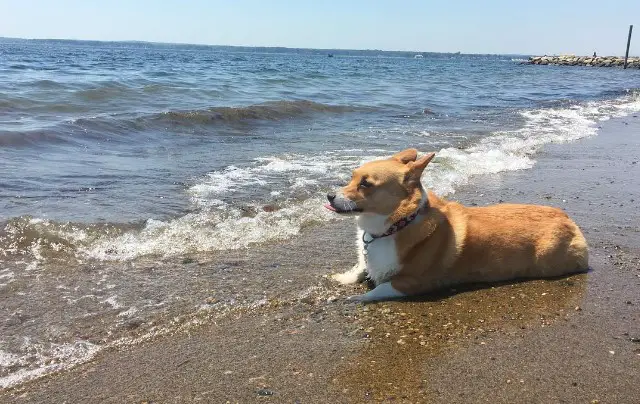 Address: 1542-1598 Roger Williams Way, North Kingstown, Rhode Island 02852
Leash Policy: On-Leash
Parking Fee: Absolutely Free
Timings: Open throughout the year
The lovely beach of Compass Rose allows dogs on a leash. The nearby settlement of Kingstown offers a variety of pet-friendly holiday rentals for your family to stay with your dog. 
In the evening, go to the Kayla Jean Ricci Dog Park, which has several sections for different breeds. Water bowls and exercise areas are available. You can also walk around the historic Wickford Village with your pet, which has a variety of shops. Tavern by the Sea is a great place to get seafood for dinner.
This beach is great for pet owners and pets, and it is especially popular among them. However, keep your dog on a leash at all times. It's one of several rules regulating where you may take your dog. Because it protects the safety of other beachgoers, it is essential. 
The Beach at Compass Rose isn't very big. Even so, it can comfortably accommodate a lot of people. It is situated near a busy airport.
One of the most important factors for pet owners is whether or not the beach is clean. This dog beach has been kept clean and safe for your pet. You'll also have the opportunity to see many dogs on the sand. Your canine will undoubtedly make a lot of friends while at the beach.
Sachuest/Second Beach
Address: 474 Sachuest Point Road, Middletown, Rhode Island 02842
Leash Policy: On-Leash
Parking Fee: 20 – 30 USD
Timings: Anytime except during peak season, particularly early morning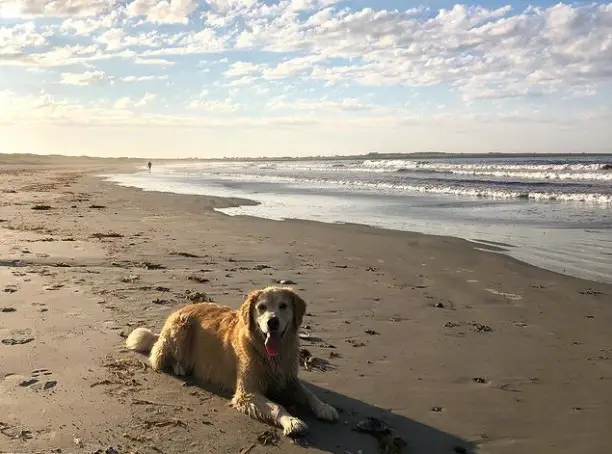 Step right on to the beach at Sachuest Beach if you're eager to get sandy. Otherwise, go down the wooden path leading to the coast, where sand is certain for pet parents and their four-legged beach buddy. Sachuest Beach is recognized for providing a perfect setting for dogs to enjoy the beauty of Rhode Island's coastal scenery.
Are dogs allowed on Second Beach RI? Sachuest Beach, also known as Second Beach , will be your first choice for beaches near Middletown. It gives dogs a mile-long stretch of pet-friendly beach to explore or play on a leash. Because it faces the south, it isn't the best place for sunsets and sunrises. However, it's ideal beach weather can be found here most days.
Grab your beach parking pass, and visit Sachuest Beach during the peak or off-season. When it comes to beaches, May 1st through September 30th is considered the peak season, when dogs are only permitted from 5 AM to 7:45 AM. The off-season between Memorial Day and Labor Day, on the other hand, is just as lovely at the beach, and your pet will have the run of the place during these months.
Just be sure to clean up after your pup, and you're good to go!
Napatree Point Conservation Area Beach
Address: Watch Hill, Westerly, Rhode Island 02891, South County
Leash Policy: On-Leash
Parking Fee: Free as well Paid Option also available
Timings: All year except May 1st (Labour Day)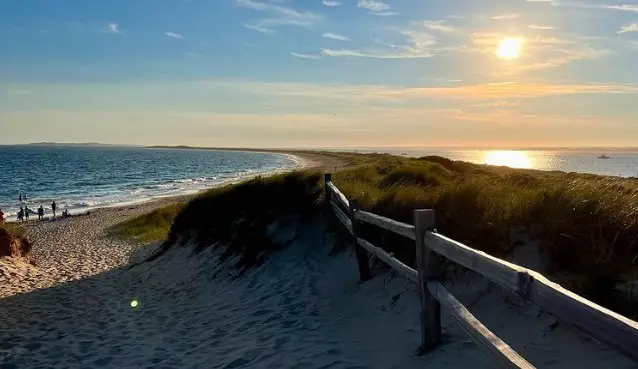 Napatree Point Conservation Area is a great place to bring your dog because there are plenty of things for them to do. The wide beach offers plenty of areas for your pet to sniff around, and the nature trails are great for walks.
After everyone has had their fill of sand and water fun, look for the sign for Fort Mansfield. For around a mile, follow the sand trail until you come upon the ruins of this ancient fort. The nearest town is Westerly, where you may try various activities. After seeing the beautiful masonry that dates back to 1840, Stonington is the perfect place to get an ice cream cone.
The best part is that dogs are allowed on the beach all year round. However, during the peak beach season (May 2nd to Labor Day), dogs are not allowed on the beach between 8 AM and 6 PM.
Block Island Beaches
Address: 7 Corn Neck Rd, Block Island, Rhode Island, US, 02807-0000
Leash Policy: On-Leash
Parking Fee: Free as well Paid Option also available
Timings: Whole year
Block Island's coastline is more than 15 miles long, and the island has numerous pet-friendly beaches. All of Block Island's beaches are welcome to pets, but the rules and conditions may vary from time to time. There are no set limits or restrictions, but they could fluctuate depending on circumstances.
The beaches on Block Island are tranquil and clean. There are very few people on these beaches. These beaches aren't usually crowded. Nonetheless, you may discover that the beaches are congested at times throughout holidays or special events. Even then, you can enjoy a tiny corner with your dog. In a nutshell, spend quality time with your pet at any of these beaches on Block Island.
Block Island is dog friendly, but do not toss the bag of waste material on the beach. Furthermore, do not leave the bag there. When visiting any place, keep a poop bag for your dog and avoid making the same errors.
A few more words about this beach
Restrooms, changing rooms, and almost all of the amenities needed for a beach are available on Block Island Beaches. As a result, tourists' worries are reduced.
The fact that Block Island has some of the most desirable beaches in New England makes it a favorite destination for both locals and tourists. However, not all of them are pet-friendly! Dogs are not permitted during the entire summer season at Fred Benson Town Beach.
At certain intervals, all of the beaches on Block Island connect together. As a result, it gives dog owners a plethora of options for beaches to visit. You may go to any beach you choose that meets your requirements.
On Block Island, there is no cost to park your automobile at the beach. There's no need to pay extra for parking. The streets of Block Island are narrow, little, and clean. Furthermore, there are a lot of cyclists and runners on the road.
Nonetheless, Block Island is a mecca for pet lovers. You'll discover several beaches, gorgeous dogs, and your dog may make new friends there. On Block Island, there are hotels and homes available for pets and their owners.
The island has historic structures. The old harbor historic district is located in the vicinity of this Island. During the evening, there are several boats, and you can enjoy a lovely sunset while viewing historical monuments and stunning vistas.
Mohegan Bluff Beach
Address: Mohegan Trail, Block Island, Rhode Island 02908
Leash Policy: On-Leash
Parking: Not Organized
Timings: Whole year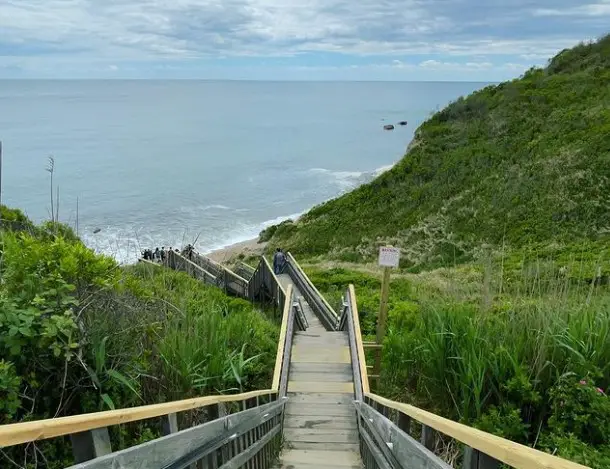 Block Island's Mohegan Bluffs is a beautiful, dog-friendly beach perfect for spending a day in the sun with your furry friend. To reach the beach, you'll first have to take a hike down the Block Island Heritage Trail which offers stunning views of the ocean. Once you're at the beach, your dog must remain on a leash at all times.
The Old Harbor Historic District is a great place to explore in the evening, where you can watch boats coming in from a day on the sea and see some of the stunning historic buildings. The Block Island Historical Society is also worth a visit to learn more about the local area. Kids will love the 1661 Farm and Gardens, which has a kangaroo and other exotic animals.
The Mohegan Bluffs is a popular spot for dog owners because of the accessible beaches and stunning views. However, some people find the rocky terrain and lack of parking to be problematic. 
There are about 140 stairs steps at the Mohegan Bluffs, which can be exhausting to climb up and down, so it is important to be aware of your fitness level before visiting. Despite these drawbacks, the Mohegan Bluffs offer a unique and beautiful experience that is worth checking out if you are in the area.
Camp Cronin Fishing Area
Address: Narragansett, Rhode Island 02882
Leash Policy: On-Leash
Parking: Parking lot with 40 spaces
Timings: Whole year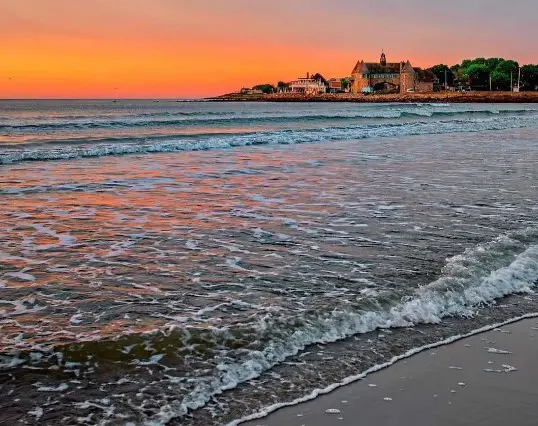 Camp Cronin Fishing Area is a great place for dog lovers to visit. It's usually not too crowded, and you can spend quality time with your pup while enjoying the beauty of nature. However, due to the sand and rocky areas, it's important to keep your dog on a leash at all times and be careful not to let them run off too far. 
There are also benches available for people to sit on and enjoy the view. Some people even do surfing at the beach, which can be a fun activity to watch. 
Although the lighthouse is not open to the public, it's still possible to see it from the beach. Overall, Camp Cronin Fishing Area is a great place to enjoy the outdoors with your dog.
Blue Beach
Address: Circuit Drive, 61 Whitecap Drive, North Kingstown, RI 02852
Leash Policy: On-Leash
Parking: Small parking area/No Fee
Timings: Whole year
The Blue Beach is a popular beach where dogs and their owners may enjoy themselves. There is currently no limit to the amount of time you can spend with your dog at this pet-friendly beach. You may bring your beloved companion anyplace on this pet-friendly beach. From the parking lot, you can walk for 1000 feet to your destination via the pet-friendly walking path.
This beach is usually not packed with people, so it is perfect for those who love spending time in silence or enjoy being introverts. This beach is a lovely place to visit and the walk from the parking lot to the beach area is straightforward with no rocks or difficult terrain to climb. You will have no problem reaching this beach with your dog.
There is no fee to park at Blue Beach, but during busier days, it may be more difficult to find a parking spot. When the beach becomes more crowded, people tend to park on the side of the road.
Beach-goers should be aware that swimming here may not be the most pleasant experience as the sand is not as abundant as one would hope. There are also rocks in the water which could potentially hurt someone if they are not careful.
It is important to note that this pet-friendly beach is located near an industrial area. As a result, you may notice a faint smell of chemicals in the water or in the air. Despite this, the Blue Beach is still a popular destination for dog owners.
Narragansett Town Beach
Address: 39 Boston Neck Rd, Narragansett RI, 02882
Leash Policy: On-Leash
Parking Fee: 10 USD (Monday to Friday), 15 USD (Weekends)
Timings: Dogs are allowed only in Off-Season ( between Memorial Day and Labor Day)
The Narragansett Town Beach is a great option for those looking for a dog-friendly beach in Rhode Island. The beach is well-maintained and offers plenty of amenities, including snack stalls, bathrooms, and sunscreen stations. 
Dog owners are responsible for cleaning up after their pets, but the beach is generally clean and welcoming to all. 
Many dog owners ask questions: "Can I bring my dog to Narragansett beach?" or "Are dogs allowed in Narragansett beach?". The short answer is Yes. For dogs the beach is free to enter after 5pm, when the lifeguards are off duty. Visitors can enjoy swimming and relaxing with their dogs while enjoying the beautiful sunset over the water.
When you're looking for a great beach to take your dog, but don't know which ones allow them? Look no further than this list:
Dog Beaches in Chicago, Illinois
Dog Friendly Destin, FL. All Tips And Guide
Dog-friendly Beaches in Connecticut
Dog-Friendly Beaches in Oahu, Hawaii
Top 10 Dog-Friendly Beaches Orange County
Folly Beach Dog Rules. Dog-Friendly Beaches in Folly Beach, SC
Conclusion. Are dogs allowed on beaches in RI?
Yes, dogs are allowed on beaches in RI. However, there are some restrictions and requirements that vary from beach to beach. Most beaches require dogs to be on a leash at all times, and some have designated off-leash areas. It's important to check the specific rules and regulations of each beach before visiting with your dog.
Rhode Island is known for being pet friendly. You can enjoy time with your dog at these beaches. However, we recommend wearing comfortable footwear so that you don't suffer any injuries while trekking or walking. Prepare yourself for this lovely trip that will bring you and your dog even closer together and make you both happy.
Which beaches allow dogs? You might be surprised at the answers:
17 Dog Friendly Beaches in Lake Tahoe. All Tips
Top 7 Dog Friendly Beaches in Miami, FL
12 Dog-Friendly Hikes in San Diego:Tips for Hitting The Trails
Best Dog-Friendly Beach in Bodega Bay. Complete Guide
Santa Cruz Dog Beach. Are dogs allowed on the beach in Santa Cruz?