Dog-friendly Beaches in Connecticut
The 7 Most Dog-friendly Beaches in CT:
Jennings Dog Beach – Fairfield, Connecticut
Compo Beach- Westport, Connecticut
Hammonasset Beach State Park- Madison, Connecticut
Mixville Recreation Area- Cheshire, Connecticut
Bluff Point State Park- Groton, Connecticut
Penfield Beach
Bayley Beach
There are a number of beaches in Connecticut that allow dogs, making it a great place to bring your furry friend on vacation. Many of these beaches are situated within national parks and offer stunning views of the surrounding woods and hills. 
If you're looking for a place to take your dog swimming, Connecticut is a great option. There are plenty of dog-friendly swimming holes located throughout the state, so you're sure to find one that's perfect for your pup. Plus, with so many beautiful vacation rentals available, it's easy to find a comfortable place to stay while you're in Connecticut.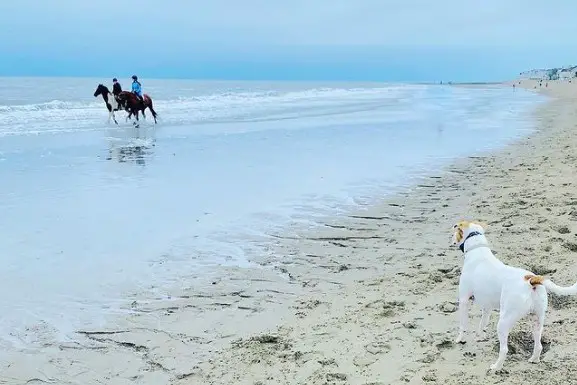 The 7 Most Dog-friendly Beaches in CT
If you're looking for dog-friendly beaches in Connecticut, you have plenty of options to choose from. Many of the state's beaches allow leashed dogs, and there are also several dog-friendly swimming areas. You can explore farm country or one of the state's urban centers with your four-legged friend. To get you started, here are five of the top dog-friendly beaches in Connecticut.
Jennings Dog Beach Fairfield, Connecticut
Jennings Dog Beach in Fairfield is a popular destination for dog owners and lovers because it is the only off-leash dog beach in the city. The sandy beach is open to dogs and their two-legged companions between October and March, making it a great place to socialize dogs and meet other dog lovers. 
The beach itself is 27 acres, making it the largest in Fairfield, and there are restrooms and concession areas for your convenience.
There is also a Jennings dog park near the beach that has chain-link fences separating areas for large and small dogs. The city permits leashed dogs in the vast Ash Creek Open Space throughout the off-season, which is when things are relatively simple and uncluttered. 
Fairfield Town Marina Fairfield, Connecticut
The Town Marina is located in the Jennings Dog Beach district. The beach is pet-friendly, and your dogs are welcome at the Town Marina as well.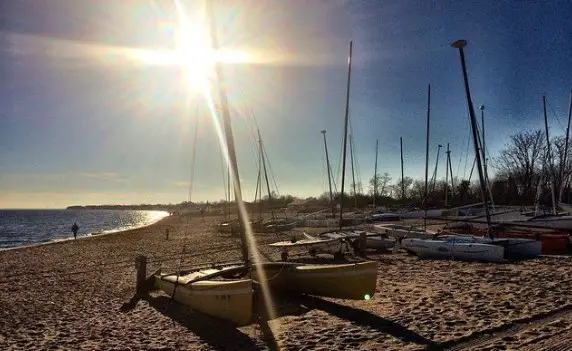 Fairfield Town Marina is a great place to take your dog if you want to enjoy the waves without getting wet. The Marina welcomes leashed dogs, so renting a boat for an afternoon excursion on the water is an option. 
The dog-friendly season is a quiet and relaxing time for both pets and dog owners.
Address: 880 S Benson Rd, Fairfield, CT, US, 06824-0000
Compo Beach Westport, Connecticut
Compo Beach, located in Westport, is at the heart of a 29-acre park that spans Long Island Sound and borders the Saugatuck River. Dogs are welcome in the park and on the beach from October to March with leashes being required. There is also a designated off-leash spot on the Compo Beach for dogs to enjoy.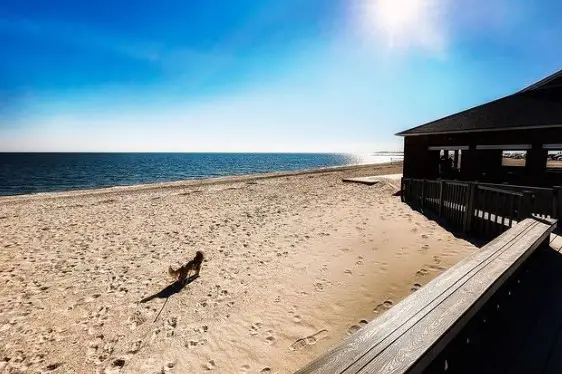 The beach has posted signs to confirm its exact location. Locals say that the northern end of the beach is usually less crowded. There are benches on the beach in case people need a place to sit down.
Ned Dimes Marina Westport, Connecticut
Ned Dimes Marina is a pet-friendly area that host annual pet fundraisers. Dogs are allowed on the grounds, but must be leashed at all times. The adjacent Combo Beach also permits leashed dogs on the premises. There are restrooms, dining areas, and concessions available for all park goers. All dog owners are responsible for picking up their pet's waste.
In the state of Connecticut, there is no statewide leash law in place; however, it is customary to keep dogs leashed unless otherwise noted. At Ned Dimes Marina and Combo Beach, leashed dogs are always welcome. There are plenty of amenities nearby for both you and your furry friend to enjoy!
Address: 60 Compo Beach Rd, Westport, CT, US, 06880-0000
Hammonasset Beach State Park Madison, Connecticut
Hammonasset Beach State Park in Madison, Connecticut is a great place to bring your leashed dogs year-round. The park offers two miles of beach property on Long Island Sound, as well as picnic areas, nature trails, bike paths, and ball fields. Many locals enjoy visiting the park with their dogs in the off-season when it is less crowded and more peaceful.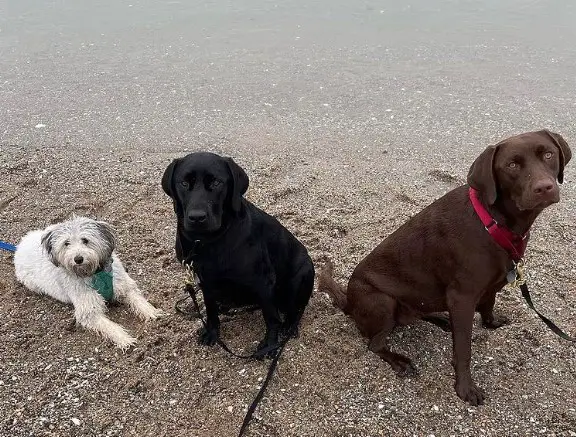 Many dog owners ask the following question: Can I bring my dogs to Hammonasset? According to the pet policy, the rules are as follows: 
Dogs that are leashed are allowed in picnic areas, ball fields, nature trails, and bike paths all year round at Hammonasset Beach State Park.
From November 1st to the end of March, dogs are allowed on the beach.
If visitors with pets are caught on the beach from April 1 to October 31, they may be fined.
Address: 1288 Boston Post Rd, Madison, CT, US, 06443-0000
Mixville Recreation Area Cheshire, Connecticut
This recreation area in Cheshire is perfect for dogs and their owners. The entire area is dog-friendly, and there is even a swimming area in the pond that is segregated just for dogs. 
Mixville is open all year long and parking is free during the off-season. During the summer months, there are parking fees and you must purchase a parking pass. There are also common areas where dogs must be kept on a leash at all times, like pavilions and picnic areas.
If you're looking to dry off after swimming or to work up an appetite, Cheshire has a handful of easy trails that wind through its otherworldly woods. After exploring the trails, swing by one of the pet-friendly restaurants in the area, such as Biagio's Osteria or the Watch Factory.
Address: Cheshire, CT 06410, US
Bluff Point State Park Groton, Connecticut
Bluff Point State Park in Groton is a great place to take your leashed dogs for a walk from October until March. The 800 acres of parkland has plenty of space for boating, saltwater fishing, and hiking. The main trail leads up to a bluff with great views of the water.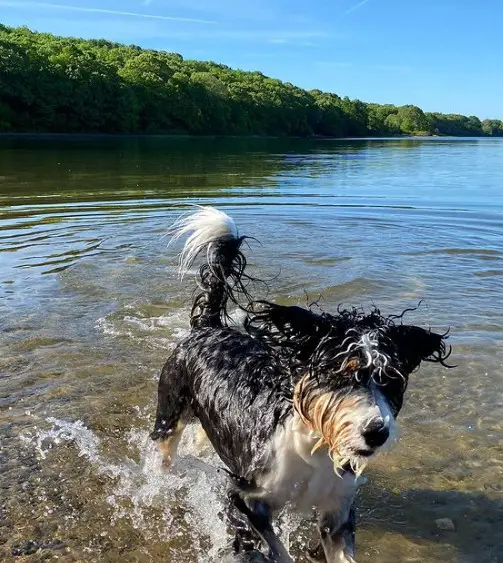 The beach in Groton is a beautiful spot along the Connecticut coastline, and there are plenty of restaurants downtown that cater to pet-owners, such as Anthony J's Bistro and Buttonwood Farm Ice Cream. The atmosphere in Groton is overall very friendly to pets, which makes it a great vacation destination for animal-lovers.
Address: 55 Depot Rd, Groton, CT 06340, US
Penfield Beach
Penfield Beach is a a 3.5-acre great place to swim and sun along the Long Island Sound. It is also a The Sandy Ground: Where Angels Play' Project. In season, Penfield Beach may be accessed with a sticker or by paying a daily fee at the gate.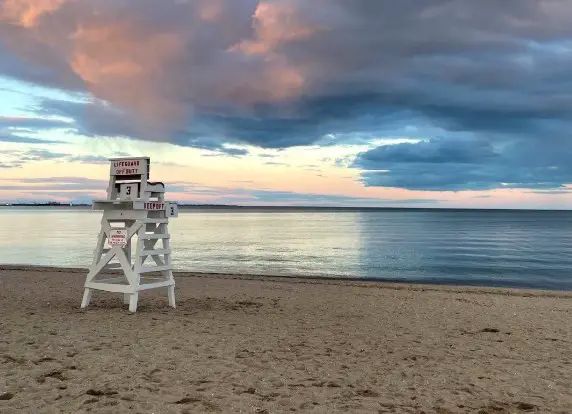 Penfield Beach is open to the public, but from Memorial Day Saturday to Labor Day, visitors need a beach sticker to park in the lot. The beach is only 1.25 miles from the Fairfield Metro North train station.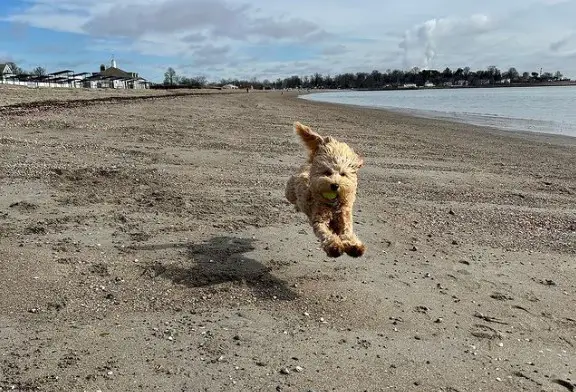 If your dog is wearing a leash and you are both on the beach after October 1st through March 31st, this is an on-leash beach open to canines.
Address: 800 Beach Rd, Fairfield, CT, US, 06824-0000
Bayley Beach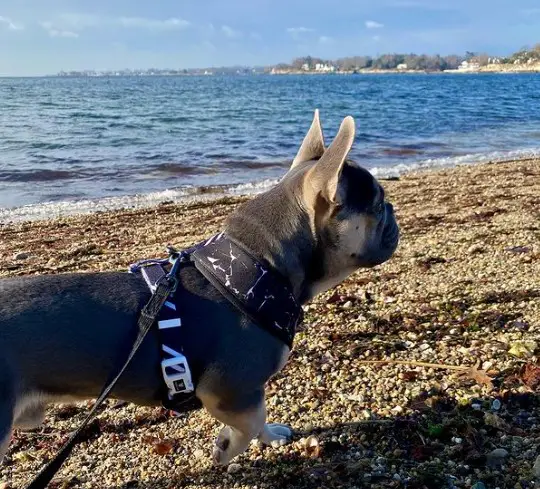 Bayley Beach is a great place to bring your dog for a walk, especially during the winter months. The beach is located inside Neville Bayley Park, which was once part of Roton Point Amusement Park. Dogs are allowed in the park from November 1 to March 31, so make sure to take advantage of this time frame if you want to bring your furry friend!
Address: 11 Pine Point Rd, Norwalk, CT, US, 06853
We'll keep you posted as more and more beaches start to allow your furry friend:
Dog-Friendly Beaches in Half Moon Bay, CA
Dog-Friendly Beaches in Massachusetts
Dog-Friendly Beaches Rhode Island
Dog-Friendly Beaches In South Carolina
Dog-Friendly Beaches In Alabama
Dog-Friendly Beaches in Georgia
FAQ
Where can I swim with my dog in Connecticut?
Have you had a chance to visit all those dog-friendly beaches in Connecticut that we wrote about? There are also many places in Connecticut that are great for walking and bathing your dog. This can also be a specially equipped off-leash dog park with a dog-friendly swimming area. Or it could be a nature park with lots of lakes designed for dogs and their owners to swim in.
Here are the best of these places:
Brooksvale Recreation Park
Sleeping Giant State Park
West Rock Ridge State Park
Tyler Mill Run Trail
Lufberry Memorial Park
Branford Supply Pond Park
Giuffrida Park
Can dogs go to Ocean Beach CT?
No, dogs are not allowed on the Ocean Beach CT. Here's what we found on social media: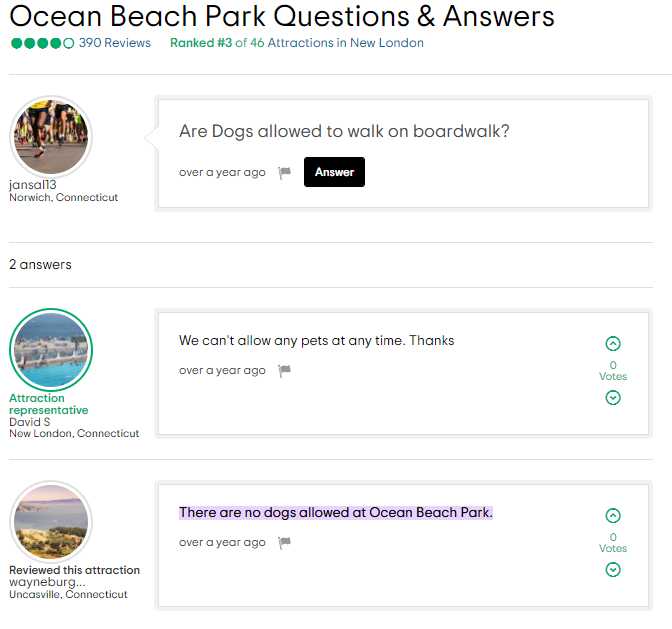 When you're looking for a great beach to take your dog, but don't know which ones allow them? Look no further than this list:
Dog Beaches in Chicago, Illinois
Dog Friendly Destin, FL. All Tips And Guide
Dog-Friendly Beaches in Oahu, Hawaii
Top 10 Dog-Friendly Beaches Orange County
Folly Beach Dog Rules. Dog-Friendly Beaches in Folly Beach, SC
17 Dog Friendly Beaches in Lake Tahoe. All Tips