Last updated on April 27th, 2023 at 11:44 am
Does PetSmart Allow Dogs Inside? Is PetSmart Pet Friendly? Pet Policy 2023 Guide
Does PetSmart Allow Dogs? Short Answer: Yes, PetSmart is a pet-friendly store and allowed dogs inside. Not only dogs that are working service animals, as defined by the Americans with Disabilities Act (ADA), are allowed inside PetSmart stores. Emotional support animals and pet dogs are welcome inside the store. This policy applies to all of its locations across the United States.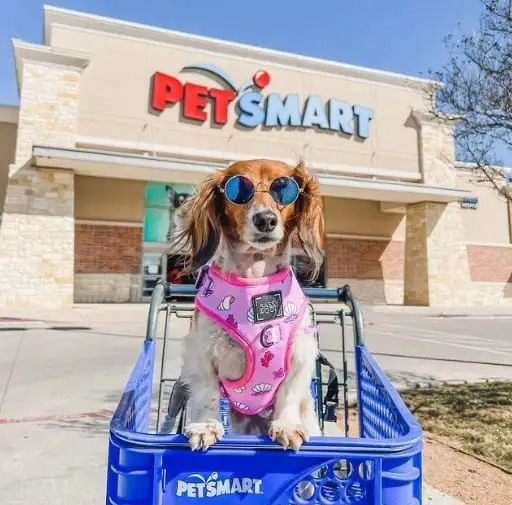 The following is a summary of PetSmart pet policy in their stores.
Is PetSmart Pet Friendly?
Yes, PetSmart stores are is one of the most dog-friendly stores, and they have a great policy in place that allows customers to bring their dogs into the store with them. Pets are allowed inside the PetSmart store.
However, this policy may vary depending on the state in which the store is located, as well as the policies of the particular store itself. In some cases, dogs may not be allowed into the PetSmart store if the manager feels it is necessary.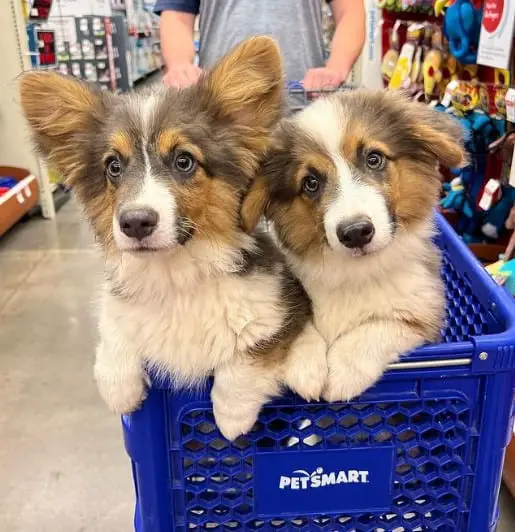 Managers at PetSmart stores have the authority to modify certain or all of the store regulations. This was especially evident during crises, such as the pandemic that hit Covid-19.
In general, PetSmart are pet-friendly and pets are allowed inside.
Check out the posts where we check which retailers have a compassionate approach:
Does Tractor Supply Have A Dog Wash?
Are Dogs Allowed In Petsmart?
Dogs are welcome inside PetSmart stores in the USA, but must be kept on a leash at all times. There are also some other rules that pet owners must follow, such as making sure their dog is well-behaved and not disruptive to other shoppers.
What Is Official PetSmart Dog Policy
PetSmart official pet policy is that not only allows service animals as defined by the Americans with Disabilities Act. Also, PetSmart does allow emotional support, companion animals and other pet dogs. However, in some cases entry may be prohibited based on state or local laws, or at the discretion of the individual store manager. 
The store believes that allowing dogs will create a more relaxed and enjoyable shopping experience for everyone. Although it is not required by law, PetSmart has chosen to be pet-friendly and allow dogs in the store. This policy may change in the future, but for now, PetSmart is a dog-friendly store.
Does PetSmart Dog Policy Vary By Location?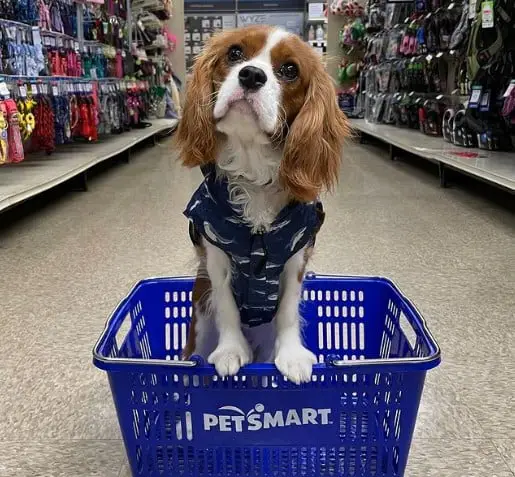 Yes, as mentioned, the pet policy at PetSmart can vary depending on the store location.  According to the official PetSmart website, the company's pet policy is dog-friendly does not vary by location. However, from reading online reviews, it seems apparent that not all PetSmart stores adhere to the corporate's official stance. 
PetSmart retail shops are open to all breeds and welcome dogs, but there may be a need to restrict access on the basis of law state or local jurisdiction or concerns of the branch manager. 
Why Does PetSmart Allow Pets?
Allowing dogs and cats into PetSmart stores could provide a number of benefits, both for the store and for the customer:
For one, pet-owners might spend more money on things like accessories and food for their pets if they are able to bring them into the store with them
Additionally, it could provide retailers with an opportunity to test out pet-friendly merchandise or to hold special events that would attract shoppers
Finally, it has been shown that shoppers tend to spend more time and money at stores when they are able to socialize and explore, both of which would be possible with pet-friendly policies in place.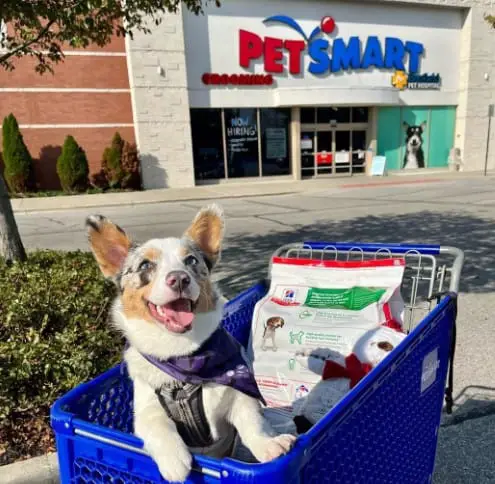 For these reasons, PetSmart has pet – friendly policy for all animals.  
What Are Service Dog and Emotional Support Animals?
What is the distinction between an emotional support animals (ESA) and a service animal? There are a few key distinctions between emotional support animals (ESAs) and service animals. 
Firstly, service dogs are individually trained to perform specific tasks or work for their disabled handler, whereas an ESA does not require any specific training. 
Secondly, service animals are protected under the Americans with Disabilities Act (ADA), which means that they are allowed to accompany their handler in public places, whereas an ESA is not protected under the ADA and therefore may not be allowed in certain public places. 
Finally, a service dog must have a strong bond with their handler and be well-behaved in order to perform their tasks or work effectively, whereas an ESA does not need to have such a strong bond or be well-behaved in order to provide emotional support to their owner. 
An emotional support animal does not need to have any specific training and provides companionship and emotional support to its owner. While both ESAs and service animals can provide companionship and emotional support, it is important to note that they are two distinct types of animals with different roles and protections. 
If you plan on bringing your service dog to a PetSmart store, please be sure to keep them on a leash at all times and clean up after them if they happen to make any messes.
Does PetSmart Allow Service Animals?
Yes, service dogs are allowed in PetSmart under the Americans with Disabilities Act and as long as they are well-trained. This pet policy is in place to ensure the safety and comfort of all shoppers. Service dogs must be under the control of their handler at all times, and handlers must be prepared to clean up any accidents that may occur.
Are All Service Animals Allowed In PetSmart?
Yes. PetSmart permits well-trained service dogs to enter their locations. Service dogs are trained to perform a variety of tasks for persons with any sort of disability, whether mental or physical. As a result, we do not consider service animals to be pets. They are helpers that assist their owners in leading more self-sufficient lifestyles.
The Americans with Disabilities Act (ADA) protects the rights of those who utilize service animals in public areas. This means that PetSmart staff members cannot deny entry to someone and their service animal, so long as the animal is acting appropriately. In very rare cases, however, an animal may be asked to leave if it becomes disruptive or poses a safety hazard.
What Are The Service Dog Rules At PetSmart?
PetSmart has strict rules in place for clients who want to take their service animal into its stores, much like any other business.
At all times, the handler must control the service animal;
The dog must always wear a harness, rope, or leash (unless the handler is unable to use the harness or leash due to a disability and the restraint would impede the animal's service to the handler);
If the handler is unable to utilize restraints, he or she must control the animal using signals or voice commands;
PetSmart will request that you leave the animal outside of the store if it is a danger to others' health or safety, or if it is uncontrollable;
If an animal is a problem and has to be eliminated, a shopping assistant may be given to the shopper if they request it, allowing them to continue their store at PetSmart.
Does PetSmart Ask If Your Dog Is A Service Dog? Do You Need To Show Service Dog Documents In PetSmart?
The PetSmart employees have the right to ask whether the animal in question is a service dog, according to Americans with Disabilities Act. ADA – regulations intended to make sure that health and safety laws are followed. Employees may also inquire about the service dog's capabilities or tasks.
However, they are not allowed to request any other documentation proving disability.
How To Identify a Fake Service Dog
There are a few key ways to tell if a dog is not a service animal. If the dog is stealing food from shelves, jumping at people, or sniffing everything, it is likely not a service animal.
Other signs include barking or whining at people, pulling on the leash, riding in shopping carts, or urinating or defecating in the store. If the dog is seeking attention from other PetSmart members, it is also likely not a service animal.
Are Emotional Support Dogs Allowed In PetSmart?
Yes, PetSmart has a pet policy in place that does allow emotional support dogs into their stores. Emotional support animals can provide companionship, comfort, and emotional stability to their owners, and so they are often welcome in places where their owners would like to bring them.
Tips For Taking Dogs To PetSmart
Here are some tips for taking dogs to PetSmart:
Make sure your dog is comfortable around other people and animals: PetSmart can be a busy and crowded place, especially during peak hours. It's important to make sure that your dog is comfortable around other people and animals before bringing them to the store. If your dog is anxious or aggressive in new situations, it may be best to avoid bringing them to PetSmart.
Keep your dog on a leash: All dogs must be on a leash while in the store. This helps to prevent accidents and ensure the safety of all customers and their pets. Make sure your leash is sturdy and not too long, so you can keep your dog close to you at all times.
Bring a collar with identification tags: In case your dog gets separated from you, it's important to have identification tags on their collar. This will make it easier for store staff or other customers to help reunite you with your pet.
Plan ahead for grooming services: If you're planning to use PetSmart's grooming services, it's important to book an appointment in advance. This will ensure that your dog gets the time and attention they need from the groomer. You should also make sure that your dog is up-to-date on all necessary vaccinations before scheduling an appointment.
Consider bringing a dog carrier: If your dog is small enough, consider bringing a dog carrier to PetSmart. This will give them a safe and comfortable place to rest if they become tired or overwhelmed. It can also be helpful if you need to transport your dog from one area of the store to another.
Bring treats and water: Bringing treats and water for your dog can help keep them happy and hydrated while you shop. Make sure to bring a travel bowl for water and keep treats in a sealed container to avoid spills.
Be respectful of other customers and their pets: PetSmart is a shared space for pets and their owners. It's important to be respectful of other customers and their pets while in the store. This means keeping your dog under control and cleaning up any messes they may make.
By following these tips, you can make the most of your visit to PetSmart with your furry friend.
FAQ
Are Pitbulls Allowed in PetSmart?
It is unclear whether Pitbulls are allowed in PetSmart stores, as there is no mention of them in the store policy. However, there have been reports of these dogs being turned away from certain locations. If you're unsure, it's best to call ahead and check if Pitbulls are allowed before bringing one to the store.
Can I bring my dog to PetSmart's grooming salon?
Yes, you can bring your dog to PetSmart's grooming salon, where they will be pampered by trained professionals. However, you should book an appointment in advance, as grooming services can be in high demand, especially during peak seasons.
Does PetSmart offer any pet-related events or activities?
Yes, PetSmart offers a variety of pet-related events and activities throughout the year. These can include adoption events, training classes, vaccination clinics, and more. To stay up-to-date with PetSmart's upcoming events, check their website or social media pages.
Does PetSmart Sell Dogs? Does PetSmart Sell Animals?
PetSmart does not sell dogs in their stores, but they do promote adoption through events and their website. They also have a non-profit animal charity PetSmart Charities to help pets.
Did PetSmart Ever Sell Dogs Or Puppies?
PetSmart stores have never sold puppies or dogs. The store was established to sell pet food to consumers. Many competitors outsource their pets from puppy mills, which often results in the animals being treated cruelly. PetSmart decided not to sell puppies or dogs in order to avoid contributing to this problem.
Can I Adopt A Dog At PetSmart?
Yes, you may adopt a dog from PetSmart by going to their website or visiting one of their stores. They have over 1000 locations with adoption centers where you can find the pet you want to adopt. Through their website, they will link you with a local organization that can assist you in finding pups and dogs to adopt.
Can You Bring Your Dog Into Petsmart? Are Pets Allowed In PetSmart?
Yes, pet dogs, as well as cats, birds, small animals, and reptiles are permitted if they are leashed or securely confined and vaccinated.
Does PetSmart Allow Pets In Strollers?
It's always best to ask the store directly about their personal policy on stroller-bound pooches. Some stores might not allow dogs in strollers for safety reasons, as strollers can be easily toppled over. It's always polite to ask the store employees before bringing your pet inside.
Can You Put A Dog In Your Shopping Cart At PetSmart?
Customers have reported seeing animals and dogs being transported in PetSmart shopping carts. However, this is against the law (FDA guidelines).
Shopping carts should only be used to carry groceries and other items. As a result, transporting a dog or any other animal is not permitted. If an PetSmart employee sees you carrying your dog in a shopping cart, you will likely be asked to leave the store.
Can Service Dogs Sit In Shopping Carts At PetSmart?
Service dogs are not allowed to sit in shopping carts at PetSmart, or be on a mat or inside of baskets. This policy has always been in place. Exception to the rule are not easy to come by.
Can You Bring Your Dog To PetSmart?
If you're looking for a store that's friendly to both you and your dog, PetSmart is a great option. According to a recent social experiment, 8 out of 100 people have taken their dogs into the store and had a great experience.
The company even has a policy welcoming dogs into the store, so you don't have to hesitate to bring them along. Plus, what's not to love about spending time with your furry friend in one of the world's most beautiful natural surroundings?
Conclusion. Are Dogs Allowed In PetSmart?
As a result, it was a lengthy and detailed blog article on "Does PetSmart allow dogs?" PetSmart dog policy is quite accommodating. It is a store that is extremely pet-friendly. You may notice that "PetSmart animal policy" includes the option to bring your dogs inside and shop with them. If you're looking for a store that's friendly to both you and your dog, PetSmart is a great option. 
We hope you enjoyed reading this blog article on "Does PetSmart allow dogs?" and found the information helpful in making a decision on whether or not to bring your dog into the store. Thank you for taking the time to read this blog article. We hope you have a great day!