Santa Cruz Dog Beach. Are dogs allowed on the beach in Santa Cruz CA 2022?
7 Best Santa Cruz Dog Beaches
Best Santa Cruz Dog Beaches:
Twin lakes state beach
Mitchell's cove beach
Seabright state beach
Its beach
Pleasure point beach
Moran lake & beach
Hooper beach
Santa Cruz, California is a lovely city with clean beaches, a moderate climate, and some of the greatest weekend getaways. Santa Cruz is ideal for surfers, sea enthusiasts, and sun-seekers. 
There are several pet-friendly beaches in Santa Cruz where dogs are permitted. You and your four-legged buddy are fortunate to enjoy nature and the beach boardwalk with your dog and canine companion.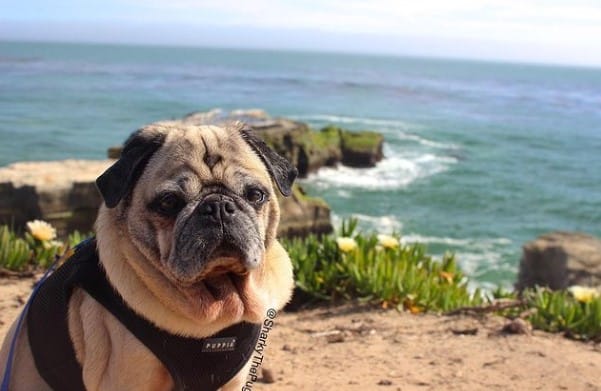 Santa Cruz is located on the northern border of Monterey Bay and 51 kilometers south of San Jose, 120 kilometers from San Francisco.  A wonderful dog beaches in Santa Cruz, California for your dog and you to spend the day by the sea and playing in the sand. 
In this blog, I'll go over everything there is to know about Santa Cruz's dog-friendly beaches. You may bring your pal along—enjoy yourself, eat, and stay as long as you like! Let us enjoy summer with great tan lines and a wet snout by our side!
Day Out at the Best Dog Beaches in Santa Cruz
Have you ever considered capturing photos of your dog pawprints in the sand? No? Then, the next time you're in Santa Cruz, don't forget to click foto it since it's adorably charming. In Santa Cruz, a dog-friendly beach allows you to fully enjoy the beach.  
The gorgeous golden sand, the Pacific Ocean, lunch at a dog-friendly restaurant, and nights at a dog-friendly hotel in Santa Cruz are fantastic. The dog friendly beaches in Santa Cruz that allow dogs are rejuvenating for both dogs and dog lovers. 
If you want to go on a day trip with your dog to northern California, visit these San Cruz beaches that welcome canines. Here's a list of some of the best dog friendly beaches in Santa Cruz!
TWIN LAKES STATE BEACH
The main access point to Twin Lakes State Beach is along East Cliff Drive, between 5th and 9th Avenues. The Santa Cruz State Park, which encompasses the city's waterfront and beach areas on both sides of the harbor, including Seabright Beach, Santa Cruz Harbor Beach, and the beach in front of Bonita Lagoon (aka Black's Beach), extends for one mile along the shoreline.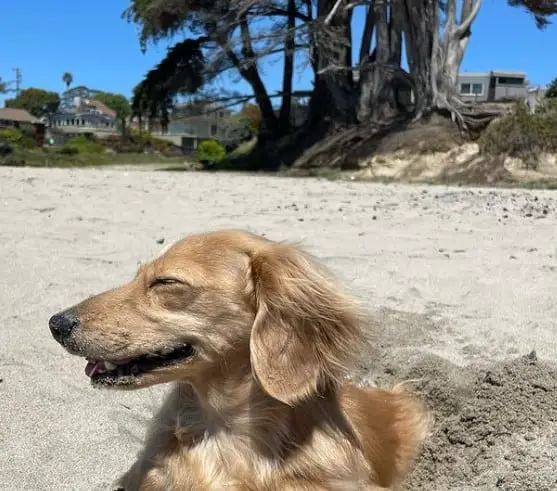 There is a freshwater lake called Schwan Lagoon (or Schwan Lake) across Cliff Drive that is great for bird-watching at 9th Avenue. This inland park has pathways for walking and views of the water. For trail access you can find parking and the trailhead at Simpkins Family Swim Center/Live Oak Community Center (979 17th Avenue, Santa Cruz). At the south end of El Dorado Avenue near Edmar Lane, there is more parking.
At 9th Avenue, there are a few parking places for the main part of Twin Lakes State Beach, but they quickly fill up. On weekends, street parking in the area is only permitted, so it's probably best to park at Santa Cruz Harbor Beach and walk from Santa Cruz Harbor south to this location rather than risk being fined.
Address: E Cliff Dr and 9th Ave,Santa Cruz, CA 95062
Park Name: Twin Lakes State Beach, Schwan Lake Park
Activities: Swimming, Sunbathing, Picnicking, Birdwatching, Bonfires
Amenities: Restrooms, Showers, Lifeguard, Lagoon, Fire Pits, Picnic Areas, Wetlands
Pet Policy: Dogs allowed on leash
MITCHELL'S COVE BEACH: Dog Friendly Beach in Santa Cruz
Mitchell's Cove Beach is a great place to bring your dog for a walk or to play fetch. The beach is located below the bluff on West Cliff Drive, between Woodrow Avenue and Almar Avenue. There is a parking lot right above the beach, so it is easy to access.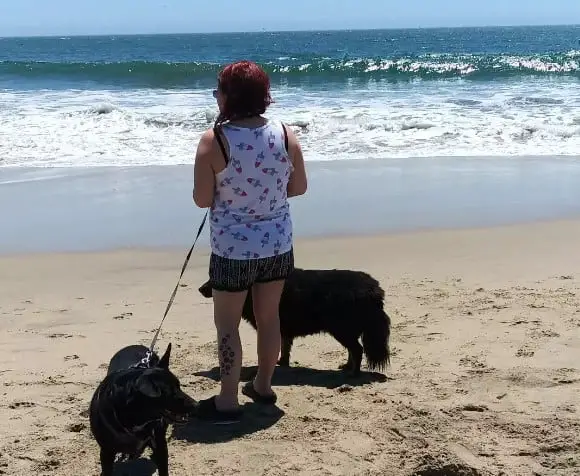 A large stairwell provides safe access to the beach below. At the bottom of the stairs is a tall rock monolith that your dog will love exploring. During high tide and during the winter stormy months, there may not be much dry sand exposed at Mitchell's Cove. However, large boulders have been piled up in the pockets of the bluff to minimize erosion from these storms. 
Dogs are allowed on leash at Mitchell's Beach anytime and off leash before 10 am and after 4 pm. So, come on down and enjoy the beach with your furry friend! Mitchell's Cove Beach is a one of the best dog friendly beaches in Santa Cruz.
Address: West Cliff Drive and David Way, Santa Cruz, CA 95060
Other Names: Mitchell Cove
Owner: City
Activities: Walking, Beach Exploration, Dog Walking
Amenities: Toilets, Walking Path
Pet Policy: Dogs are permitted to run off leash before 10 a.m. and after 4 p.m. On-leash all day long is also fine.
Fees: Free parking
SEABRIGHT STATE BEACH
Seabright Beach is a sandy beach located in Santa Cruz county, California. It is next to Santa Cruz Main Beach and part of Twin Lakes State Beach. The Seabright Beach spans a wide stretch of sand from the Santa Cruz Yacht Harbor entrance to a narrow natural rock wall at the mouth of the San Lorenzo River.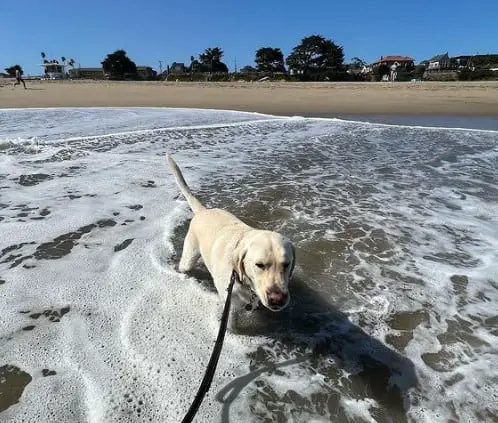 The rock wall has a tiny rock arch opening at the bottom, which allows river water to flow through. The arch is occasionally closed by sand, but it's sometimes possible to crawl through and swim across the river to reach Main Beach. Despite the "area closed" signs, many locals illegally scale the fence and go out on the rock wall despite this being a restricted zone.
The Walton Lighthouse is located at the end of the Santa Cruz Breakwater, where a paved walking trail leads out to dog friendly Seabright Beach. The center of this south-facing beach is marked by Seabright Avenue and East Cliff Drive.
The west end of E Cliff Drive, near Alhambra Avenue, Mott Avenue, and the conclusion of 3rd Avenue, offers parking and access to the beach.
Address: E Cliff Dr and Mott Ave, Santa Cruz, CA 95062
Park Name: Twin Lakes State Beach
Owner: State Park
Other Names: Castle Beach
Activities: Surfing, Sunbathing, Swimming, Bonfires
Amenities: Lifeguard, Restrooms, Lighthouse, Rock Arch, Fire Pits
Pet Policy: Dogs allowed on leash on Seabright State Beach
ITS BEACH
The name of the beach below the bluff on the west side of Point Santa Cruz in Santa Cruz County, CA ITS Beach. ITS Beach is a beautiful destination in Santa Cruz, CA, perfect for a sunny day. The beach is managed by Lighthouse Field State Beach, and offers stunning views of the ocean. 
At low tide, you can explore the rock arch at the north end of the beach. When conditions are right, you'll see surfers at Its Beach and the area on the other side of the point called Steamer Lane.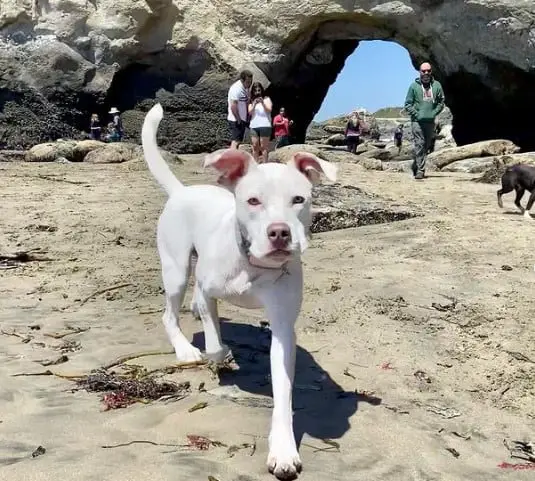 On the point, there is a lighthouse with the Santa Cruz Surfing Museum inside. W Cliff Park offers several parking lots with access to the beach via a paved trail along the cliffs. 
After walking down the hill to reach the beach, take a look around. You'll undoubtedly encounter many dogs when you visit Its Beach or the interior park because they're open to canines. After 4 pm, dogs are allowed off leash on the beach, but with a leash they can be on the beach anytime.
Address: 701 W Cliff Dr, Santa Cruz, CA 95060
Park Name: Lighthouse Field State Beach
Owner: City
Other Names: Dog Beach
Activities: Beach Exploration, Walking, Birdwatching, Dog Walking, Surfing
Amenities: Lighthouse, Surfing Museum, Grass Park, Trails, Walking Path, Benches, Restrooms, Rock Arch, Bodyboarding
Pet Policy: Only leashed dogs are allowed out before 10 a.m. and after 4 p.m. Dogs may be off leash before 10 a.m. and after 4 p.m. if they're wearing a leash that isn't more than four feet long, provided the person who's walking them has no other dogs with them.)
Fees: Free parking
PLEASURE POINT BEACH: Pet Friendly Beach in Santa Cruz
Pleasure Point Beach & Park is a great place to bring your pet for a day at the beach. The park is located on the bluff above a popular surfing spot in the Live Oak area of Santa Cruz county. There are stairs that lead down from the park to the beach below, which is mostly rocks and wet sand except at low tide.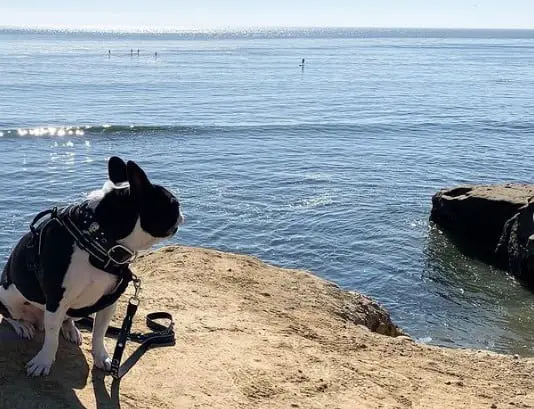 However, there are still plenty of things to do at the beach. Surfers can enjoy the nice break just offshore, and those not surfing can rest on the rocks or on benches and picnic tables in Pleasure Point Park. Officially, this double-point sticking out into Monterey Bay is called Soquel Point. 
The park is at the junction of East Cliff Drive and Pleasure Point Drive, near 30th Avenue. On weekends, look for permit-only parking areas on Pleasure Point Drive to find street parking.
Address: E Cliff Dr and Pleasure Point Dr, Santa Cruz, CA 95062
Park Name: Pleasure Point Park
Owner: City
Other Names: 30th & East Cliff
Activities: Picnicking, Surfing
Amenities: Bike Lane, Picnic Tables, Toilets, Showers, Restrooms, Picnic Areas, Benches
Pet Policy: Dogs allowed on leash on Pleasure Point Beach
Fees: Free street parking
MORAN LAKE & BEACH
The beach at Moran Lake is a great place to take a walk, relax, and take in the scenery. The lagoon in the Live Oak area of Santa Cruz County is home to many different kinds of birds, and the surrounding area is full of trees and greenery.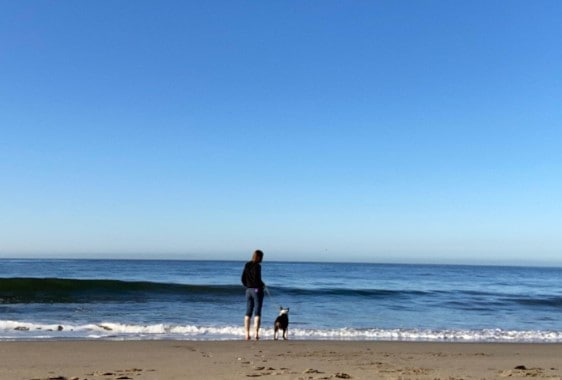 From the parking lot, you'll cross Cliff Drive to a tiny beach with houses on both sides. The beach is also a popular spot for dog-walking, as dogs are allowed on leash. However, swimming in the ocean water is not recommended if the Corcoran Lagoon is flowing into the surf, as this can be dangerous.
Address: 22798 E Cliff Dr, Santa Cruz, CA 95062
Park Name: Moran Lake County Park
Owner: County
Activities: Fishing, Picnicking, Surfing, Bird Watching, Sunbathing
Amenities: Restrooms, Picnic Tables, Lagoon, Trail
Pet Policy: Dogs allowed on leash
HOOPER BEACH
Hooper Beach is a tiny beach strip west of the fishing pier in Capitola, CA. Even though dogs are not permitted on Capitola Beach, Hooper's is known as the dog-friendly beach of Capitola and Aptos. Dog owners clean the beach on a regular basis, and citations are not handed out to dogs that are under control of their masters. 
Hooper Beach is a great place to take your dog for a walk, as long as you keep them under control. The beach is also a good place for birdwatching and fishing. There is a fishing pier where you can fish for free, but you will have to pay for parking. 
There are several parking locations along Wharf Road, which leads to the pier, and along Cliff Drive, where a long series of steps takes you down from the bluff. Because all parking spots in the area are metered, anticipate to pay for it. Dogs are not allowed on the pier, but they can be on the west side of the pier off leash. 
Hooper Beach is named after Harry Hooper, a Hall of Fame baseball player from Capitola who won several championships with the Red Sox in the early 1900s and worked in the community for many years after that. If you visit Hooper Beach or Capitola Beach, be sure to take some time to walk out on Capitola Wharf.
Address: Cliff Dr and Wharf Rd Capitola, CA 95010
Owner City: Other Names Hooper's
Activities: Dog Walking, Birdwatching, Fishing
Amenities: Fishing Pier
Pet Policy: Dogs allowed off leash on west side of pier only
Fees: Metered street parking
Other Several Dog Friendly Beaches in Santa Cruz
If you want even more choices, I can suggest a few more dog friendly beaches to go.
Seacliff State Beach
Aptos, California's Seacliff State Beach is a long, sandy beach on the town's waterfront. This is an excellent location for sunbathing or going for a stroll along the sand beaches of Monterey Bay in either direction. Seacliff State Beach offers both a popular swimming beach and shaded picnic areas with ocean views.
There is also an RV campground and a large fishing pier for exploring. The end of the pier features an old, rotting concrete ship called the USS Palo Alto. This ship is now closed to public access, however, it's still worth walking out to see. Pet Policy: Dogs allowed on leash.
Sunny Cove Beach
Sunny Cove Beach is a community located in eastern Santa Cruz. The beach is accessible from 16th Avenue, Johans Beach Drive, and Sunny Cove Drive. Unfortunately, no dogs are allowed on the sand or in the water at any time. Pet Policy: Dogs allowed on leash.
Manresa State Beach
Manresa State Beach is a day-use park in the La Selva Beach region of Watsonville, California. The main day-use area of Manresa State Beach features a large paved parking lot on the bluff above a wide sandy beach on Monterey Bay. On nice days, the lot may fill up quickly, but the beach is extensive.
Watsonville beach
Rio Del Mar Beach
Brighton State Beach
List of the Best Dog Parks in Santa Cruz
The best dog parks in Santa Cruz are important for leisure and provide a lot of space for your dog to run and enjoy themselves.
Frederick Street Park
There is a green park named Frederick Street Park near to North Seabright Beach that welcomes on-leash dogs to play, run, and socialize with other dogs. This dog park may be visited for some time, and you can go down the Arana Gulch paths or explore other beaches as well. 
When you're looking for a great beach to take your dog, but don't know which ones allow them? Look no further than this list:
14 Dog-Friendly Beaches in Maine
8 Dog-Friendly Beaches Santa Barbara
Dog-Friendly Beaches in Half Moon Bay, CA
Dog-Friendly Beaches in Massachusetts
Dog-Friendly Beaches Rhode Island
Dog-Friendly Beaches In South Carolina
Dog-Friendly Beaches In Alabama