Last updated on April 24th, 2023 at 02:26 pm
Does TJ Maxx Allow Dogs? Is It Dog-Friendly? (2023 Store Pet Policy)
Are dogs allowed in TJ Maxx? Short answer: Yes. Some TJ Maxx stores allow dogs inside, but it is up to the individual store managers. Some locations don't allow dogs unless the dog is a service animal.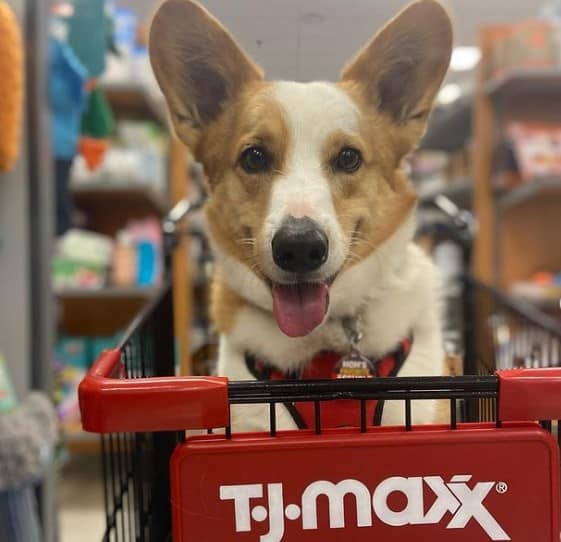 For more information on the pet policy at TJ Maxx stores, keep reading.
What is TJ Maxx?
TJ Maxx is an off-price retail chain headquartered in Framingham, Massachusetts, that began selling clothes and home products in 1976. The firm has over 1,000 stores throughout the United States and Puerto Rico, making it one of the country's largest off-price merchants.
Check out the posts where we check which retailers have a compassionate approach:
Does Kohl's Allow Dogs Inside?
TJ Maxx is a discount department store that offers branded and designer goods at 20-60% less than retail prices. The firm obtains items from over 15,000 suppliers and sells them through its network of stores as well as its eCommerce site.
TJ Maxx is part of parent company TJX Companies, which also owns Marshalls, HomeGoods. All three stores, owned by the same company, are some of the most pet-friendly stores around.
Is TJ Maxx Dog Friendly? Does TJ Maxx Allow Dogs in 2023?
Yes, TJ Maxx is a pet-friendly shop in certain locations, but not all.
Each store is individually managed, so it ultimately falls to the store manager discretion as to whether or not pets are allowed inside. 
However, TJ Maxx does take many things into consideration when making this decision, such as customer allergies and possible health hazards that untrained animals may pose. They also want to ensure that small children are not afraid of the animals.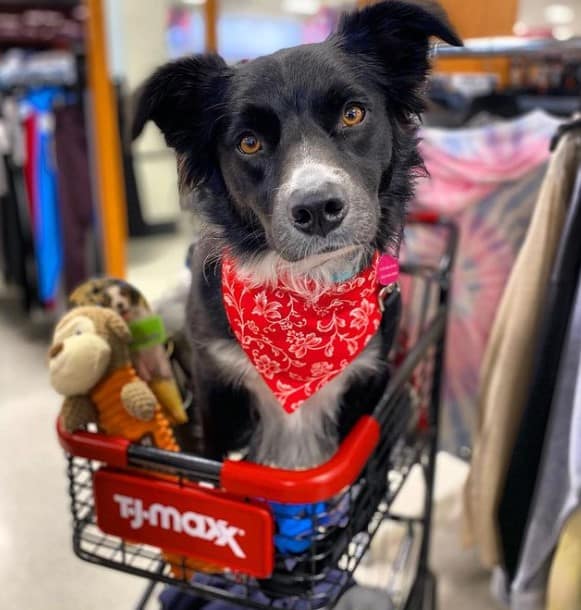 Overall, TJ Maxx stores has a welcoming attitude toward pets and allow dogs in many of their locations.
What Is TJ Maxx's Official Policy on Dogs?
If you're wondering what TJ Maxx's policy is on dogs in their stores, unfortunately, there is no official company policy that is listed on their website. However, we have spoken to both current and former employees who have told us that generally speaking, store locations are allowed to let dogs inside, unless there are specific local laws in place that prohibit it.
These posts are great for when you want to know which stores allow dogs:
Of course, it's important to keep in mind that since each store location is independently operated, the decision of whether or not to allow dogs inside ultimately lies with the store manager. So if you're planning on bring your dog into a TJ Maxx store, it's always best to call ahead and check with the manager beforehand.
It's also important to note that service dogs are always allowed inside TJ Maxx stores, as per Federal law. This does not include emotional support animals, which are not considered to be service animals.
Does TJ Maxx's Dog Policy Vary Across Locations?
While TJ Maxx is a pet-friendly store, the company policy does vary from store by store basis.  Some stores allow dogs inside, while others do not. It is up to the staff at each individual store to decide whether or not to allow dogs inside.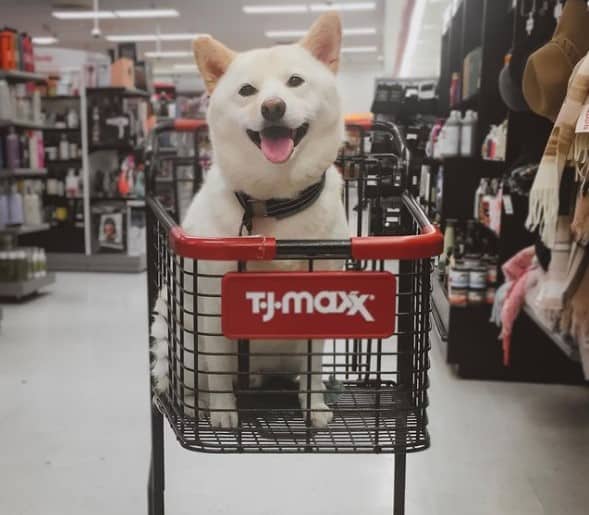 If you are planning on visiting TJ Maxx with your dog, it is best to call ahead and ask if they are allowed inside the store. Or, you can simply show up and ask at the door. Keep in mind that you may be turned away if the store does not allow dogs.
Overall, TJ Maxx is a great place to shop for bargains with your well behaved dog by your side. However, it is important to remember that the policy on dogs does vary from location to location. Be sure to call ahead or ask at the door before bringing your dog into the store.
We'll keep you updated with the latest news about places that allow your furry friend:
Can my dog be taken to Tj Maxx by me?
If you're looking to shop at Marshalls (or TJ Maxx stores or HomeGoods, which are all owned by the same business), consider taking your well-behaved furry friend for a quick trip because they're a pet-friendly store. Apr 2023
Are Service Dogs Allowed In Tj Maxx? What You Should Know?
Service dogs are specially trained to assist disabled people with perform tasks they would otherwise be unable to do on their own. Consequently, all stores, including TJ Maxx, must be prepared to welcome them.
Even if the individual store managers dislikes dogs or customers may be turned off by them, only service dogs cannot be turned away because the law ADA mandates the acceptance of service animals into stores.
The only two questions TJ Maxx employees are allowed to ask about service dogs are whether the dog is a service animal needed because of a disability and what task or work the dog has been trained to perform. Beyond that, they cannot request any information about your disability or the certification of the dog.
Can I Take My Emotional Support Dog To Tj Maxx?
Of course, you can! However, only if your Tj Maxx location is pet-friendly!
Emotional support animals are not specially trained to assist or perform any tasks for their owners. They simply provide comfort and emotional support to their dog lovers. Because of this, they are not legally recognized as service animals, they are simply companion animals.
If your local Tj Maxx store is pet-friendly, they should have no problem accommodating your emotional support animal. If they do have a strict no-pet policy, you may have more difficulty bringing your ESA into the store. In this case, it would be best to call ahead and speak to management about their policy and see if there is any flexibility.
TJ Maxx store near me allows pets? What Should I Do If a TJ Maxx Store Isn't Permitted to Take Pets?
If you're looking for a TJ Maxx store that is pet-friendly, the best thing to do is to use the store locator tool on the company's website. This will allow you to find the location and phone number of stores near you. 
Once you have this information, you can contact the local store directly and ask them does TJ Maxx allow dogs. The staff at the store will be able to give you more specific guidance about which locations would be best based on factors like size requirements or pet-related restrictions.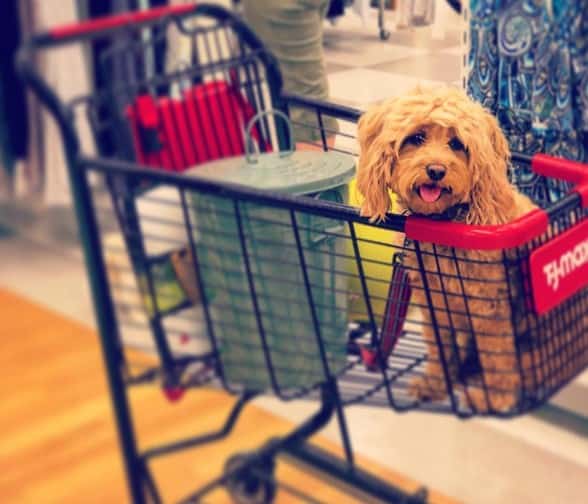 Stay in the loop with us and we'll keep you updated on all places that allow your furry friend:
Does Lululemon Allow Dogs Inside? 
With a little research, you should be able to find a pet-friendly TJ Maxx store in no time at all.
Does TJ Maxx Have a Pets Section?
TJ Maxx is a great place to shop for pet supplies because they always have a wide selection of high-quality items at affordable prices. You'll discover everything you need for your dog or cat at TJ Maxx pets section, whether it's treats, toys, bowls, collars, leashes, or sweaters. They also have a large range of pet beds and dog beds in sizes and kinds to fit all kinds of pets.
So if you're shopping for yourself or a loved one with a new dog, be sure to check out the pet section at TJ Maxx next time you're out shopping. You won't be disappointed!
What Other Stores Allow Dogs? 
As more and more people adopt companion animals, stores are beginning to allow customers to bring dogs and other pets inside. This is especially true for pet-related stores, includes pet food stores, such as Petco or pet store PetSmart, but other, includes hardware stores, such as Home Depot, Lowes, and Tractor Supply Co. have also begun to allow dogs in.
Nordstrom was one of the first major retailers to allow dogs, and other retailers such as Apple Store, Pottery Barn, Anthropologie, Michael's, Half Price Books, Bath & Body Works, and Sephora have followed suit. LUSH is another retailer that has always been dog-friendly.
There are many reasons why stores might allow dogs. For one, it can create a more relaxed and welcoming atmosphere. Dogs can also serve as a major perks, marketing tool, helping to attract customers who are looking for a dog-friendly store. Allowing dogs can also help to increase foot traffic and sales.
Of course, there are some challenges that come with allowing dogs in stores. For example, retailers, incluid pet food stores, need to make sure that their staff is comfortable around animals and that the store is clean and safe for both pets and humans. In some cases, store policies might exclude certain breeds of dogs that are considered to be dangerous.
Overall, more and more stores and food service retailers are beginning to allow well behaved dogs inside. This trend is likely to continue as pets become increasingly popular members of the family.
Do cats have the right to be in Tj Maxx with their owners?
There is no denying that cats are one of the most popular pets in the world. In the United States alone, there are an estimated 94.2 million pet cats. And while most cats remain indoors, a growing number of cat owners are taking their feline friends out exploring with them. This includes taking them shopping!
So, do cats have the right to be in TJ Maxx with their owners? The answer is a resounding yes! In fact, all TJ Maxx stores in the United States are considered to be among the most pet-friendly stores around.
This is great news for cat owners who want to include their furry friends in their shopping trips.
What are some good tips for bringing your dog to the store?
When bring your dog to the store, it is important to remember to keep them on a leash at all times. This will ensure that they won't run off and get lost, as well as preventing them from causing any nuisance or disruption to other shoppers. 
You should also be aware of any specific rules or regulations, state or local laws that the store may have regarding pets before bring your dog inside.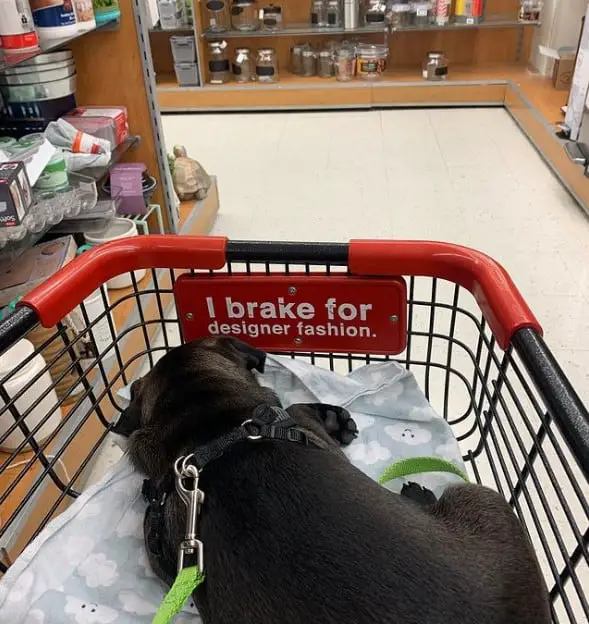 In general, it is best to keep your dog under control and not let them roam freely around the store. If your dog does become agitated or uncomfortable, it is best to remove them from the situation and take them outside for a break. 
As a responsible pet owner, you should also make sure to clean up any messes that your dog may make while inside the store.
Following these simple tips will help to ensure that both you and your dog have a enjoyable and safe experience when shopping together.
Sharing Dog-Friendly Experiences: Using #TJMaxxDog on Social Media
If you have visited a TJ Maxx store with your furry friend and they were welcomed, you can share your experience on social media by taking a photo and using the hashtag #TJMaxxDog. This is a great way to show your appreciation for the store's dog-friendly policy and also let other dog owners know which TJ Maxx locations are welcoming to pets.
When sharing your photo on social media, make sure to include the location of the store in your caption so that other dog owners can easily find dog-friendly TJ Maxx stores in their area. By doing so, you'll be helping other dog owners enjoy a stress-free shopping experience with their furry companions.
Sharing photos on social media is also a great way to build a community of dog owners who can share their experiences and recommendations for dog-friendly stores and activities in their area. It's always fun to see other dogs enjoying themselves in new places, and it can help you discover new places to explore with your own pup.
Overall, sharing your photos on social media with the #TJMaxxDog hashtag is a great way to show your appreciation for dog-friendly stores and connect with other dog owners in your area. So, next time you visit a TJ Maxx store with your dog, be sure to snap a photo and share it on social media!
How to Bring Your Dog to TJ Maxx: Step-by-Step
If you have confirmed that your local TJ Maxx store allows dogs, here are some general steps to follow when bringing your furry friend with you:
Make sure your dog is well-behaved and comfortable in public spaces. Your dog should be comfortable around people and other dogs, and should not be aggressive or fearful.
Ensure that your dog is on a leash at all times and that the leash is no longer than six feet in length. This will help keep your dog close to you and prevent them from wandering off or bothering other shoppers.
Bring along any necessary supplies, such as poop bags, water, and a travel bowl. You may also want to bring a small towel to clean up any messes your dog may make.
Respect the store's policy and any rules or guidelines they may have for customers with pets. This may include not allowing your dog to enter certain areas of the store or requiring that you clean up after your dog if they have an accident.
Keep a close eye on your dog at all times and be prepared to leave the store if they become anxious, agitated, or disruptive.
By following these steps and being a responsible pet owner, you can enjoy shopping with your dog at TJ Maxx while also ensuring a safe and enjoyable experience for everyone.
FAQ
Does TJ Maxx Allow Other Pets Inside?
If you are interested in bringing a pet other than a dog with you to TJ Maxx or any other store, it's best to check with the store's management first to confirm their policy and any specific guidelines they may have. It's also important to consider your pet's comfort and safety before bringing them with you on any shopping trip.
How Friendly Is TJ Maxx To Dangerous Breeds?
Instead of focusing on a specific breed, it's more effective to consider a dog's individual behavior and temperament. If your dog is well-behaved, socialized, and comfortable in public spaces, they may be welcome in TJ Maxx or other stores that allow dogs.
It's important to remember that even if a store allows dogs, it's still important to be respectful of other shoppers and their pets. Keep your dog on a leash and under control at all times, and be prepared to leave the store if your dog becomes anxious, agitated, or disruptive.
Ultimately, whether or not a store is welcoming to certain breeds of dogs or individual dogs depends on the store's specific policy, as well as the behavior and temperament of the individual dog. It's important to note that breed-specific policies can be controversial and may not be effective in promoting safety.
Is TJ Maxx dog friendly Wisconsin?
Based on general store policies, T.J. Maxx in Wisconsin allows dogs on a leash inside the store. However, it's important to note that store policies can vary by location and may be subject to local regulations or restrictions.
Therefore, it's best to confirm the pet policy with the specific T.J. Maxx location in Wisconsin before bringing your dog with you. You can do this by calling the store or checking their website for any pet-related guidelines or restrictions.
Conclusion
Does TJ Maxx allow dogs? TJ Maxx is one of the many stores that are now pet-friendly. You can bring your dog into the store as long as it is on a leash. Some TJ Maxx allow dogs or other pets, some stores disallow pets, so it is best to call ahead or ask when you arrive. It is also important to follow all state or local laws and ordinances regarding pets in public places.  
Overall, TJ Maxx pet-friendly. And TJ Maxx allow dogs and non service animals in most of its stores, but as with all things, there are exceptions to this rule.  If you're unsure about a particular pet policies, local and state laws in local store, it never hurts to ask upon arrival does TJ Maxx allow dogs.
And, as always, remember to pick up after your furry friend if they happen to use the restroom while in the store.