Last updated on July 7th, 2022 at 02:22 pm
Gift for Dog Lovers AsobuBottle.com
The Asobu Dog Bottle is the perfect gift for dog lovers. It is a high quality, durable water bottle that also doubles as a dog bowl. This makes it the perfect choice for taking your furry best friend on walks or during any other outdoor activities.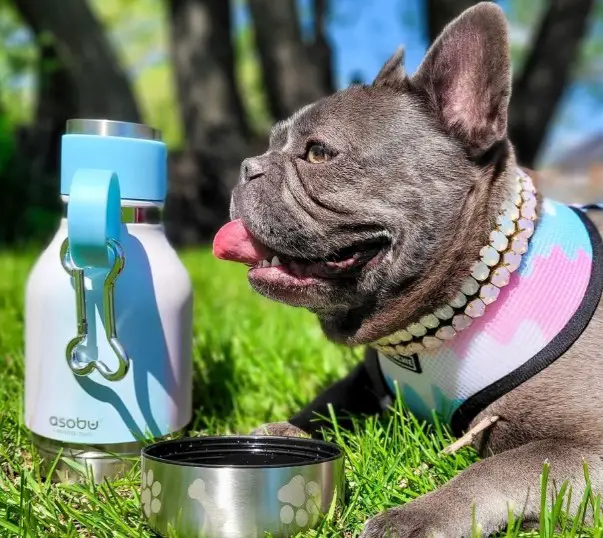 Dog Water Bottle Asobubottle.com
The Asobu Dog Bottle is available in two different sizes and four different colors. It also comes with a one year warranty. Dog owners rave about this product because it is so easy to use and keep clean.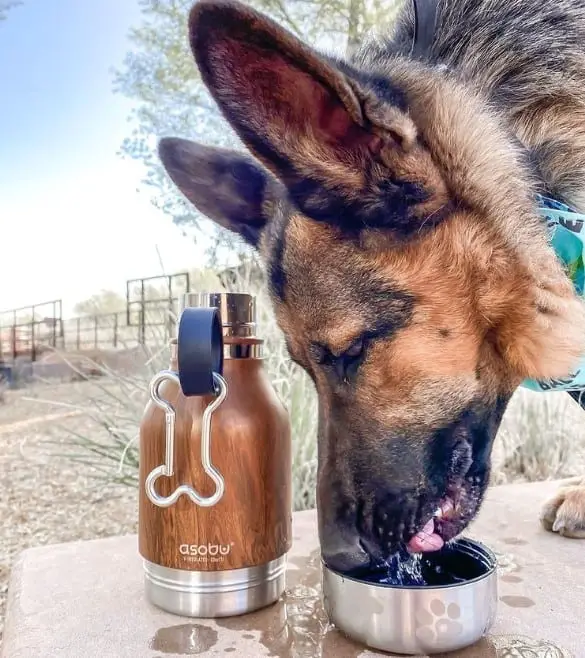 Plus, it keeps their dogs hydrated on the go in the hot summer day. If you are looking for the best gifts for dog lovers, then look no further than the Asobu Dog Bottle.
About AsobuBottle.com
The AsobuBottle.com website is a great place to shop for high quality gifts for everyone on your list, including those who aren't dog lovers or owners. 
All of the products offered on the site are inspired by Japanese culture, which is evident in the fun and playful nature of the items. The products are also very simplistically designed yet still maintain a beautiful aesthetic. 
Additionally, the brand color of orange was chosen because it symbolizes joy, happiness, and creativity – all things that we love here at DogFriendlyAreas! 
Finally, one of the best things about shopping on AsobuBottle.com is that their products come with a lifetime warranty and free shipping on orders over $50. 
So if you're looking for a unique gift that is sure to please, make sure to check out AsobuBottle.com!
Dog Owners' Favorite Gift: Asobu Dog Water Bottle and Bowl
Asobu's Dog Water Bottle and Bowl is the perfect gift for any dog lover. 
The water bottle comes in a convenient size – 33 ounces and is made of stainless steel and is vacuum insulated to keep water cold for hours. The bottom of the Asobu bottle has an anti-slip grip and a handle for easy carrying.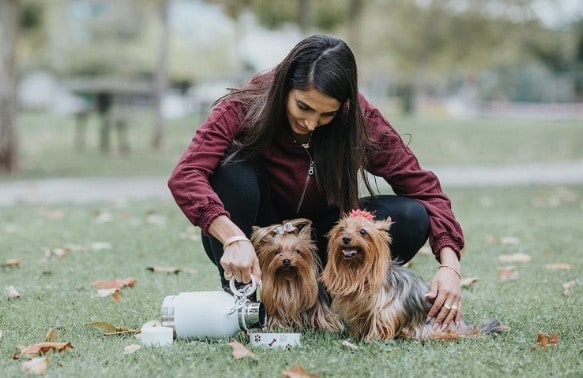 The bowl is detachably attached to the bottom of the bottle and is perfect for watering your dog on the go. 
Asobu also offers a lifetime warranty on their products.
Asobu Bottle Key Features:
Dimensions – 5.75″ X 4.25″ X 9.5″100% BPA Free
Carries 1L of water (33 OZ)
Vacuum insulated and copper lining
Detachable silicone bowl at the base to store water or dog food inside
Easy grip handle
Dog Bowl Dishwasher safe (gentle cycle or regular cycle)
Double wall insultation (keep water cold for 24 hours)
Anti-slip base makes it hard to know over
Hassle-free returns and free shipping on order over $50
Dog Water Bottle Asobubottle.com Plus: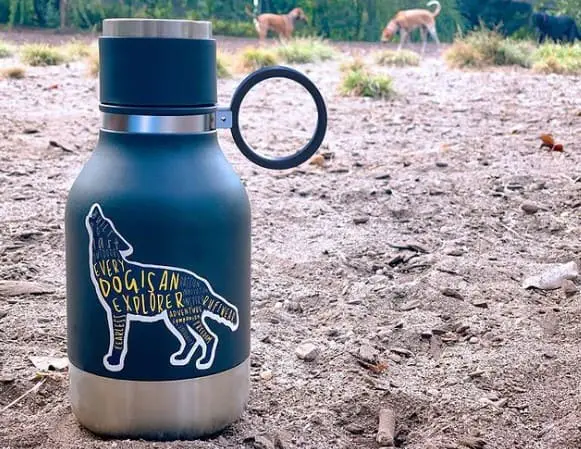 High quality materials
Carries 1L of water
The endless bottle colors options
Price
Vacuum insulated
The lifetime warranty
The large-capacity bowl is stainless steel
Keeps water cold for 24 hours
Easy Grip Handle
Dog Water Bottle Asobubottle.com Cons:
Dog Water Bowl might not be big enough for large dogs
Water bottles can be pretty heavy when full (but it's carrying water for pet parent and a dog)
Asobu Bottle Colors
The Asobu Bottle comes in a variety of colors that are sure to please. The colors are vibrant and fade-proof, so you can enjoy your favorite color for years to come.
You can choose between Asobu Bottle colors: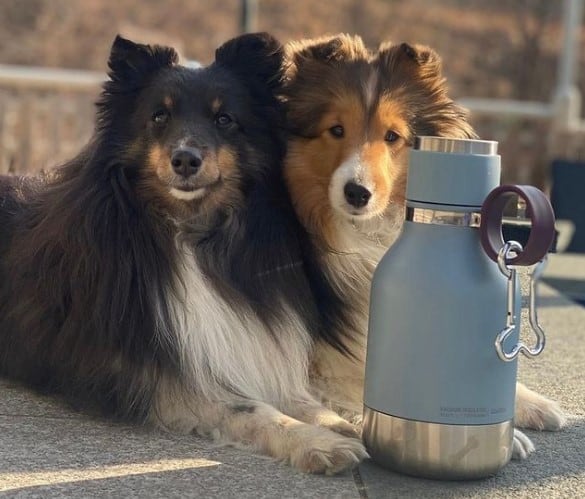 Aqua Pink Marble
Black
Blue
Midnight Marble
Mint Green
Pink
Smoke
White
Wood
Whether you're looking for a subtle shade or a bold statement piece, the Asobu Bottle has the perfect color for you.
Questions Dog Owners Ask About the Dog Water Bowl and Bottle
What are some common questions dog owners have about the water bowl and bottle?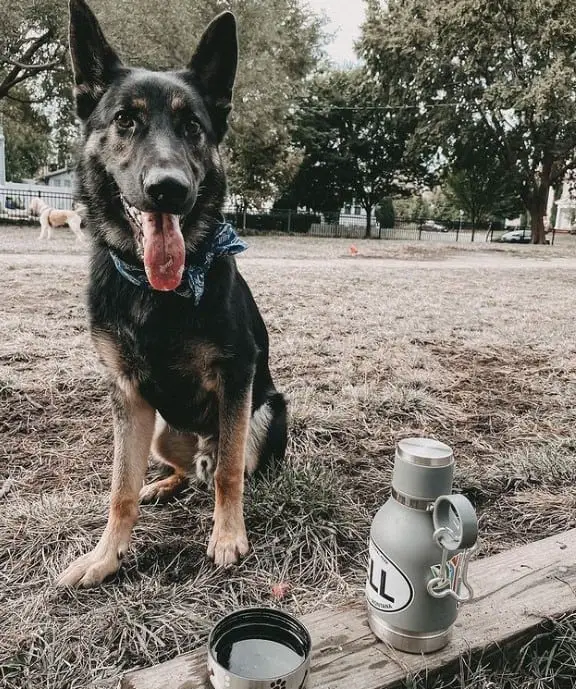 Is this dog water bottle and bowl dishwasher safe?
Some dog owners worry that placing their water bottle on the top rack of the dishwasher might damage it. However, most water bottles are dishwasher safe, and the Asobu Bottle is no exception. 
The best cycle to use is the gentle cycle without heat dry, but some dog owners report that a regular cycle did not damage their Asobu Bottle. 
Either way, it is always best to check the manufacturer's instructions before placing any water bottle in the dishwasher.
Is there any glass in this item?
The double wall insulation on this product is made out of plastic, not glass. This means that there is no risk of shattering or breaking if the mug is dropped. The double wall insulation of plastic also helps to keep drinks hot or cold for longer periods of time.
Is the insulated storage area copper lined like other Asobu products?
The Asobu Thermo insulated storage area is copper lined like other Asobu products. The outer most layer, however, is stainless steel. This makes the Thermo more durable and resistant to corrosion. Additionally, the stainless steel provides a barrier against contaminants and helps to keep the contents of the Thermo clean and sanitary.
Are there smaller sizes available?
The Asobu Bottle only comes in 33 ounces right now, but there are other varieties of bottles like the Asobu Urban bottle and Orb Bottle that are smaller. They also make perfect gifts for dog owners who want to give their furry friend something special. The Asobu Urban bottle is sleek and stylish, while the orb bottle is fun and unique. If you're looking for a smaller size, these are great options.
Where is the product manufactured?
The product is manufactured in a factory in China. The factory is located in the city of Shenzhen. The product is made from materials sourced from suppliers in China and around the world. The product is assembled in the factory and then shipped to customers.
Can dog food be stored in the detachable dog bowl?
The reason you can't store dog food in the detachable dog bowl is because the dog bowl screws onto the bottle. There is no empty space for the food to fit into. However, you can put dog treats inside the bottle and pour it into the dog bowl after detaching it. This way, your furry friend will have a full meal, can stay hydrated and you won't have to worry about storing the food anywhere else.
What Dog Owners Think About the Asobu Bottle (Asobu Bottle Amazon reviews)
Many dog owners think that the Asobu water bottle is a great product to bring along with them when they go places with their dogs. 
The about the Asobu Bottle Amazon reviews are favorable, with a rating of 4.7 out of 5. Most pet owners say that the bottle is sturdy and sleek. However, some pet owners believe that the bottle is too heavy when it is filled.
The Asobu bottle holds 33 ounces of liquid, which makes it just as heavy as a Yeti or Hydroflask water bottle. 
Despite the weight of the bottle, many dog owners still think it is a great product to use. This is why Dog Ownership Guide recommends it highly. We believe Happy Dogs ~ Happy Owners/
How to Buy This Gift for Dog Lovers
The Asobu Bottle is the ideal gift for dog lovers. It's not only your pet's most desired present, but it also makes him ecstatic. This is why Dog Ownership Guide recommends it. We feel that happy dog owners make happier dogs.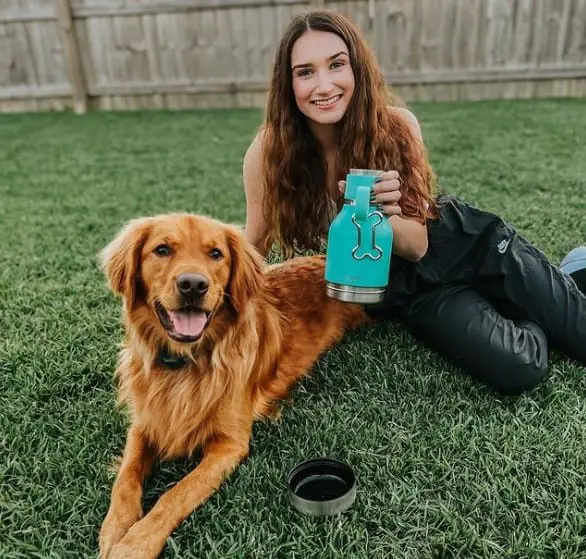 This bottle is available on AsobuBottle.com for $34.99, and Amazon offers it for $29.99 with free shipping for Prime members. It's a great present for any occasion, and it's sure to put a smile on your dog's face.