Last updated on April 28th, 2023 at 11:31 am
Does Subway Allow Dogs Inside? Is Subway Pet Friendly? Pet Policy 2023 Guide
Does Subway allow dogs? Short Answer: Only service animals are allowed inside Subway, while emotional support animals and pet dogs are only allowed on designated outdoor patios and terraces.
The prohibition on allowing non-service animals inside food service establishments is based on food safety regulations set by the FDA (Food and Drug Administration) and other local organizations such as the County Health Department.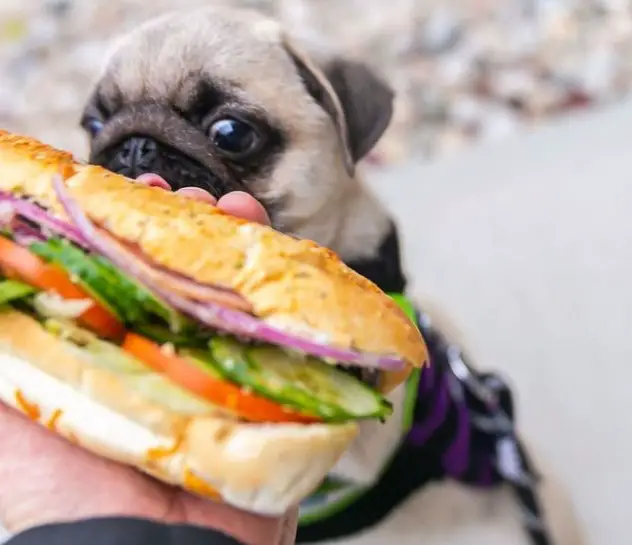 Subway sub sandwich is a favorite among many people. While the popularity of Subway has started to dwindle, and many individuals no longer perceive the restaurant's carb-heavy meals as being particularly nutritious, we'd be dishonest if we said we didn't miss a delicious Subway sandwich from time to time. 
Does Subway allow dogs?
But can you take your dog into a Subway restaurant? Only a service dog is allowed inside the Subway. Pets and emotional support animals are only allowed on outdoor patios and terraces. Discover all that Subway has to offer, from interesting secret menu items, to its pet-friendly policy. Planning your next visit will be a breeze!
Is Subway dog-friendly?
Subway are dog-friendly, allowing non-service dogs on outdoor patios and terraces. Water bowls are often offered for them as well. However, only service dogs are allowed inside the Subway restaurant itself.
Though there aren't many examples on social media, most pet dog owners who have tried it have had a positive experience. For instance, one satisfied Subway customer said:
"We'd seen that the Sandusky branch of Subway had reopened, so we decided to pay them a visit. We took our dog Molly with us. I inquired if we might eat at their establishment with our dog and was told, "Yes, no problem.
Our patio is dog-friendly" by the restaurant employee. The same person subsequently brought a bowl of water for our Molly after we placed our order. That's really great of you! "
The easiest method to ensure that your dog can go with you to Subway is to call ahead and inquire about the eatery's policy on dogs on outdoor patios.
What Is the Official Subway Dog Policy
There is no formal pet policy at Subway. This is because the Food and Drug Administration (FDA) prohibits any animals in places where food is prepared and served. However, the Americans with Disabilities Act (ADA) allows service dogs into public places.
This means that regular pets are not allowed inside of restaurants, even if they are well behaved, while service dogs are allowed both in outdoor and indoor dining areas.
Does Subway Dog Policy Vary By Location?
Yes, Subway's dog policy varies by location. Some Subway allow customers to bring their dogs into the outdoor patio, while others do not. At most Subway, you are allowed to bring your pet onto the patio. 
However, the decision to allow non-service dogs on the Subway outdoor patio is left up to the individual restaurant. This is because Subway are almost 100% franchised, which means that the decision is left to the manager of each individual restaurant. Service animals are always welcome. 
If you're not sure if your pet is allowed, it's best to call ahead before you bring it to Subway. This will help ensure that you follow the appropriate rules for the establishment.
Which restaurants allow dogs? You may be surprised by the answer:
Hard Rock Cafe, Chipotle, Golden Corral, Buffalo Wild Wings.
What states allow dogs on outdoor patios?
In 17 states of the USA, it is legal to bring your dog to an outdoor patio or terrace of a restaurant as long as the dog is not causing any disturbance. Service animals are always allowed inside and outside restaurants by law.
If you are planning on going out to eat at a restaurant with an outdoor patio area with your service dog, you will not have to worry about being asked to leave. Just be sure that your dog is well-behaved so that he or she does not bother other customers that are also enjoying their time dining out.
These 17 states in the US that allow non-service dogs on outdoor patios and restaurant patios include California, Florida, Illinois, Maryland, Minnesota, New Mexico, New York, Ohio, Rhode Island, Tennessee, Texas, Virginia, Georgia, Kentucky, North Carolina, Oklahoma and South Carolina.
Subway Rules for Dogs on Outdoor Patios
What is the pet policy on Subway outdoor patios and restaurant terraces? In general, dogs are allowed on the outdoor patio or terrace, but they must be well-behaved and kept on a leash at all times.
As the owner, you are responsible for cleaning up any messes your pet makes and keeping them from reclining or standing on tables or furniture. By following these simple guidelines, you can ensure a safe and enjoyable experience for both you and your furry friend.
Does Subway have a menu for dogs? 
While Subway doesn't have an explicit dog menu, upon request, they will make modifications to sandwiches so that they are canine-friendly. For example, you can order a sub without gravy, onions, and peppers for your dog with roast beef, turkey, tuna, cheese steak or another option of your choosing.
What Can Dogs Eat at Subway?
Subway is a healthier option for your dog than most fast food places. You can customize the sandwich to fit your dog's needs. Can dogs eat Subway sandwiches? Dogs can eat Subway sandwiches. A healthier option when choosing fillings would be to go for something with less processed meat.
Dogs can safely eat plain bread and meat from Subway, as long as no sauces or spices are added. Chocolate in cookies is toxic to dogs and should be avoided.
A plain white roll with no grain or seeds is the best option for a dog-friendly Subway sandwich. Chicken breast, ham, rotisserie style chicken, steak, and turkey breast are all safe meat options for dogs. 
Toppings should be avoided, as they can be toxic to dogs or make them sick. Red onions should be avoided, which are part of the allium family of foods that can poison dogs in large quantities. Jalapeños should also be avoided, as any spice can play havoc with a dog's stomach. 
Plain meat Subway sandwiches should be given to dogs only occasionally, as they are not part of a healthy diet for dogs.
Can dogs eat Subway cookies?
Dogs should not eat Subway cookies. The chocolate in the cookies can be toxic to dogs and make them sick. The cookies are also high in sugar, which can cause weight problems and diabetes.
The Subway Secret Menu
Consider trying something new from Subway's secret menu next time you're there. What secret menu? We're glad you we asked. Here's a peek:
Subway's Chicken Cordon Bleu sandwich
Subway's Chicken Cordon Bleu sandwich is a simple yet tasty combination of chicken, ham, Swiss cheese, and Dijon mustard. It's a great option if you're looking for something more than just the usual meat and cheese combo.
The key to this sandwich is in the Dijon mustard, which gives it a nice kick of flavor. So if you're ever feeling like something a little different at Subway, give this secret menu item a try. You won't be disappointed.
The Carnivore at Subway
If you're in the mood for a sandwich that's loaded with meat, The Carnivore from Subway is a great option. It comes with six pepperoni slices, four servings of steak, eight pieces of bacon, and cheese. All of the ingredients are then warmed up, resulting in a hot and indulgent sandwich.
Subway's Chicken Parmesan Sub
Subway's Chicken Parmesan Sub was a fan-favorite menu item for years, until it was discontinued. However, at some locations, you can still order this sandwich if you know the right combination of ingredients.
The sandwich consists of roasted chicken breast, marinara sauce, black pepper, spinach, olives (optional), and parmesan cheese. If you're craving the taste of the good old Subway, this sandwich is sure to hit the spot.
Subway's Deconstructed Breakfast Taco
If you're looking for a delicious and healthyish way to start your day, try the Deconstructed Breakfast Taco from Subway. Start with a flatbread, then add steak, egg whites, tomatoes, guacamole, red onion, and chipotle sauce. Yum!
Subway's Eggs Florentine Flatbread
Subway is known for its fresh food, and its eggs Florentine flatbread is a health-conscious option that packs in protein. The sandwich starts with a flatbread, and includes egg whites, spinach, red onion, banana peppers, black olives and Italian dressing.
It's a mild-tasting sandwich, but you can add jalapeños for extra spice. Just be careful of the stems!
Subway's Sweet and Sour Chicken Sub
Subway's Sweet and Sour Chicken Sub is a tasty sandwich that combines two of the best sauces offered by the restaurant: the red wine vinaigrette and the sweet onion sauce. The vinegar in the vinaigrette cuts through the sweetness of the onion sauce, making for a delicious and well-rounded flavor.
In addition to the great sauce, this sandwich also includes chicken as your protein, as well as tomatoes, red onion, and banana peppers. Lettuce or spinach would also be good additions. This sandwich is definitely one of the more flavorful and interesting items on Subway's secret menu.
"Wing Effect" with any Subway sandwich
The "wing effect" is a technique used to make Subway sandwiches. The meat is folded over the bread, making it look like wings. This is done to make it easier to eat the sandwich and to get more meat in each bite.
Some people prefer this method, as it allows for more meat in each bite. Others find it unappealing and prefer their sandwiches with the meat neatly tucked inside the bread.
Subway's Meat Feast sandwich
The Meat Feast sandwich from Subway is a great choice for protein-lovers and those following a high-meat diet. It includes all of the deli meats offered on the menu, as well as your choice of cheese. You can also add any desired veggies or sauces. The sandwich is available in either a six-inch or footlong size.
Craving extra veggies? Say "more please" next time you're at Subway
If you want more vegetables on your Subway sandwich, just ask for "more please." You can add as many veggies as you want to any sandwich, as long as it still fits in the bread. Just be sure to ask for "more please" when you place your order.
Subway's Spicy Nacho Steak Sub
Subway came out with a few new sandwich ideas that were only available in certain regions. One of these sandwiches was the Spicy Nacho Steak Sub. This sandwich includes steak, shredded cheese, green bell peppers, onions, and Doritos. The Doritos add a crunch to the sandwich. You can also ask for jalapeños if you want it to be spicier.
The "old cut" at Subway
Subway used to cut their sandwiches differently than they do now. Instead of slicing the sandwich so it opens sideways, the first Subway subs had a U-shaped cut on the top of the loaf. The fillings would go inside, and the cut bread would rest on top.
This is known as the "old cut" or "U-gouge." While you can still get this type of cut at Subway, it's not as common as the sideways slice. However, many people believe that the old cut is superior because you don't have to worry about the insides squishing out when you bite into it.
If you're feeling nostalgic or just want to try something new, order your next Subway sandwich with the old cut.
Subway's Grilled Cheese Sub
The Grilled Cheese Sub at Subway is a simple and tasty way to enjoy a meatless meal. Just choose your bread, ask for both American and Monterey cheddar cheese, and add your toppings of choice. You can also toast your bread before or after adding the toppings.
This is a great option for kids, picky eaters, or anyone looking for a quick and easy meatless meal.
Are All Service Animals Allowed In Subway? What Are The Service Dog Rules At  Subway?
Service animals are dogs that have been trained to help people with disabilities. They are allowed in all areas of a Subway restaurant, including both indoor and outdoor spaces. They must be kept on a leash or under control at all times, and they are not allowed on furniture or in the play area.
If a service animal is causing a disturbance, staff may ask the owner to remove the animal from the premises.
Are Emotional Support Dogs Allowed In Subway?
Emotional support animals can provide companionship and emotional stability to people with mental or emotional disorders, but they are not considered service animals under the Americans With Disabilities Act.
This means that restaurants like Subway can refuse entry to them. However, you can still enjoy your meal outside the restaurant.
Why Does Subway Have a No-Pets Policy?
Subway does not allow pets in its stores. This policy helps the company follow federal and state laws, as well as the regulations of the FDA (Food & Drug Administration) and ADA (The Americans with Disabilities Act).
Pets are not allowed in food preparation areas because they could contaminate the food. They also might disturb other customers who have allergies or who are afraid of animals. Lastly, having a no-pets policy helps Subway provide a safe and comfortable environment for all of its customers.
What are the deals at Subway Restaurants?
Subway is a chain that specializes in sandwiches and salads. Special deals at Subway may vary by location and time of year, but here are some examples of deals that are often available:
Sub of the Day: Subway offers a different sandwich at a discounted price each day of the week.
Footlongs for $5.99: Subway may offer select footlong sandwiches for a discounted price of $5.99.
Coupons: Subway may offer printable or mobile coupons for discounted prices on menu items or free items with purchase.
Rewards program: Subway has a rewards program called "Subway MyWay Rewards" that allows customers to earn points for their purchases and redeem them for free menu items.
Catering deals: Subway may offer catering deals for large groups or events.
Limited-time menu items: Subway may offer special menu items for a limited time, often with discounted prices.
It's always a good idea to check with your local Subway or visit their website to see what deals are currently available.
FAQ
Are  Subway safe for dogs? What can my dog eat at  Subway?
Dog owners can be confident that their dogs will enjoy meals from Subway. Chicken breast or meat are always available. However, onions, garlic, and spices should not be offered to your dog as food.
Does Subway give you a free sub on your birthday? How do you get a free sub from Subway?
The Subway Eat Fresh Club is a loyalty program that offers members a free six-inch sub and drink on their birthday. To become a member, you must sign up on the Subway website or in one of the restaurants.
You will then receive a membership card that you can use to redeem your free sub and drink. The club also offers other benefits, such as discounts on food and drinks, special offers, and access to exclusive content.
Can I take my dog to Subway to pick up my order?
Yes, you may bring your dog with you to pick up your order at Subway. You must, however, leave your dog outside before going inside. Dogs are not permitted in restaurants owned by Subway beyond service animals.
Can I take my dog in Subway?
Subway allow customers to bring their dogs onto the patios outside of their locations, but dogs are not allowed inside the restaurants. This policy is in place to ensure the safety and comfort of all customers.
Dogs can be a distraction and can also cause allergies or other medical issues for other customers. In addition, loose dogs can be a safety concern inside a restaurant.
Can I bring small dogs to Subway?
Small dogs are not allowed inside Subway because of the FDA and state legislation. This legislation prohibits any animal that is not a service dog from being inside the restaurant. The Subway patio is an exception, and small dogs are allowed to be on it.
Conclusion. Are Dogs Allowed In Subway?
All in all, Subway is a great place for both people and their dogs. They have plenty of outdoor seating areas that are perfect for taking your furry friend along with you. So if you're looking for a quick bite to eat that both you and your pooch can enjoy, be sure to check out your local Subway restaurant.
And don't forget to bring some water – it can get pretty hot sitting in the sun! Have you ever taken your dog to Subway? Let us know how it went in the comments below.