Last updated on April 28th, 2023 at 11:29 am
Does IHOP Allow Dogs Inside? Is IHOP Pet Friendly? Pet Policy 2023 Guide
Does IHOP allow dogs? Short Answer: Only service animals are allowed inside IHOP, while emotional support animals and pet dogs are only allowed on designated outdoor patios and terraces.
The prohibition on allowing non-service animals inside food service establishments is based on food safety regulations set by the FDA (Food and Drug Administration) and other local organizations such as the County Health Department.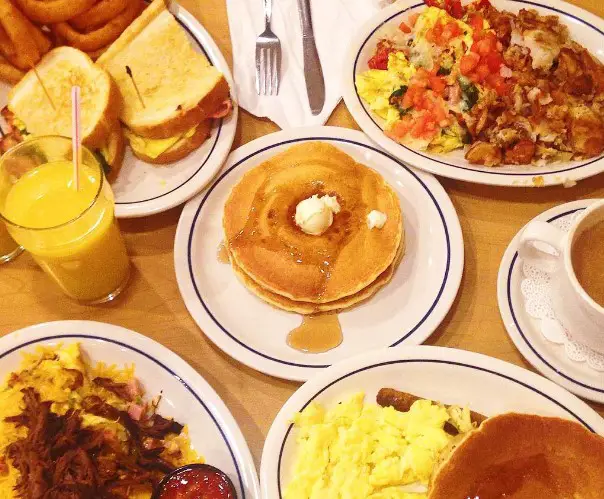 Does IHOP Allow Dogs Inside?
Going out to breakfast at IHOP is an easy way to make everyone in your family happy. IHOP is so iconic that you can usually identify the building from a distance by its shape, but there are still many things you might not know about this American favorite restaurant.
IHOP isn't just for service dogs – even though that's all they're allowed inside the restaurants. Owners of pet dogs and emotional support animals can still take their dogs to the outdoor patios and terraces of IHOP restaurants, where they can even get a pancake made specifically for their dog.
Keep reading to learn more about IHOP's pet policy, secret menu and how to get the free offers at IHOP.
What Is the Official IHOP Dog Policy
Although IHOP does not have an official pet policy, it is safe to list the rules that apply in most IHOP restaurants:
Only service dogs are allowed inside IHOP restaurants. This rule is governed by the Americans with Disabilities Act (ADA);
No pets, including well-behaved dogs on a leash, are allowed in IHOP restaurants. This rule is consistent with the Food and Drug Administration's (FDA) recommendations;
Pets and emotional support animals are allowed on outdoor patios and terraces at most IHOP restaurants;
The final decision on the admission of pets to terraces and outdoor patios is made by the manager of the local restaurant IHOP.
Looking at IHOP's dog policy, there is one very sound piece of advice – before you go to your local IHOP restaurant with your non-service dog, be sure to call and verify that your IHOP restaurant allows dogs on its patio. Service dogs are allowed inside the restaurant and on the outdoor patios at all times, so there is no need to call and ask about them
Is IHOP dog-friendly?
If you are going to eat a delicious breakfast with your family (of which, of course, your beloved dog is a member) you may want to ask: Is IHOP dog-friendly? Are dogs allowed at IHOP? The answers to these questions depend on each individual IHOP restaurant's pet policy.
In general, if one considers a restaurant to be pet-friendly that allows dogs on its outdoor patios and terraces, then IHOP restaurants are mostly dog-friendly. 
There is not much feedback online from customers of IHOP restaurants about their experiences visiting the chain's restaurants with their dogs. The IHOP at Pacific Beach is a great place to bring your dog. The staff is friendly and accommodating, and the outdoor patio is perfect for enjoying a meal with your furry friend.
This Tripadvisor user had this to say about IHOP located at Pacific Beach:
"Great breakfast and dog-friendly patio
This IHOP has a very nice patio (rare for IHOP's) with a friendly staff and good selection for breakfast items. The patio allowed us to rest and enjoy the California weather with our pups while having a great breakfast. We would definitely visit again when visiting Pacific Beach!"

https://www.tripadvisor.com/ShowUserReviews-g60750-d853821-r545518963-IHOP-San_Diego_California.html
So is IHOP dog-friendly? The answer to this question depends on each individual IHOP restaurant's pet policy. Some IHOP restaurants may allow dogs inside, while others may not. To find out if a particular IHOP location is pet-friendly, it is best to call ahead or check the restaurant's website. 
If you are planning on dining at IHOP with your dog, there are a few things to keep in mind. First, make sure that your dog is well-behaved and will not disturb other guests. Second, be aware that you may be asked to sit in a designated area for diners with pets. And finally, remember to pick up after your dog if he or she makes a mess.
By following these simple guidelines, you and your furry friend can enjoy a delicious meal at IHOP. 
We'll keep you updated with the latest news about places that allow your furry friend: Quiznos, Subway, Auntie Anne's, Nathan's Famous.
Does IHOP Dog Policy Vary By Location?
IHOP's dog policy varies from location to location, depending on the rules of the local IHOP restaurant. Some IHOP restaurants allow customers to bring their dogs to the patio and outdoor patios, while others do not. 
Also, state laws on bringing dogs into restaurants vary greatly. Check local laws before bringing your dog to an IHOP restaurant.
So, many IHOP restaurants still have a ban on keeping animals inside the restaurant, even on outdoor patios and terraces. Only 17 states have repealed this ban: California, Florida, Illinois, Maryland, Minnesota, New Mexico, New York, Ohio, Rhode Island, Tennessee, Texas, Virginia, Georgia, Kentucky, North Carolina, Oklahoma and South Carolina.
Before you bring your dog to IHOP, check to see if the ban has been lifted where you are going.
IHOP Rules for Dogs on Outdoor Patios
What is the IHOP dog-friendly policy for outdoor patios and restaurant terraces? Dogs are permitted on the outdoor patio or terrace only if they are well-behaved and under a leash at all times.
You, as the dog's owner, are responsible for cleaning up any mess your pet makes, and you must not allow them to lie or stand on tables or furniture. If you follow these simple regulations, you will be able to provide a safe and pleasant experience for both yourself and your canine companion.
Which restaurants allow dogs? You may be surprised by the answer:
Hard Rock Cafe, Chipotle, Golden Corral, Buffalo Wild Wings.
Why Does IHOP Have a No-Pets Policy?
Pets are not allowed in IHOP for various reasons such as the potential to contaminate food or scare other customers. This policy helps IHOP comply with federal and state laws, as well as requirements set by the FDA (Food & Drug Administration) and ADA (The Americans with Disabilities Act).
By not allowing pets inside, IHOP can provide a safe and enjoyable environment for all of its customers.
Does IHOP have a menu for dogs? 
IHOP doesn't have a special menu for dogs, but IHOP is a great place to bring your dog, and they will always be able to find something to eat. The main thing is to make sure that you exclude any sauces, onions, and garlic from their meal.
Dogs can enjoy many of the same items that we do from the IHOP menu, just without the extras that could potentially upset their stomachs. So next time you're planning a trip to IHOP with your furry friend, rest assured knowing that they will have plenty of options to choose from!
How do you get a free Pancake from IHOP?
We ADORE IHOP Free Pancake Day! IHOP's free pancake day is a great way to get a delicious breakfast while also supporting a good cause. Every year, IHOP offers a free stack of pancakes to all guests, and encourages them to donate to charities such as the Children's Miracle Network or the Leukemia and Lymphoma Society.
This is a great way to enjoy a delicious breakfast while also helping others in need. If you're looking for a way to help out on free pancake day, consider donating to one of these great causes.
Does IHOP give you a free Pancake on your birthday?
What does IHOP do for your birthday? IHOP offers a free birthday meal coupon for a full stack of pancakes with any topping if you sign up for the IHOP Birthday Club. The IHOP birthday meal deal can be used 7 days before your birthday, on your birthday and 7 days after. There is no purchase required.
Are All Service Animals Allowed In IHOP? What Are The Service Dog Rules At  IHOP?
Service animals are specially-trained dogs that help people with disabilities. They are allowed in all areas of IHOP restaurants, both indoors and outdoors, but must always be kept on a leash or under control.
Service animals can perform many tasks, such as guiding people who are blind, alerting people who are deaf, or carrying medication for people with diabetes. If a service animal is causing problems, IHOP staff may ask the owner to take the animal off the premises.
Although ADA law prohibits restricting access to public areas to service dogs and restaurants IHOP always comply with this requirement, there was an unpleasant incident at one IHOP restaurant with a service dog owner and his animal. Here's what he writes on one of the social media sites:
"IHOP is NOT service dog friendly
About a month ago I entered my local ihop with my autism support dog. The hostess stopped me and asked if my dog is a service dog. I said yes she's my autism support dog. (I've taken my dog to other restaurants and been asked if she's a service dog and I say yes and the matter is dropped) my dog wears a bright red vest that has the words "service dog" on both sides.
The hostess proceeded to give me a hard time about my dog and demanded to see documentation stating she's a service dog and what my disabilities are that she needs and to help me with. I politely explained that in my state it's illegal for them to ask for those papers.
I politely explained that you are allowed to ask is she a service dog? And if yes what tasks does she do for me? The hostess proceeded to argue with me and say "well in restaurants it's legal to ask for documentation" I politely told her AGAIN no that's not legal and I'd never been asked that at other restaurants I'd go to.
She then seated a party of 5 before me who had came in after me.she stated oh I'm sorry there'll be a twenty minute wait there's no empty tables or booths. I looked in the dining room and saw seven empty, clean booths and a couple clean tables.
At this point I felt l was being discriminated against so I turned to leave. The hostess asked where I'm going and I stated "to a dining establishment where they will not interrogate me for having a service dog" as I was leaving another customer commented "go then and take your damn service dog with you…she's probably a fake one anyway"…
I was pissed and there was definitely a complaint lodged with IHOP corporate offices. And guess what? Corporate never called me back. Way to be classy IHOP…I'm not sure I'll eat at that location again and I'm just trying to share this so others with disabilities can avoid this same situation. "
Are Emotional Support Dogs Allowed In IHOP?
One potential issue that could arise is whether or not emotional support animals are allowed inside. Unfortunately, IHOP does not allow emotional support animals inside the restaurant per their policy.
This policy is based on the Americans with Disabilities Act, which does not consider emotional support animals to be service animals. Therefore, if you have an emotional support animal, you will still be able to enjoy your meal outside of the restaurant.
IHOP's secret menu?
IHOP's secret menu might entail items that are no longer available on the regular menu, but that can still be requested "off-menu." Additionally, IHOP's "Create Your Own" menu option can be used to rebuild old favorites.
It is important to note, however, that not all locations will offer all options from the secret menu. Therefore, it is advisable to check your local IHOP's online menu before attempting to order any off-menu items.
What are the deals at IHOP restaurants?
IHOP is a chain that specializes in breakfast foods, including pancakes, waffles, and omelets, but also serves lunch and dinner items. Special deals at IHOP may vary by location and time of year, but here are some examples of deals that are often available:
IHOP Rewards: IHOP has a rewards program that allows customers to earn points for their purchases and redeem them for free menu items.
Coupons: IHOP may offer printable or mobile coupons for discounted prices on menu items or free items with purchase.
Early Bird Specials: Some IHOP locations may offer discounted prices on select menu items during early morning hours.
Kids Eat Free: Some IHOP locations may offer a Kids Eat Free deal on select days of the week with the purchase of an adult entree.
Limited-time menu items: IHOP may offer special menu items for a limited time, often with discounted prices.
It's always a good idea to check with your local IHOP or visit their website to see what deals are currently available.
FAQ
Are  IHOP safe for dogs? What can my dog eat at  IHOP?
Dog owners can be sure that their pets will love IHOP pancakes. However, onions, garlic and spices should not be given to a dog for food.
Can I take my dog to IHOP to pick up my order?
Yes, you may bring your dog to IHOP when picking up an order. However, dogs must stay outside before entering the restaurant. Only service animals are allowed in IHOP restaurants.
Can I take my dog in IHOP?
Dogs are not permitted inside IHOP restaurants, but they are allowed on the patios outside of them. This rule is in place to guarantee the safety and enjoyment of all patrons. Dogs might be a distraction and, in some cases, cause allergies or other medical problems for people eating nearby. Furthermore, having loose dogs within a restaurant can be a security risk.
Can I bring small dogs to IHOP?
Because of the FDA and state regulations, IHOP does not allow small dogs inside. This legislation prohibits animals other than service dogs from entering the restaurant. Small dogs are permitted on the IHOP patio as an exception to the rule.
Conclusion. Are Dogs Allowed In IHOP?
IHOP is a great place to have a delicious breakfast of pancakes with a variety of toppings. They have plenty of options to choose from, and they're constantly coming up with new ways to make customer service better. 
The IHOP does not have an official pet policy, however service animals are allowed inside the restaurants (always), and pets and emotional support animals ( in most restaurants) are allowed on the outdoor patios and terraces. This makes it a great place to enjoy a delicious breakfast with your furry friend by your side.
The IHOP restaurant is a great place to enjoy breakfast with your furry friend. They have an outdoor patio that is perfect for enjoying a delicious meal with your pet. Visit the IHOP restaurant today and enjoy a wonderful breakfast with your pet.