Last updated on April 27th, 2023 at 05:36 pm
Does Chipotle Allow Dogs Inside? Is Chipotle Pet Friendly? Pet Policy 2023 Guide
Does Chipotle Allow Dogs? Short answer: Chipotle allows service animals inside, while emotional support animals and pet dogs are only allowed on designated outdoor patios and terraces.
This allows Chipotle to comply with FDA (Food and Drug Administration) regulations while also allowing customers to bring their dogs with them on their visit.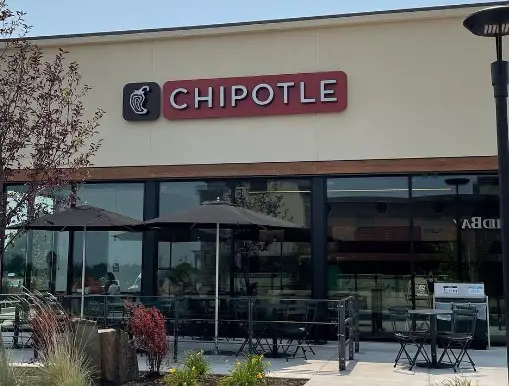 Chipotle is a great choice for those looking for a quick and tasty meal, and with the added bonus of being able to bring your dog along on the patio, it's sure to be a hit with pet-owners as well. As anyone who's ever been to Chipotle knows, the Mexican food chain offers some of the best burritos, bowls, and tacos around.
But what many people don't know is that Chipotle's pet policy states that only service animals are allowed inside the restaurant. However, any dog is allowed on the outdoor patios of Chipotle.
To learn about Chipotle pet policy, how to save when ordering food, and the Chipotle secret menu, keep reading.
Is Chipotle dog-friendly?
Yes, Chipotle is pet-friendly if we can call a restaurant pet-friendly that allows pets and emotional support animals on their outdoor patio. Chipotle is a great place to take your dog if you're looking for a restaurant that is pet-friendly. 
Does Chipotle Allow Dogs?
Most Chipotle locations have an outdoor patio or seating area where dogs are allowed, and many of them even provide water bowls and treats for furry customers. So whether you're grabbing something to go or sitting down to eat, your pup can enjoy Chipotle right alongside you. 
Just be sure to check ahead of time to see if the particular Chipotle you're visiting has an outdoor area for dogs – not all locations do. 
What Is the Official Chipotle Dog Policy
Although Chipotle's pet policy does not allow pets inside its restaurants, in the 17 states where it is legal, dogs are allowed to dine in outdoor areas. These laws allow people to bring their pets into outdoor dining areas so they can enjoy time together while still complying with the rules set forth by businesses like Chipotle.
The Food and Drug Administration has rules against bringing pets into restaurants and other food service establishments. These rules state that no animals may be in a place where food and food products are prepared and served. However, there is an exception to this rule dictated by another law, the Americans with Disabilities Act, which requires that service dogs be allowed in all public places.
And, of course, Chipotle complies with both laws. So, service dogs are always allowed inside Chipotle restaurants; pet and emotional support dogs are not allowed inside Chipotle restaurants.
What states allow dogs on outdoor patios?
There are some states that have laws allowing dogs on outdoor patios. These include California, Florida, Illinois, Maryland, Minnesota, New Mexico, New York, Ohio, Rhode Island, Tennessee, Texas, Virginia, Georgia, Kentucky, North Carolina, Oklahoma and South Carolina.
In general, in these states, as long as the non-service dog is not being a nuisance or a threat to anyone, they are allowed on the patio. Service animals are always allowed. Restaurants can choose to not allow dogs if they are causing a disturbance or if they pose a threat to other customers.
Does Chipotle Dog Policy Vary By Location?
At Chipotle, the dog-policy can vary from location to location. Most of the time, dogs are allowed on the patio area, but there are some restaurants where the franchisee has changed the policy and therefore dogs are not allowed on the patio. 
If you're unsure about the policy at a particular Chipotle location, it's always best to call ahead before bringing your dog along. As for service animals, the rules are always the same regardless of location – this is required by law. 
Chipotle Rules for Dogs on Outdoor Patios
Chipotle's outdoor patio is open to well-behaved dogs that are on a leash and not disruptive to other guests. Owners in all situations must take responsibility for their dog's messes and keep them from sitting or standing on chairs or tables. Dogs should also be kept away from the entrance of the restaurant so as not to disturb passersby.
Rules for keeping dogs on the outdoor patio should be posted at the entrance of the building. Before coming to the restaurant with your dog, be sure to call ahead and find out if pets are allowed in the restaurant.
Which restaurants allow dogs? You may be surprised by the answer:
Does Quiznos Allow Dogs Inside?
Is Subway Pet Friendly? Pet Policy Guide
Is Auntie Anne's Pet Friendly? Pet Policy Guide
What are service animals?
Service animals are specially trained dogs that provide assistance to people with disabilities. The most common type of service animal is a guide dog, which helps blind or visually impaired people navigate their surroundings. 
Other types of service animals can perform tasks such as retrieving items for someone who uses a wheelchair, alerting a person with hearing loss when someone is nearby, or providing calming assistance to a person with post-traumatic stress disorder during an anxiety attack.
In order to be classified as a service animal, the dog must undergo specific training and be able to perform work or tasks that are directly related to the handler's disability. For example, a service dog for a blind person must be trained to guide them around obstacles, while a service dog for someone with anxiety might be trained to perform deep pressure therapy (also known as "doggie hugs") to help calm their owner during an attack.
Are All Service Animals Allowed In  Chipotle?
As required by the Americans With Disabilities Act, Chipotle gladly accepts all service dogs. Chipotle staff may only inquire about a service dog's status and what it is trained to do. No documentation for the dog is necessary.
However, service animals can be excluded from an area if they are not behaving properly or if their presence poses a direct threat to the safety of others.
Stay in the loop with us and we'll keep you updated on all places that allow your furry friend:
Is Hard Rock Cafe Pet Friendly? Pet Policy Guide
Does Golden Corral Allow Dogs Inside?
Is Buffalo Wild Wings Pet Friendly? Pet Policy Guide
What Are The Service Dog Rules At  Chipotle?
When it comes to bringing your service dog into Chipotle, there are a few things to keep in mind:
First and foremost, your animal must be kept on a leash or under control at all times. 
They're also not allowed on furniture or in the play area. 
As the owner, you'll be responsible for cleaning up any messes they make. 
Chipotle employees may ask you to take your dog outside if they're causing a problem, but they'll still assist you with completing your transaction as needed. 
In some cases, service animals can be excluded from an area if their behavior is disruptive or if their presence poses a safety threat to others. 
Overall, Chipotle want to make sure that both customers and staff are comfortable and safe when visiting Chipotle restaurants. 
Are Emotional Support Dogs Allowed In Chipotle?
Many people who suffer from emotional or mental issues find comfort and assistance from emotional support animals. Unfortunately, the Americans With Disabilities Act does not protect emotional support animals, so companies like Chipotle are free to deny them entry into their restaurants. This can be a problem for people who rely on their emotional support animals for help and companionship.
Fortunately, Chipotle has a policy of allowing customers to dine al fresco with their emotional support animals. So if you're ever in a situation where you're feeling anxious or down and your emotional support animal is not allowed inside the restaurant, simply take your meal outside and enjoy some quality time with your furry friend.
Save money at Chipotle
Chipotle offers many promotions. Although some deals are low-key, others are highly publicized holiday specials, like the free queso given away on Cinco de Mayo and complimentary guacamole on your birthday (via Chipotle Newsroom).
One of their oldest promotions is the "Boorito" Halloween deal, where guests can get a discount by wearing a costume. However, the promotion was slightly tweaked and guests could also get the discount by using a promo code online.
Chipotle has also collaborated with Roblox to launch the Burrito Builder on Roblox for National Burrito Day. A few years ago, Chipotle rewarded a lucky fan with a Chipotle Celebrity Card that guaranteed a year's worth of free food. Another past promotion with a mysterious origin was Chipotle's burrito coins.
It is speculated that these coins can be exchanged for free food, but the origin of the coins is unknown.
Ask for a double wrapped Chipotle burrito
When you order a double wrapped burrito at Chipotle, you are essentially asking for two tortillas instead of one. This is a great way to prevent any spillage, especially if you plan on loading up your burrito with all the extras.
However, keep in mind that this hack does have its limitations. For example, a manager at Chipotle once explained that sometimes people use the double wrap as a way to try and get a bigger burrito. When this happens, it can be difficult for the employees to make the burrito correctly. So if you're going to order a double wrapped burrito, be reasonable about it!
The Chipotle bowls 
The Chipotle bowls generally have more food fillings than the burritos, including rice, beans, and salsas. If you order a bowl and get two tortillas on the side, you can essentially make your own burritos out of the ingredients, meaning you get two meals for the price of one. Additionally, crew members at Chipotle never charge for side tortillas, so you can ask for as many as you want.
Chipotle's famous rice without cilantro
If you don't like cilantro, you can still enjoy the delicious white rice at Chipotle by asking for it without cilantro. It will take a little longer to prepare, but it's worth the wait. You can also get extra cilantro on the side if you want. Just ask!
More meat at Chipotle
If you're willing to get creative with your protein filling, there is a clever way to get a little extra meat without paying extra dollars. If you ask for "half and half," as in two different types of meat in your bowl or burrito, you usually end up with a bigger helping of each meat.
A self-proclaimed "grill master" at Chipotle told Quora, "If you ask for half of one meat and half of the other it almost always guarantees that whoever is serving will give you a bit more meat since it's difficult to actually measure out half and half on the spot."
This is pretty genius and definitely a win-win for the indecisive orderer — we all know one, and if you don't know one, it's you — and avid carnivore. If you are debating between chicken and steak, just get both (that combo actually sounds really good).
You'll satiate both your craving and your wallet.
Why Does  Chipotle Have a No-Pets Policy?
Chipotle's no-pets policy is in place for the safety of their employees and customers. This policy helps them stay compliant with all federal and state regulations, as well as the FDA and ADA. Chipotle takes the health and safety of their employees and customers very seriously, and this policy is one way they ensure that everyone remains safe while enjoying their food.
Pets can pose a serious health risk to both people and other animals, which is why Chipotle has a strict no-pets policy. Pets can carry bacteria and parasites that can cause disease, and they can also trigger allergies in some people. In addition, pets can be disruptive to other customers who may not be comfortable around animals. For these reasons, Chipotle does not allow any pets in their restaurants.
Chipotle's no-pets policy is just one of the many ways they ensure that their employees and customers remain safe and healthy. They are committed to providing the best possible experience for everyone who visits their restaurants, and this policy helps them achieve that goal.
What are the deals at Chipotle Restaurants?
Chipotle is a fast-casual restaurant chain that specializes in Mexican cuisine, particularly burritos, bowls, and tacos. Special deals at Chipotle may vary by location and time of year, but here are some examples of deals that are often available:
Rewards program: Chipotle has a rewards program called "Chipotle Rewards" that allows customers to earn points for their purchases and redeem them for free menu items.
Free delivery: Chipotle may offer free delivery for online or app orders during certain time periods or promotions.
Special promotions: Chipotle may offer limited-time promotions or deals for specific menu items, such as a discount on a burrito bowl or a free guacamole with purchase.
Student discounts: Some Chipotle locations may offer a student discount with a valid student ID.
Catering deals: Chipotle may offer catering deals for large groups or events.
It's always a good idea to check with your local Chipotle or visit their website to see what deals are currently available.
FAQ
Are  Chipotle safe for dogs?
Yes, Chipotle is safe for dogs to eat. The food served here does not contain any chemicals or dyes that could be harmful to your furry friend. However, you should avoid giving your dog any onion, garlic, or spices in their meal.
Does Chipotle have a menu for dogs? 
Chipotle does not have an official dog menu. Chipotle could create an official dog menu with dishes that are safe for dogs to eat and that they are sure to enjoy. This would give dog owners one less thing to worry about when they visit Chipotle with their furry friends.
It would also make it easier for employees to know what to give a dog owner when they ask for something Dog-friendly. customers would appreciate not having to modify an order or ask for specific items off the menu.
What can my dog eat at  Chipotle?
As a dog owner, you can order anything off the menu at Chipotle. All of the ingredients used are safe for dogs, so you can rest assured that your furry friend will enjoy their meal just as much as you do. From chicken and beef to turkey and tofu, there's something for everyone (and every dog) at Chipotle.
So next time you're in the mood for some Mexican food, be sure to bring your four-legged friend along! They'll thank you for it.
Can I take my dog to  Chipotle to pick up my order?
Chipotle does not allow customers to bring their dogs inside the restaurant, with the exception of service animals. Dogs must stay on the patio and on a leash at all times. This policy is in place for the safety and comfort of all guests.
Can I take my dog in  Chipotle?
Chipotle restaurants across the United States offer outdoor seating where customers are welcome to bring their dogs. While emotional support animals and pets are not allowed inside the restaurant, there is usually plenty of patio space for dogs to enjoy while their owners grab a quick bite. If you're ever in doubt, it's always best to ask the store manager before bringing your dog inside.
Can I bring small dogs to  Chipotle?
Chipotle does not allow customers to bring small dogs into the restaurant, but they are welcome on the patio. Service dogs are allowed indoors under the FDA and state law. If you have a service dog, Chipotle will be happy to accommodate you. Thank you for understanding.
Conclusion. Are Dogs Allowed In Chipotle?
Well, Chipotle is clearly the perfect place to take your pet for a meal! Whether you're looking for a quick bite on the patio or something more substantial inside, this restaurant has got you covered. And remember to check out the Chipotle secret menu while you're there – it's sure to please even the pickiest of eaters! 
So if you love spending time with your furry friend and want to enjoy a delicious meal together, then head on over to Chipotle today!
However, if you're looking for a place to take your dog where they can run around and play, Chipotle may not be the best choice. There are plenty of other restaurants that welcome dogs with open arms, so be sure to do your research before heading out for a meal. Thank you for understanding.