Last updated on April 27th, 2023 at 05:27 pm
Does White Castle Allow Dogs Inside? Is White Castle Pet Friendly? Pet Policy 2023 Guide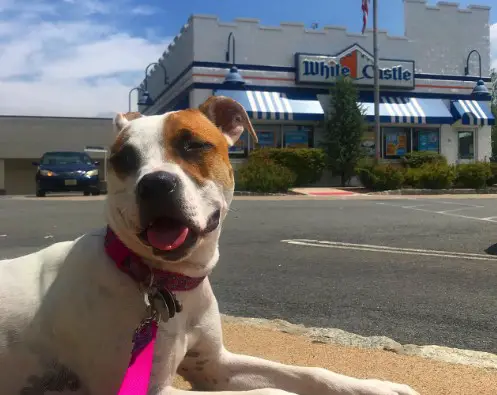 White Castle is a well-known fast-food chain that is famous for their slider burgers. They are often considered to be the originators of the fast-food burger industry. White Castle is also known for their appearances in movies, such as Harold & Kumar. While many people know about White Castle's delicious food, some may not know if White Castle allow dogs inside.
Does White Castle Allow Dogs Inside?
Dog owners need to know that with the exception of service animals, all other dogs are not allowed in the indoor areas of the White Castle restaurants. If you have an emotional support animal or a pet dog, you may bring your dog into the outdoor seating areas of White Castle and patios.
This article is for dog owners who also enjoy eating at White Castle. We'll find out if the restaurant chain is pet-friendly, if they have a secret menu, and what kind of free offers they have.
Is White Castle Dog Friendly?
Many people believe that White Castle is dog-friendly because they allow dogs on their outdoor patio or terrace. However, what many people don't know is that pets are not allowed in the restaurant itself. Since White Castle does not franchise, the rules are typically the same for all restaurants White Castle.
Therefore, you should only be guided by the laws of your state when bringing your furry friend to a particular White Castle restaurant. If you're ever unsure, it's always best to call ahead and ask before bringing your pet along.
What Is the Official White Castle Dog Policy
There is no information on White Castle's official website explaining what its official dog policy is. However, there are uniform rules for all food service establishments (established by the FDA). These rules prohibit bringing any animal into places where food is prepared and sold. 
It would seem that the issue should be over. But no, here comes another law, dictated by the ADA, which requires the admission of service dogs in all public places.
So, the rules about pets in chain restaurants White Castle are as follows:
Pets and emotionally supportive animals are not allowed inside restaurants, but are allowed on outdoor patios and terraces in states where the proper permit exists;
Service dogs are allowed inside all public areas of restaurants White Castle.
Why Dogs Are Not Allowed In The White Castle?
White Castle has a policy of strictly prohibiting pets from entering its premises. This is due to the fact that animals may carry germs and bacteria which can be detrimental for human health, as per the Food and Drug Administration (FDA). Additionally, some people have allergies to animals which could ruin their restaurant experience.
Moreover, White Castle is expected to enforce strict health and safety regulations, which allowing pets could compromise. Thus, while it may not be the most popular decision, this policy serves to protect the safety and well-being of everyone who visits White Castle.
We'll keep you updated with the latest news about places that allow your furry friend:
Boston Market, Chili's, TGI Fridays, Papa John's, Little Caesars
Does White Castle Dog Policy Vary By Location?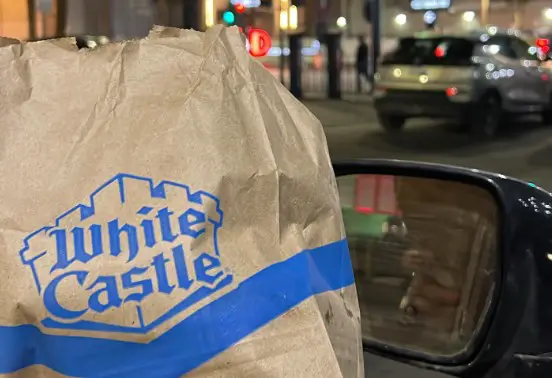 White Castle restaurants may have different pet policy when it comes to bringing pets along. Some states in the US don't even allow dogs on outdoor patios, so checking local laws is recommended before planning a meal with Fido. 
Currently, only 17 states allow non-service dogs at restaurant patios – California, Florida, Illinois, Maryland, Minnesota, New Mexico, New York, Ohio, Rhode Island, Tennessee, Texas, Virginia , Georgia , Kentucky , North Carolina , Oklahoma and South Carolina. 
Before going out for a meal with your furry pal make sure to call ahead and ask about pet policies. Service animals are always accepted no matter what location you visit.
​White Castle Rules for Dogs on Outdoor Patios
Before you take your furry friend to White Castle's outdoor patio, take a quick moment to review the White Castle's rules for dogs on outdoor patios. You'll likely find signs displaying the doggy dos and don'ts near the entrance, yet there are some basic tips that apply everywhere. Keeping these key guidelines in mind will ensure everyone enjoys their visit – both humans and dogs alike!
First, there will likely be a designated outdoor patio specifically for dogs and their owners, and it may have a separate entrance from the street rather than coming through the restaurant itself;
Secondly, this area should be fenced off or otherwise restricted to protect other patrons;
And finally, no matter where you're dining with your pup, they must always be on a leash attached to your table rather than roaming freely or sitting on furniture. 
With different regulations in each state or restaurant, it's important to always be mindful and ask about the business' pet policy before bringing along your four-legged family member for dinner. It is better to play safe than sorry.
Does White Castle have a dog menu?
White Castle does not have a specific menu for dogs, but they do offer plenty of choices that are sure to please your pup! The best option is something with lean proteins like chicken breasts. This can ensure that your pet gets the nutrition it needs without all the extra fat found in other meats such as pork bacon. With White Castle's variety of options, you can find something to make both you and your four-legged friend happy.
Can Dogs Eat At White Castle? What can my dog eat at White Castle?
When you take your dog to the White Castle restaurant for a patio outing, you won't be eating all the delicious food alone — it's only right to share with your furry friend. But what menu items can they safely enjoy?
Here are some of our top picks that dogs can eat from White Castle:
1. Burgers can be okay for dogs, as long as there are no added spices or preservatives in the meat. Just make sure not to add sauces, seasonings, onions or garlic;
2. Cooked steak is fine for pets as an occasional treat, but never give them raw meat;
3. From the kids' menu, ask the waiter to prepare chicken without frying it;
4. Grilled chicken breast can make a good meal, but again, no spices or sauces.
You want to make sure that all food given to your pet is healthy and safe for them — so take care when choosing from the White Castle menu.
Are All Service Animals Allowed In White Castle?
White Castle restaurants recognize the critical support service animals provide to people with disabilities and allow them in all locations. In doing so, they are in compliance with the Americans with Disabilities Act (ADA). All types of service animals are welcome and protected under this law. 
The ADA extends special protection for those needing the help of a service animal, as well as other disabled persons who require reasonable accommodations for access to public spaces like White Castle restaurants. Knowing these rights can help make visits more enjoyable and successful for everyone.
However, if a service animal is exhibiting problematic behavior or poses a risk to others, employees may ask it to leave. It is important that disabled individuals understand their rights and take steps to ensure their animal behaves responsibly while visiting public places. 
What Are The Service Dog Rules At White Castle?
Visiting White Castle with a service dog can be enjoyable for both you and your pet. To ensure everyone's safety and comfort, it is important to follow certain service dog rules when bringing your service animal into the restaurant. All service dogs must remain leashed at all times, as well as not sit on the furniture. Additionally, you should always clean up any messes that may be made by your pet.
By following these guidelines, you and your service dog can have an enjoyable experience at White Castle
Does White Castle Ask If Your Dog Is A Service Dog? Do You Need To Show Service Dog Documents In White Castle?
If you're planning on visiting White Castle with your service animal, you may have some questions about what to expect. The most important thing to know is that White Castle staff are only allowed to ask two simple questions: if the dog is a service animal and what tasks they assist with. They can't legally ask for documentation or make the dog demonstrate its skills. 
White Castle wants all their customers to have an enjoyable dining experience, so they may refuse access if the presence of the service animal poses a direct threat to others in the restaurant or if the animal changes the nature of the business (like in a kitchen). However, it's important to remember that service animals are still protected under the ADA and must be allowed in the restaurant. 
By following these guidelines, you can have a successful visit to White Castle with your service dog!
Are Emotional Support Dogs Allowed In White Castle?
Unfortunately, emotional support dogs are not allowed in White Castle restaurants. This is due to the fact that the Americans with Disabilities Act does not include them in its list of protected animals. However, if you have an emotional support animal and wish to dine at one of their outdoor patios, they will welcome your pet with open arms! Just make sure your pet is well behaved and won't disturb other customers. So don't let this stop you from treating both yourself and your animal companion to a nice meal at White Castle!
White Castle Secret Menu Items
People who are passionate about White Castle can demonstrate their devotion by joining the Craver Hall of Fame. Known for its delicious sliders, White Castle also has an impressive secret menu that you can access if you know what to order. Here is a list of some of the top-rated items from this clandestine selection.
The surf and turf slider from White Castle
The surf and turf slider from White Castle is a combination of land and sea cuisine. It consists of one fish fillet, two steamed beef patties, a slice of American cheese, chopped onions, and all sandwiched between three layers of bun. While it sounds like it could be a great fast food secret menu item, it doesn't quite deliver.
The texture and flavors of the surf and turf slider are unpleasant, making it the least desirable choice among all other White Castle sliders. We do not recommend ordering this unless out of pure curiosity.
White Castle's grilled cheese slider
White Castle has a secret menu item that's one of our favorites: the grilled cheese slider. The best part about this dish isn't even the signature beef patty, it's the fluffy and soft bun made at the Evandale Bakery in Cincinnati. For vegetarians, there is already a great option – ordering a classic cheese slider but sans-meat.
At most White Castle locations you can choose from American, jalapeño, or smoked cheddar cheeses, as well as vegan cheese options. If you're feeling adventurous, try ordering one of each variety! It'll be worth the effort just to taste this delicious slider.
White Castle's super loaded fries
White Castle's super loaded fries consists of their classic crinkle-cut french fries, topped with bacon crumbles, ranch and cheese. This delicious combination was once a secret menu item that has now been incorporated into the permanent menu. To make it even more delicious, you can also add chopped tomatoes, onion chips and a side of BBQ sauce to create a truly decadent dish.
If you've only had the regular loaded fries before, you're missing out on a truly unique side dish. So next time you order White Castle's fries, level-up and get the super loaded version!
White Castle's bacon crumbles
Did you know that White Castle has an amazing secret menu item – bacon crumbles? You can add them to literally any menu item sold at any White Castle location, giving it an extra savory kick. Add them to any slider, side dish, milkshake or even gooey butter cake on a stick – the possibilities are endless! Unleash your creativity and add bacon crumbles to your next White Castle order. You won't regret it!
Harold and Kumar's White Castle's order
To get the ultimate White Castle experience like Harold and Kumar, order 30 sliders (or one Crave Case), five sides of french fries, four large Cherry Cokes for "Harold", and another 30 sliders, five fries, and four large Diet Cokes for the "Kumar" in your group. That's a whopping 60 sliders, 10 orders of fries, and 8 large sodas for one giant dinner, so you might want to skip lunch first!
Free White Castle Free Food
If you download the White Castle app for either Apple iOS or Google Android and log into your free Craver Nation rewards account, you can get a free food offer! All you have to do is select your local White Castle in the app and then quickly click on the blue banner for "Craver Nation Special Offers & Deals."
Once you do that, you'll be rewarded with some coupons, one of which is usually for a free original slider combo. These free food offers change often, so you never know what kind of deal you'll get – last week the offer was for a free 6pc chicken wings and before that it was for free cheese sticks. So download the White Castle app today and start taking advantage of these amazing deals!
FAQ
Can dogs eat White Castle chicken rings?
It's generally not recommended to feed dogs White Castle chicken rings or any fast food items. These types of foods are typically high in salt, fat, and calories, which can be harmful to a dog's health and lead to obesity and other health problems over time.
In addition, White Castle chicken rings and other fast food items may contain ingredients that are not safe for dogs, such as onions or garlic, which can be toxic to dogs in large quantities.
If you're looking for safe and healthy treats to give your dog, there are many dog-specific treats available that are formulated with their nutritional needs in mind. Alternatively, you can also offer your dog small amounts of cooked, lean meats like chicken or turkey as an occasional treat, as long as they are boneless and not seasoned with any harmful ingredients. However, it's always a good idea to consult with your veterinarian about your dog's specific dietary needs and any potential health concerns before introducing new foods into their diet.
What does White Castle do for birthdays?
Unfortunately, White Castle does not have any birthday discounts available.
Are White Castle safe for dogs?
When selecting a meal from White Castle, it is best to go with something that contains natural sources of proteins such as chicken and beef instead of processed foods. These contain high amounts of salt which can be dangerous for dogs. Additionally, remember not to feed them human food or table scraps; this could cause digestive issues in your pup!
Can I take my dog to White Castle to pick up my order?
Unfortunately, unless your dog is a service dog, they cannot join you inside the White Castle restaurant. That means that Fido will have to wait outside while you savor delectable refreshments within.
Can I take my dog in White Castle?
White Castle, like all public places, permits service dogs as a special exception to their otherwise strict "no pets" policy. These animals have been exceptionally trained and provide substantial assistance for people with disabilities – so much that the Americans with Disabilities Act (ADA) requires them to be allowed access in any public place, including restaurants!
Can I bring small dogs to White Castle?
In accordance with both FDA regulations and state law, only service dogs are allowed inside of restaurants. However, small domestic dogs may be brought onto the restaurant's outdoor patio as long they remain within their designated area.
What If I See a Dog in a White Castle?
If you come across a dog inside White Castle, it's best to alert an employee immediately. Every single White Castle location is strictly pet-free, so they'll likely request that the owner take their animal outside promptly. If the owner won't cooperate or flatly refuses to follow through with this request, then your only option may be calling authorities for support. However, it would be wiser and more practical to simply let staff address things on their own!
Conclusion. Are Dogs Allowed In White Castle?
In conclusion, White Castle is a great place to grab a delicious meal for you and your family – but unfortunately, pets are not allowed inside. Service animals can join their owners in the restaurant, while emotional support animals and domestic dogs are welcome on the outdoor patio area. No matter what type of pet you have, make sure to choose something from the White Castle menu that contains natural, unprocessed meats and proteins.
This way, you can rest assured that your pup is getting the nutrients he needs without any unnecessary risks. Download the White Castle app today and start taking advantage of their amazing offers!