Last updated on April 27th, 2023 at 05:32 pm
Does Little Caesars Allow Dogs Inside? Is Little Caesars Pet Friendly? Pet Policy Guide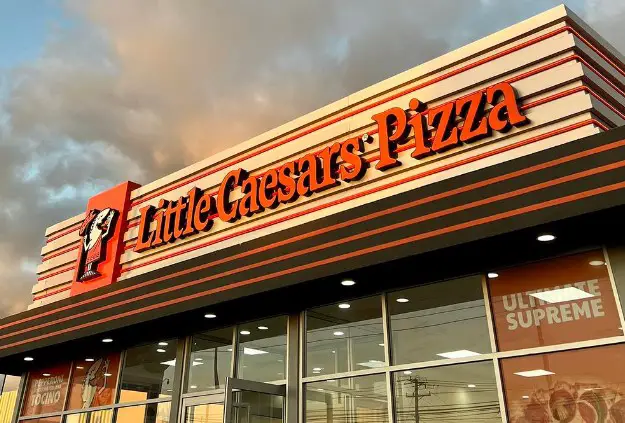 There's nothing not to love about a "Hot-n-Ready" pizza and some Crazy Bread from Little Caesars. The pizza chain is perfect for all occasions where you crave some pizza to chow down on. Behind those orange and white tiled counters and their orange togaed mascot lies some secrets, however.
Does Little Caesars Allow Dogs Inside?
Can you bring your dog inside Little Caesars? No, dogs are not allowed indoors with the exception of service animals. However, emotional support animals and pets are welcome in outdoor seating areas and patios.
Are you a dog lover who likes to take your furry friend everywhere you go? Then this article is for you. We'll find out if pizza chain Little Caesars is pet-friendly, as well as see if dogs can eat their pizza and whether or not there's a secret menu.
Is Little Caesars Dog Friendly?
The question "Is Little Caesars dog friendly?" is very important to our family. I love pizza and don't like spending money, so oftentimes I'll choose Little Caesars for our family dinner. And yes, our dog is a member of the family and we want her with us always.
The answer to the question "is Little Caesars dog-friendly?" is both yes and no. Those restaurants that allow dogs on their outdoor patio or terrace are considered to be dog-friendly. However, any restaurant cannot let pets inside.
At most Little Caesars with open patios, dogs are usually allowed on these terraces. However, since a significant number of Little Caesars restaurants are operated by franchisees, it will all depend on your specific restaurant.
Therefore, you should first make sure that your Little Caesars restaurant has an outdoor patio where dogs are allowed.
What Is the Official Little Caesars Dog Policy
I couldn't find any information about Little Caesars' pet policy on their website. Since I have a dog myself and would like to include them in my next trip to Little Caesars, I decided it would be best to ask them directly what their official pet policy.
Below is Little Caesars' response to my question:
1. Little Caesars has a policy that does not allow dogs in the restaurant, with service animals as an exception;
2. Service animals are always allowed inside, with or without identification;
3. Dogs are allowed in the outdoor dining area, but they must always be on a leash;
4. As a dog owner, I would need to be committed to cleaning up any messes my furry friend makes;
5. Dogs are not allowed to sit or stand on chairs, sofas, tables, or any other type of furniture;
6. The dog must be well-behaved and not disturb other visitors;
7. I must always keep my dog on a leash and attach it to the table at which I will be dining.
The rules are easy to follow, and I can still have my favorite pizza from Little Caesars with my dog if I want.
Why Dogs Are Not Allowed In The Little Caesars?
So, why does Little Caesars have a pet policy? Many dog owners may not agree with it, but it is what it really is.
The Food and Drug Administration (FDA) does not allow animals in food preparation or -selling premises for sanitary reasons. Animals can carry harmful germs and bacteria that make people sick. Also, some people's allergies exist, such as to pet dander or other animal proteins.
Furthermore, Little Caesers restaurants are held to high standards of health and safety set by state departments of health. Allowing pets in Little Caesars restaurants would jeopardize the health and safety of their guests.
Does Little Caesars Dog Policy Vary By Location?
Pet policy at Little Caesars restaurants vary depending on the location of the restaurant, and there are several reasons for this.
First, not all states in America legally allow dogs on restaurants' outdoor terraces or patios. Currently, only 17 states allow non-service dogs on outdoor dining areas. Those states include California, Florida, Illinois, Maryland, Minnesota, New Mexico, New York, Ohio, Rhode Island, Tennessee, Texas, Virginia, Georgia, Kentucky, North Carolina, Oklahoma and South Carolina.
Second, the Little Caesars restaurant chain has a large number of franchisees, which also affects each individual restaurant's pet policy.
Although Little Caesars allows dogs and emotional support animals on all of its patios and outdoor areas, you should always consider these two important factors and inquire in advance about bringing a dog into your local Little Caesars restaurant. You can simply call your local Little Caesars restaurant ahead of time to do this.
Little Caesars Rules for Dogs on Outdoor Patios
If you want to spend an evening with your dog outdoors on the patio of a restaurant, first learn about the restaurant's rules. Rules for dogs on outdoor patios may vary from state to state, but there are a few general rules that apply to all restaurants:
All rules for dogs visiting the outdoor patio with their owners are posted in front of the restaurant entrance;
An outdoor restaurant patio designed for bringing your dog there must have an entrance from the street and not from the interior of the restaurant. The dog owner must bring his/her pet directly onto the patio of the restaurant without bringing his/her dog inside the restaurant;
The patio designated for dogs and their owners must have a restrictive barrier to protect such patio;
dogs must always and under all circumstances be on a leash attached to the table at which their owners are dining;
Dogs are always prohibited from being on any furniture.  
Can Dogs Eat Pizza At Little Caesars?
Though sharing is caring, giving your dog a slice of pizza is not recommended. The crust contains only empty calories, there tend to be lots of garlic and onions on it which are harmful to dogs, and cheese can give them too much gas. Too much cheese, salt, garlic, and onion can have significant consequences for your lactose-intolerant dog such as gas, bloating, abdominal pain and diarrhea.
Is Pizza poisonous for dogs? Can Dogs Have Pizza? Even a tiny amount of pizza can be very dangerous for your Dog's stomach. One primary issue with pizza is that it contains various harmful ingredients for dogs. If you're hoping to give your dog some pizza, it would be much better to create a pet-safe version specifically for them.
Can Dogs Eat Pizza Sauce
No, dogs should not eat pizza sauce. Tomato sauce is not good for dogs. It often has spices and other ingredients that can harm them – like salt, onion, garlic, and sugar. If your dog ingests too much pizza sauce, it could experience an upset stomach. So it's best to keep pizza sauce away from your pup.
What Pizza Toppings Can Dogs Eat
Pizza is a popular food for people and dogs alike. Most of the popular pizza toppings are safe for dogs to eat, including cheese, fresh vegetables, green peppers, mushrooms, black olives or olive oil, ham, pepperoni, and sausage. Raw pineapple and ripe tomatoes are also safe for dogs to eat.
However, as with any food, it is important to monitor your dog while they are eating pizza to make sure they do not choke on any of the toppings.
How Much pizza can a Dog Eat?
Too much salt can damage a dog's blood pressure or make existing heart disease worse. So, it's best to never give your dog pizza; this includes giving them small pieces of crust as treats. (And if your dog is on the smaller side, like a Chihuahua, then you should give them even less!)
Never give your dog pizza from any restaurant, as it could potentially cause health issues. Little Caesars restaurants are no exception.
What Happens If A Dog Eats Pizza
If you're concerned about your dog eating any kind of pizza, (pepperoni, with onions, garlic,) always consult your veterinarian. If a dog eats pizza they will likely have an upset stomach and may vomit or experience diarrhea. They should recover given time; however be sure to provide them plenty of water to prevent dehydration.
Dog Sick After Eating Pizza
If your dog becomes ill after consuming pizza, document the symptoms and duration of their illness, then call your vet.
Are All Service Animals Allowed In Little Caesars?
Service animals help disabled people in so many ways and are always welcome in Little Caesars restaurants. They provide invaluable assistance and companionship, which is why they're protected under the Americans with Disabilities Act. 
If an service animal is behaving badly or presenting a safety hazard to others, employees have the right to ask it leave. This is so that everyone can enjoy their dining experience in a safe and comfortable environment. 
The ADA ensures that disabled people have the same access and opportunities as everyone else in society. This includes being able to enjoy a meal out at their favorite restaurant without having to worry about whether or not their service animal will be welcomed.
What Are The Service Dog Rules At Little Caesars?
When bringing your service dog into Little Caesars, it is important to follow a few guidelines. First, the animal must be on a leash at all times. Second, they are not allowed on furniture or in the play area. Finally, if any trash is made by the animal, the owner must clean it up. By following these simple rules, you can ensure a fun and safe experience for both you and your service dog.
Does Little Caesars Ask If Your Dog Is A Service Dog? Do You Need To Show Service Dog Documents In Little Caesars?
Asking if a dog is a service animal is the only way that employees at Little Caesars can tell. They are allowed to ask two questions which pertain to whether the dog is required because of a disability and what work or task the dog has been trained to do.
It's important to know that staff members cannot ask for documentation of the dog, make the dog show its tricks or inquire about the person's disability. Doing so would be considered inappropriate questioning of an individual with a service animal. 
Service animals are protected under the Americans with Disabilities Act (ADA) and therefore, Little Caesars must allow them in the store. However, there are some exceptions to this rule. If the animal is disruptive or poses a threat to customers, employees, or other service animals, then Little Caesars has the right to ask the individual to remove the animal from the premises. 
Overall, it is important to be respectful of those who have service animals and to understand that they are there for a purpose. Service animals provide an invaluable service to their owners and should be treated with care and respect.
Are Emotional Support Dogs Allowed In Little Caesars?
Some people might need an emotional support animal for assistance and Little Caesars will still allow you to take them out and dine at their outside patio. 
Emotional support animals that offer companionship to those with emotional disorders or mental disabilities are not always allowed in places such as restaurants. This is because they aren't included in the laws of the Americans with Disabilities Act.
Even though the rule was put into effect to prevent legal difficulties, it shouldn't stop people who genuinely need an emotional support dog from receiving assistance. If you have an emotional support dog, you should still be able to take them into Little Caesars without any problem.
Little Caesars Secret Menu Items
The Little Caesars secret menu can give you a little flavor boost if you're looking to change up your routine at this pizza place. This secret menu provides a few nifty tips and tricks so that you can get more from your favorite pizzas.
What is on the Little Caesars Secret Menu?
Crazy Crazy Bread
Go Light; Go Heavy
Saucy Pizza
Little Caesars Pizza Cake
Crazy Crazy Bread
The Little Caesars Crazy Bread is a hot, doughy bread that is coated in butter and garlic. You can ask them to bake all kinds of toppings and cheese on top of it, making it into your own personal Crazy Bread pizza. There is no limit to what you can add to this bread, making it a versatile and delicious option.
Go Light; Go Heavy
If you're looking to get some extra protein while minimizing sugars and other carbs, try asking for them to "Go Light" on the sauce and "Go Heavy" on the cheese. This will keep the sauce to a minimum and pile on the mozzarella. You can also ask for both options to be "Go Light," or load up on toppings as you please.
If you're interested in reducing the amount of fat in your dish, consider using less cheese and more sauce ("Go Heavy" on the sauce). This will also lower the protein content and fat.
Saucy Pizza
If you want to get really saucy with your Little Caesars pizza, ask for the dipping sauce to be poured onto the dough along with the tomato sauce. This will create a super flavourful and moist crust that will be hard to resist. And if you're a fan of cheese, make sure to ask for extra to be added on top. You won't be disappointed!
Little Caesars Pizza Cake
The Little Caesars Pizza Cake is a secret menu item that can be made by combining a regular pizza with a deep dish pizza (stacking the two). This creates a large, cheese-filled pizza that is perfect for any occasion. You can also combine the Crazy Bread with the deep dish pizza to create an even more unique and delicious pizza cake.
We'll keep you updated with the latest news about places that allow your furry friend:
Boston Market, Chili's, TGI Fridays, Papa John's
What are the deals at Little Caesars restaurants?
Little Caesars is a pizza restaurant chain that offers a variety of menu items, including pizzas, breadsticks, and wings. Special deals at Little Caesars may vary by location and time of year, but here are some examples of deals that are often available:
Hot-N-Ready pizzas: Little Caesars offers a variety of Hot-N-Ready pizzas that are available for immediate pickup without the need to place an order in advance. These pizzas are typically available for a discounted price compared to other menu items.
Combo meals: Little Caesars may offer combo meals that include a pizza and other menu items such as breadsticks, wings, or soda.
Pizza promotions: Little Caesars may run promotions on certain pizzas for a limited time, such as a discounted price on a specialty pizza or a free order of breadsticks with the purchase of a pizza.
Rewards program: Little Caesars has a rewards program called "Little Caesars Rewards" that allows customers to earn points for their purchases and redeem them for free menu items.
Mobile app offers: Little Caesars has a mobile app that may offer exclusive deals and promotions for app users.
It's always a good idea to check with your local Little Caesars or visit their website to see what deals are currently available.
FAQ
Are Little Caesars safe for dogs?
Little Caesars pizza might not be the best option for your dog's diet since they contain onions, garlic powder, high fat, salt and sugar. Instead, opt for a food choice for your dog that contains natural meat or chicken with no added condiments or sauces. 
Does Little Caesars have a dog menu?
Little Caesars does not have a special menu for dogs, but there are some food items that you can give to your dog as a treat. The best choices are something that contains naturally unprocessed meat or chicken. These items should not be a pizza, as they contain too many processed ingredients that can be harmful to your dog's health.
What can my dog eat at Little Caesars?
Dogs should not eat pizza from Little Caesars because it contains garlic powder, high fat, salt, sugar, and onions – none of which are good for dogs. To provide your dog with a healthy snack or treat from Little Caesars, it's best to opt for an item with naturally unprocessed meat or chicken (without any additional sauces or condiments).
Can I take my dog to Little Caesars to pick up my order in Pizza Portal?
The pizza chain Little Caesars known for its $5 HOT-N-READY pepperoni pizza dispenses orders to customers, including Pizza Portal™, in almost all of its stores in the United States. But can you take your dog to Little Caesars to pick up your order in Pizza Portal? No, you can't go inside the restaurant with a non-service dog. Your dog will have to be left in front of the building.
Can I take my dog in Little Caesars?
Unfortunately, with the exception of service dogs, no dogs are allowed inside the restaurant. Little Caesars.
Can I bring small dogs to Little Caesars?
According to FDA and state law, only service dogs are allowed in restaurants; domestic dogs, even well-behaved very small dogs, are not allowed inside restaurants. At Little Caesars, small dogs are allowed on the outdoor patio as long as they do not go outside.
What If I See a Dog in a Little Caesars?
There are a few things you can do if you see a dog inside a Little Caesars. The first thing you should do is alert an employee, as all Little Caesars locations are supposed to be pet-free. You can also ask the owner to take their dog outside. If the owner is uncooperative or refuses to take their dog outside, you may need to call the police. However, in most cases it will be safer and more effective to simply let the employees handle the situation.
Conclusion. Are Dogs Allowed In Little Caesars?
Overall, Little Caesars is a pet-friendly restaurant. Service animals are allowed inside the restaurant, and pet dogs and emotional support animals are welcome on the outdoor patio. If you want to give your dog a snack or treat from Little Caesars, it's better to select something with naturally unprocessed meat or chicken. That way, you can confirm that your dog is getting the nutrients they need without any risky components.