Does Lyft Allow Dogs? Is Lyft Dog-Friendly?
Does Lyft Allow Dogs? Short answer: it all depends on whether or not the driver will allow you to bring your dog in his vehicle.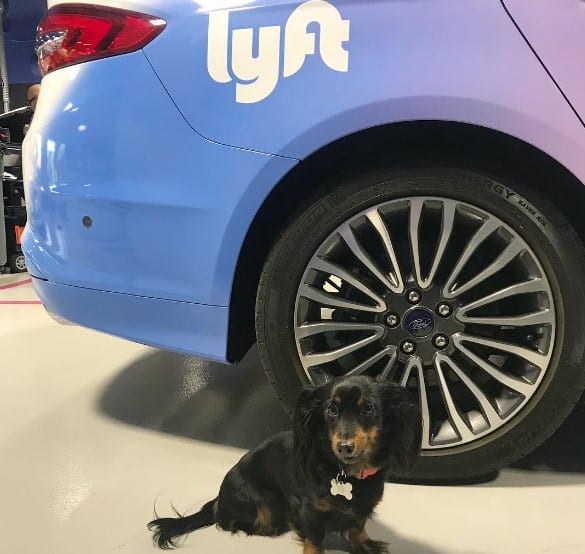 Don't assume that you can bring your dog with you if you're using a rideshare service like Lyft to get around instead of your personal car or rental vehicle. Before requesting a Lyft ride for your pet, read the company's policy on pets.
What Is The Lyft Car Pet Policy?
Lyft does not have an official pet policy, so it is up to each individual driver whether or not they allow pets in their cars.
Even if the driver has an allergy, religious or cultural objections, or a phobia of service animals, Lyft drivers are obligated by law to transport people with assistance animals – regardless of their own feelings.  This is both a Federal law in the United States and an official Lyft company policy.
However, drivers are not required to transport passengers with animals that provide emotional support or other non-service pets. Some Lyft drivers are pet-friendly and will allow you to bring your dog along for the ride, while others may not be comfortable with pets in their car.
If you want to bring your dog with you on a Lyft ride, be sure to check with the driver before getting in the car.
Most drivers who are not comfortable with pets will make it clear in their profile before you request a ride. If the driver does not have anything listed in their profile about pets, you can always ask them directly if they are okay with having a pet in the car before getting in.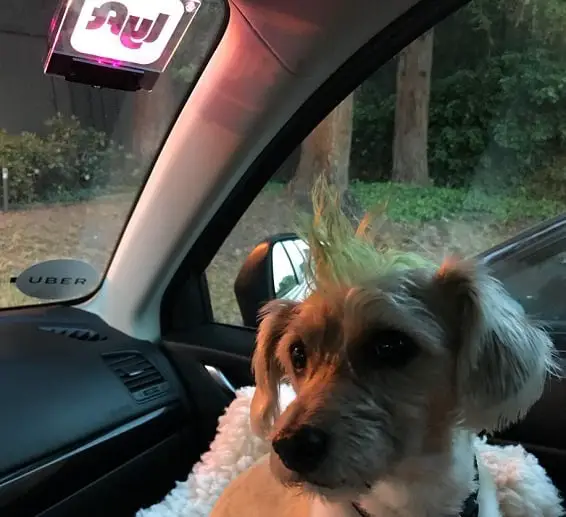 Keep in mind that even if the driver is okay with having a pet in their car, they may still charge a cleaning fee if your pet makes a mess. Be sure to ask about this before getting in the car so there are no surprises later on.
Overall, Lyft is not a pet-friendly company and does not have any official policy on pets. However, some drivers may be okay with having a pet in their car, so it is always best to check with the driver before getting in.
If a driver refuses a passenger with a pet, that is their prerogative. However, they must inform Lyft of why they cancelled the journey – that they followed the Lyft pet policy but were uncomfortable with your own.
Can You Bring Pets in Carriers?
If you're planning on bringing a pet with you in a carrier, it's important to note that Lyft drivers are not required to accommodate them. While some drivers may be okay with it, others may not have the space in their vehicle to accommodate a carrier. 
If the driver is unable to take the pet, they will either ask you to leave the pet behind or find another driver. This is not meant to be rude, but simply to let you know what they are able to accommodate. 
When choosing a driver, be sure to communicate your needs ahead of time to avoid any issues.
Lyft's Service Animal Policy
The Americans with Disabilities Act (ADA) is a federal law that prohibits discrimination against individuals with disabilities in all areas of public life, including transportation. 
Lyft's "always say yes" policy when it comes to service animals is based on the ADA and requires that their drivers accommodate service animals to the best of their abilities. 
This policy is in place to ensure that individuals with disabilities are treated fairly and not discriminated against. 
It is important to note that mental disability is included under the ADA, so this policy applies to service animals that assist individuals with mental disabilities as well. The ADA is an important law that helps to ensure that all individuals, regardless of their disability, have the same opportunities and rights.
What Is A Service Animal?
Service animals are defined as dogs that are individually trained to do work or perform tasks for people with disabilities. The work or tasks performed by a service animal must be directly related to the person's disability. 
Service animals are working animals, not pets, and therefore are not subject to the same rules and regulations as pets.
Service animals undergo extensive training to assist individuals with disabilities in a variety of ways. For example, service animals can help blind people travel by providing guidance and support.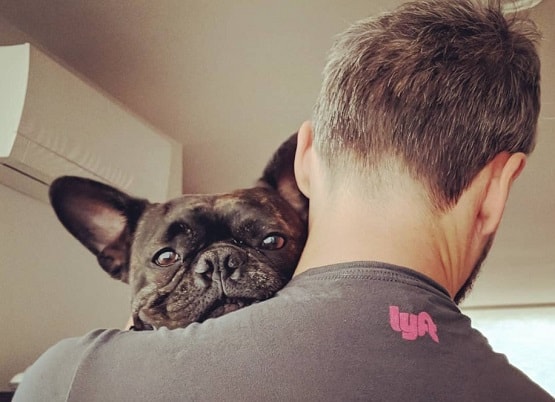 They can also alert deaf people to sounds, such as someone knocking on the door or an alarm going off. Service animals can also provide protection for persons who are having a seizure, and perform many other tasks to help individuals with disabilities.
Service animals are not required to wear a tag or vest, or be registered in order to be considered a service animal. Dog owners with service animals do not need to display any kind of proof that their animal is a service animal. In other words, if a rider with a dog says it is a service animal, the driver is supposed to transport the rider.
Service animals are a valuable asset to many people with disabilities, providing assistance, support, and companionship. If you encounter a service animal, please remember that it is working and should not be disturbed. 
Can I Take My Emotional Support Animal In A Lyft?
If you have an emotional support animal, you may be able to take them with you in a Lyft. However, it's important to keep in mind that emotional support animals are not service animals, so the driver is not required to transport you if they don't want to.
When attempting to travel with an emotional support animal in a Lyft, be sure to follow the non-service animal policy guidelines to ensure a smooth ride.
What's The Lyft Non-Service Animal Policy?
If you want to bring your non-service dog along with you in a Lyft, you may not be able to do so because it is up to the driver's discretion. Passengers should call their driver after requesting a ride to ask if they can bring their pet along.
If the driver does not feel comfortable with having a pet in their car, you should cancel the ride and request a new one. If you are charged a cancellation fee, Lyft will take care of it for you.
Does Lyft Have a Pet Service?
According to its website, Lyft does not provide a pet ridesharing service.
Since Lyft drivers are independent contractors, they each have the freedom to choose what kind of pets they're willing to transport. This means that not all Lyft drivers may be willing to transport your pet. If you're planning on using Lyft with your pet, we recommend messaging the driver ahead of time to confirm that they're comfortable with it.
What Is the Best Way to Get a Pet-Friendly Lyft?
There is no way to make a reservation for a pet-friendly Lyft ride at the moment. The best thing you can do is to let your driver know that you have a pet and see if they're okay with making the drive.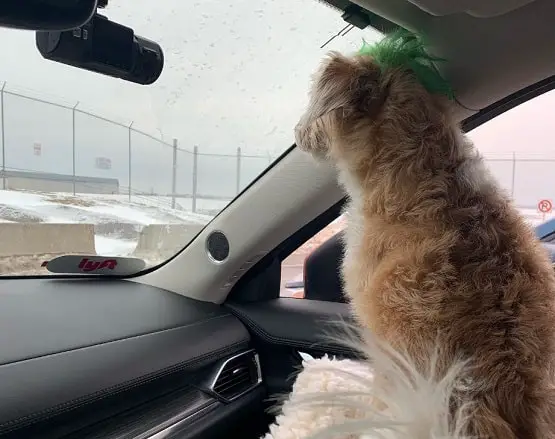 Photo from (IG) @harrysvcdog
The lack of this function is due to costs – pets can be messy and there would need to be an additional charge to cover the driver's expenses. 
Lyft hasn't yet implemented the infrastructure for this, but it is something they are working on. In the meantime, restrictions on pets will be set by individual drivers.
How Do I Let My Lyft Driver Know I Have a Dog?
Call the driver before pickup to let them know you have a pet. This is the best way to ensure that the driver is okay with having a pet in the car. 
If the driver decides not to do the pickup, the Lyft app will go about finding a new driver for you. 
Call your drivers as they are assigned to you so you can let them know what's going on until you find a driver that'll take your pet along with you.
We'll keep you posted as more and more places start to allow your furry friend:
Does Uber Allow Dogs? Is Uber Pet Friendly?
47 Pet Friendly Shopping Malls in the U.S.
Are Dogs Allowed In Mallsin the U.S.?
Conclusion. Does Lyft Allow Dogs?
Yes, you can bring your dog in the car with you when you use Lyft. You just need to let the driver know when you match with them, and see if they're okay with it. Make sure to tip them well if they do!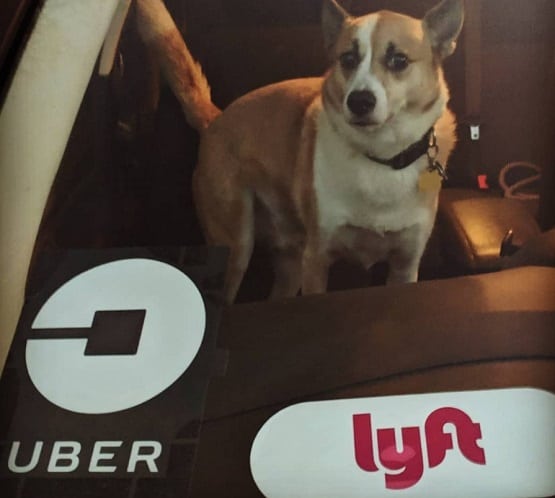 It's also important to keep in mind that not all Lyft vehicles are pet-friendly. While some cars may have plenty of room for your pet, others may not. We recommend bringing a pet carrier or crate that is small enough to fit in the passenger seat next to you, just in case.
Finally, remember that you are responsible for your pet while in the Lyft vehicle. This means you will need to take care of any accidents or messes that may occur. Lyft drivers are not required to clean up after your pet, so please be considerate and respectful.