Last updated on August 4th, 2022 at 08:24 pm
Are Dogs Allowed In Malls in the U.S.?
Are Dogs Allowed In Malls? Short answer: in general, most malls in the United States are not pet friendly shopping malls. However, there are some that do allow leashed dogs in certain areas.
Are Dogs Allowed In Malls in the U.S.? The answer to this question is not straightforward. We know you want your pup to get some decent exercise while getting a chance to socialize with the world. But, it'll depend on a variety of factors.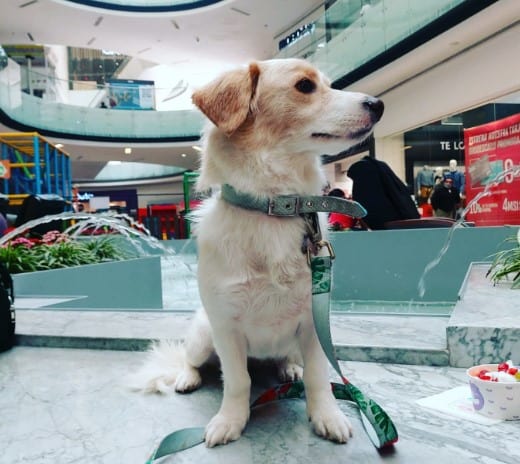 For instance, is the mall open-air or an enclosed one? More importantly, does the mall have a pet-friendly policy? Stuff like these will determine whether or not you can take your dog with you on your next shopping spree.
In general, most malls in the United States are not pet friendly shopping malls. However, there are some that do allow leashed dogs in certain areas.
For example, the Westminster Mall in Colorado allows shoppers to bring their dogs, as long as they remain on a leash and with their owner at all times. The SouthPark Mall in Charlotte, North Carolina also has a dog-friendly policy, allowing leashed dogs in common areas and outdoor spaces.
If you're not sure about a particular mall's policy, it's always best to call ahead or check their website before heading out. That way, you can avoid any potential problems and make sure that both you and your dog have a enjoyable shopping experience.
Open-Air Mall V. Enclosed Shopping Mall
At open-air malls, customers can enjoy the fresh air and even socialize with other people and their pets. These types of malls usually have several rows of stores arranged across a large outdoor area. 
Open-air malls typically allow dogs in the common areas, but it is unclear if they are allowed inside all of the stores. However, some stores at open-air malls may be pet-friendly and have a sticker or sign indicating this.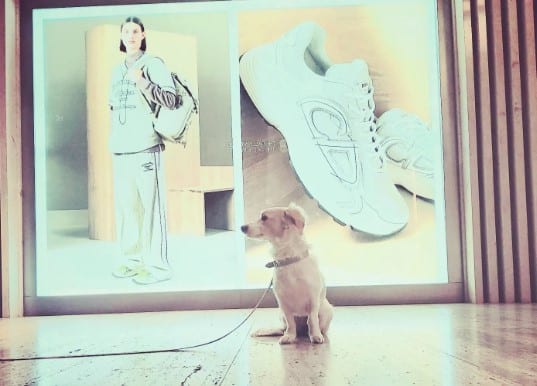 Enclosed malls are the traditional indoors malls that most people are familiar with. All of the stores and restaurants are located inside one large building. Enclosed malls do not typically allow pets, with the exception of service animals. 
This is because there are often many people in close quarters and not everyone is comfortable around animals. Allowing pets into an enclosed mall could also create a mess and disturbance for other shoppers.
What Is The Pet Policy At The Malls?
Some stores are dog-friendly, but most malls have a no-pets policy. If you're unsure of the policy at the mall you'll be shopping at, it's best to call ahead or check the store's website. Many stores will indicate their policy towards pets on their official website.
However, it's always best to double-check by calling ahead. Some retail stores leave the decision up to the local store manager. If you know which store you'll be shopping at, it's in your best interest to find out their policy before taking your pet with you.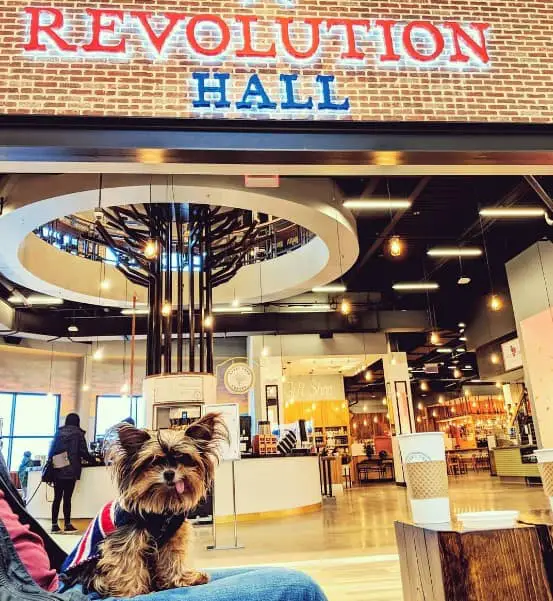 Will Your Dog Be a Good Match For The Mall?
When deciding whether or not to bring your dog to the shopping center, you'll need to consider both the type of shopping center and your dog's personality. 
If the store is heavily focused on selling groceries, they're likely not going to be open to having dogs inside. However, if the store sells home supplies or other items, they may be more open to allowing dogs. 
It's also important to consider your dog's size and personality when deciding whether or not to bring them into the shopping center. Smaller lap dogs or small dogs that can be carried in a bag or sling are usually more welcome than large, burly dogs that have the potential to scare customers or knock things over. 
Ultimately, it all depends on the store and its management.
Stay in the loop with us and we'll keep you updated on all places that allow your furry friend:
47 Pet Friendly Shopping Malls in the U.S.
Is Your Dog Prepared To Go Shopping With You?
When taking your dog shopping for the first time, it is important to keep in mind that they may be overwhelmed by all of the new sights, smells, and sounds.
It is important to start slowly and let them get used to their new surroundings before expecting them to behave perfectly.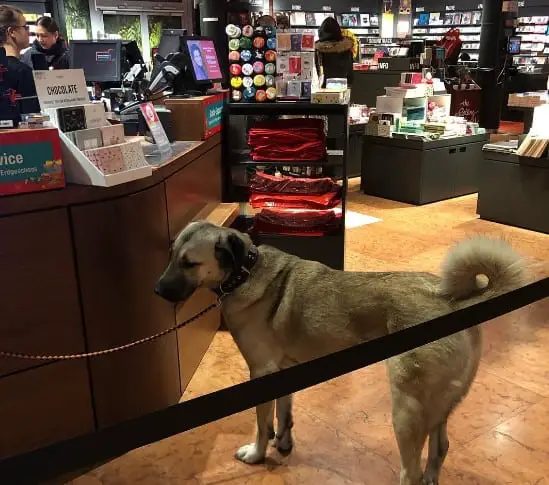 Potty-training and positive reinforcement training are key in helping your dog feel comfortable and adjust to their new surroundings.
If your dog lacks basic obedience skills or has not been properly socialized, it may be best to wait until they have reached a new level of self-confidence before taking them shopping. 
Taking things slow at first will help ensure that your dog has a positive experience and does not become overwhelmed or stressed.
Are Service Dogs Allowed In Malls in the US?
Yes, service dogs are allowed in malls in the United States. This is mandated by law. You can take your dog – if he's a service animal anywhere. Whether it's a food center or not. 
Malls are public places and therefore must abide by the Americans with Disabilities Act (ADA). The ADA is a civil rights law that prohibits discrimination against individuals with disabilities in all areas of public life, including jobs, schools, transportation, and all places that are open to the general public. 
As a matter of fact, the ADA requires that service animals be allowed in "all areas of public facilities and private businesses where members of the public, program participants, clients, customers, patrons, or invitees are allowed." 
The only time you'll be turned away with your service animal is when you're unable to get him under control when he's misbehaving. 
Another exception would be if the presence of the animal would fundamentally alter the nature of the business. For example, a service dog in a jewelry store may not be allowed if the dog could knock over and break merchandise. 
If you have any questions or concerns about bringing your service animal into a mall, you may want to contact the management of the specific mall ahead of time.
Mall staff cannot ask about your medical records or insist on seeing evidence or documentation of your dog's training or status as a service animal.   
The only two things that staff are allowed to inquire about are whether the animal is required because of a disability, and what task the animal has been trained to perform.  
Are Emotional Support Dogs Allowed In Malls in the US?
Emotional support dogs are not considered service animals under the Americans with Disabilities Act (ADA). This means that they are not allowed in places where pets are not typically allowed, such as malls. 
However, some state and local laws may provide exceptions for emotional support animals. For example, California's Unruh Civil Rights Act requires businesses to allow emotional support animals in all public places, even if they typically do not allow pets.
Even if a mall does not have a formal policy prohibiting emotional support animals, the individual stores within the mall may have their own policies. For example, some stores may allow service animals but not emotional support animals.
If you are denied access to a mall with your emotional support dog, you may be able to file a complaint with the Department of Justice or your state's Attorney General's office. 
However, it is important to note that the ADA only applies to service animals, not emotional support animals. Therefore, you may not be successful in filing a complaint if the mall does not have a policy specifically prohibiting emotional support animals.
What Should You Do If You're Taking Your Dog Shopping?
So, you know the mall you're taking your dog to is pet-friendly. What now? Here are a few pointers on how to shop with dog that you should remember.
Keep Your Dog On A Leash
Most dog-friendly stores in the US will require you to keep your dog on a leash that is no more than 6 feet long. This is to ensure the safety of both the dog and those around them. It is also important to try and keep the dog away from people who may be afraid of dogs, as this could cause an accident. 
If you have small dog, you may be able to carry them in a bag or sling instead of having them on a leash. However, it is always best to check with the store before doing this. 
Failure to keep your dog on a leash could result in you being asked to leave the premises.
Ensure That Your Dog Is Well-Fed
When bringing your dog to the mall, it is important to ensure that they are well-fed. A happy and satisfied dog is more likely to be well-behaved, meaning they are less likely to pull on their leash or attempt to stray. You may also want to bring along some treats as an additional means of keeping them compliant.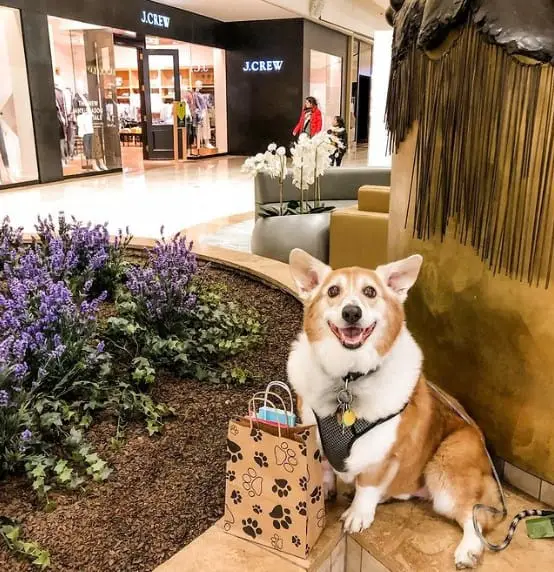 Clean After Dog
When taking your dog for shop, always be prepared to clean up after them in case of any accidents. This means having wipes and potty bags on hand in case of any messes.
 If your dog does have an accident while at the store, be sure to clean it up immediately. This will help avoid any potential issues with the store staff. 
Additionally, it is always a good idea to take your dog for a potty break before heading to the store, as this will help minimize the chances of an accident occurring.
Some Dog-Friendly Malls In The USA
Cottonwood Mall
Cottonwood mall has 135 businesses. Not all of them are pet-friendly stores. However, the majority are. All establishments that welcome well behaved dogs will display a door sign to that effect. Keep an eye out for them.
The Mall at Short Hills
In the mall, you can take dog for a walk in the common areas as long as he's in a pet carrier. If your dog isn't a service animal, he or she is not permitted in any of the mall's food establishments. That indicates that the mall is only suitable for tiny dogs. Individual stores at the mall, on the other hand, have the freedom to set their own policies regarding pets.
Westfield Garden State Plaza
The mall has a dog-friendly policy as long as the animal is on a leash and you clean up after them. You can find relief stations for your dog throughout the property, so your furry friend will never be too far from a potty break.
King of Prussia Mall
The King of Prussia Mall is one of the largest malls on the East Coast, and it's also one of the most dog-friendly stores. Pets are welcome in the common areas as long as they're on a leash, and there are even water bowls scattered throughout the property to keep your four-legged friend hydrated.
Downtown Summerlin
There are a lot of places that allow dogs inside. The mall is very pet-friendly. There are also five pet water fountains, as well as doggie bag dispensers scattered across the public areas, at the park. You must keep your dog on a leash at all times, though.
Bell Tower Shops
Bell Tower Shops is an open-air mall that's very welcoming of dogs as long as they are on a leash or in a carrier. They expect that you keep your dog under control at all times when shopping. This shopping center is one of the dog-friendly stores. All in all, it's a great place to bring your furry friend while you shop for groceries or clothes, or go shopping with your dog at the pet store.
Yorktown Center
Your dog can come to Yorktown Center , whether it's a breed or not. 189 businesses are located here. 58 of them will allow your pet inside. The paw print decals in front of the business' windows may be used to distinguish them. However, it is critical that your dog remains leashed at all times.
Stony Point Fashion Park
Stony Point Fashion Park is the perfect place to bring your dog for a day of shopping. With stores and common areas that are pet-friendly, you and your pup can browse and shop to your heart's content. And when you need a break, head over to the dog park for some fetch and socializing. There are also comfort stations throughout the park for easy cleanup.
After a day of shopping, relax in Bon Air, a historic Victorian village that has been newly renovated historic home. This home away from home has a fenced backyard and rocking chairs on the front porch – perfect for unwinding after a long day.
Final Thoughts
Despite what you may have heard, you can indeed take your dog to the mall in the United States. However, it is important to remember that each mall has its own policies regarding pets. Not every shopping center is dog friendly.
Furthermore, even if a mall is pet-friendly, there may be individual stores within the mall that do not allow animals. 
Before heading to the mall with your dog, be sure to do your research and check the policies of both the mall and any stores you plan on visiting. This will help ensure a smooth and enjoyable shopping experience for both you and your dog.