Last updated on April 27th, 2023 at 03:07 pm
Does HEB Allow Dogs Inside? Is HEB Pet Friendly? Pet Policy 2023 Guide
Does HEB Allow Dogs? Short Answer: no, HEB does not allow dogs in their stores, with the exception of service animals. Emotional support animals and pet dogs are not allowed inside the store, regardless of their behavior. 
Because of the rules set by the federal and local governments, such as the FDA (Food and Drug Administration), grocery stores cannot allow dogs inside and are not dog friendly. Dogs that are working service animals, as defined by the Americans with Disabilities Act (ADA), are allowed inside HEB stores.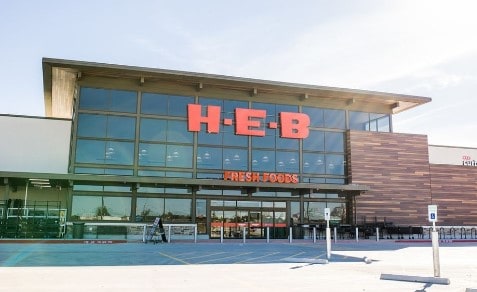 The following is a summary of HEB pet policy in their grocery stores.
Is HEB Pet Friendly?
No, HEB stores are not dog-friendly, meaning that pets are not allowed inside the store. However, there have been some reports of people being able to bring their dogs into HEB stores. This is likely because employees may make exceptions on a case-by-case basis depending on the situation. 
If you're considering bringing your dog into an HEB store, it's best to call ahead and speak to a manager to see if they would be willing to make an exception. 
Generally speaking, though, HEB are not pet-friendly and pets are not allowed inside.
Which stores allow dogs? You might be surprised at the answer:
Is BJ's Wholesale Club Pet Friendly?
Are Dogs Allowed In HEB?
So, are dogs allowed in HEB? No, dogs are not allowed inside HEB stores. However, if your dog is a service animal as defined by the ADA, you will be able to bring your dog inside. The dog must be well-trained and should not create any problems for other shoppers.
What Is Official HEB Dog Policy
The official HEB pet policy is that no dogs are allowed in the store, with the exception of service animals, what complies with the Americans with Disabilities Act. This policy is in place for the safety of customers and employees. Unfortunately, this means that emotional support or companion animals are not allowed.
In 2019, HEB publicly announced their position on dogs in their stores via Twitter: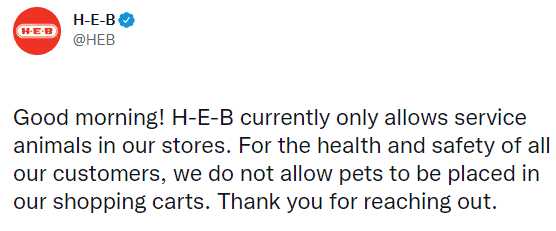 Does HEB Dog Policy Vary By Location?
According to the official HEB Twitter, the company's pet policy does not vary by location.
However, from reading online reviews, it seems on whether or not dogs are allowed inside HEB stores appears to depend on the store location. While the official HEB dog-policy is that no pets are allowed inside, some stores seem to allow dogs anyway. 
We'll keep you updated with the latest news about places that allow your furry friend:
Does Buc-ee's Allow Dogs Inside?
Does Rite Aid Allow Dogs Inside?
It is against the law to bring pets into public areas where food is sold, so it is best not to bring your dog into an HEB store unless it is a service animal.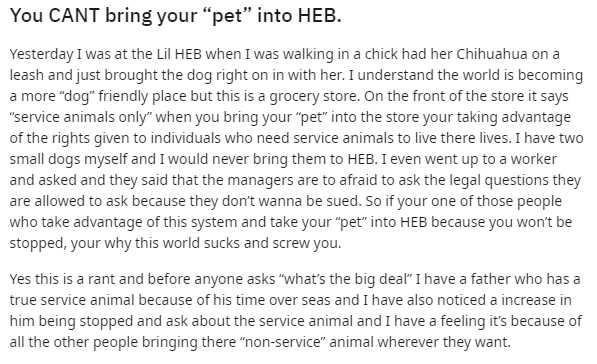 Why Does HEB Not Allow Pets?
Dogs are not allowed in HEB stores because they can carry bacteria and diseases that could be harmful to people. These store policy complies with FDA Food Service Codes, which state that no animals should be present in any business that sells or prepares food. 
Customers and workers may be disturbed by the loud barks and active behavior of dogs.
Despite some people may find it inconvenient, HEB does not allow pets in their store with the exception of service dogs. This is to maintain a safe and healthy environment for both customers and employees, as well as preventing contamination of food areas.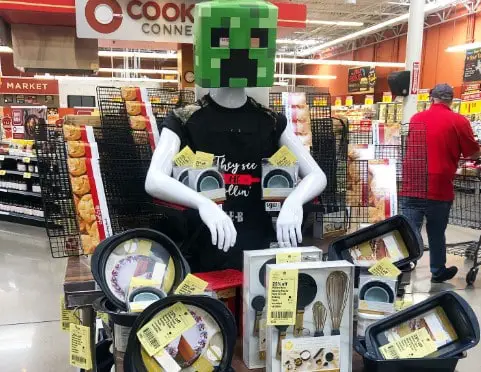 What Are Service Dog and Emotional Support Animals?
What is the difference between an emotional support animal (ESA) and a service animal? There are several important differences between emotional support animals (ESAs) and service animals:
The first thing to consider is that service dogs are trained to perform particular tasks or work for their disabled handler, whereas an ESA does not need any special training;
Service dogs are not only allowed into public spaces with their handlers with the Americans with Disabilities Act (ADA) in effect, but they are also treated as service animals and are thus protected by it. An ESA is not covered under the ADA and is thus unable to visit certain public places because of this;
Finally, in order to complete their tasks or work effectively, a service dog must have a solid bond with their handler and be well-behaved, whereas an ESA is not required to have such a strong connection or behave properly in order to give emotional support to its owner.
An emotional support animal is a companion that provides emotional and social support to its owner. While companionship and emotional support are both available from ESAs and service animals, it's worth noting that they are two different kinds of animals with distinct responsibilities.
If you plan on taking your service dog to a HEB store, please be sure to keep them leashed at all times and clean up any messes they make.
Does HEB Allow Service Animals?
Yes, service dogs are permitted in HEB thanks to the Americans with Disabilities Act, as long as they are properly trained. This pet policy is meant to guarantee the safety and comfort of all shoppers. Service dogs must always be under their handler's control, and handlers must be prepared to clean up any messes that occur.
Stay in the loop with us and we'll keep you updated on all places that allow your furry friend:
Does Sprouts Allow Dogs Inside?
Does Costco Allow Dogs & How Dog-Friendly Is it?
Are All Service Animals Allowed In HEB?
Yes. Only well-trained service dogs are allowed inside HEB stores. Service dogs are trained to carry out a variety of activities for persons with any sort of disability, whether mental or physical. As a result, there do not consider service animals to be pets. They are assisting creatures that assist their owners in leading more autonomous lives.
The Americans with Disabilities Act (ADA) protects people who use service animals in public places. This implies that, as long as the animal is performing correctly, HEB employees are not permitted to reject someone with a service animal or their assistance animal. If an animal becomes unruly or poses a safety risk, it may be asked to leave the store.
Here's what HEB writes about service animals:
"Welcoming service animals is one of the many ways HEB show that we are a store for all. We hope this policy creates an environment where everyone feels comfortable and included when they visit our stores."
What Are The Service Dog Rules At HEB?
HEB has strict rules in place for clients who want to take their service animal into its stores, much like any other business.
At all times, the handler must maintain control of the service animal;
The dog must always be tethered, whether by a leash, rope, or harness (unless the handler is unable to use the harness or leash because of a disability and the restraint would impede the animal's service to the handler);
If the handler is unable to use restraints, he or she must use signals or voice commands to control the dog;
HEB will request that you leave the animal outside of the store if it is a danger to others' health or safety, or if it is uncontrollable;
If an animal is a problem and has to be eliminated, a shopping assistant may be given to the shopper if they request it, allowing them to continue their store at HEB.
Check out the posts where we check which retailers have a compassionate approach:
Does Target allow dogs? Is Target Dog-Friendly?
Are Dogs Allowed In Whole Foods Market?
Are Dogs Allowed In Publix? Is Publix Pet Friendly?
Does HEB Ask If Your Dog Is A Service Dog? Do You Need To Show Service Dog Documents In HEB?
According to the Americans with Disabilities Act, HEB employees are entitled to inquire about the animal's status as a service dog. ADA – rules designed to guarantee that health and safety standards are followed. Employees may also ask about the service dog's skills or responsibilities.
However, they are not permitted to ask for any other proof of disability.
How To Identify a Fake Service Dog
There are several methods for determining whether a dog is a service animal or not. It's doubtful that a service animal would steal food from the shelves, pounce on people, or snuffle through everything.
A lack of training and control, an inability to tolerate distractions, or a poor temperament may indicate that the dog is not a service animal. Signals include growling at people, tugging on the leash, riding in shopping carts, and urinating or defecating in shops.
If you see a service dog that isn't behaving appropriately, you can report it to HEB's customer service desk.
Are Emotional Support Dogs Allowed In HEB?
HEB has a pet policy in place that does not allow emotional support dogs into their stores. The major problem with emotional support dogs is that they are not covered by the Americans With Disabilities Act, which means they do not have the same legal protections as service dogs.
The need for emotional support dogs is controversial, and this policy was implemented to avoid breaking any laws. However, this pet policy may prevent some individuals who truly require an emotional support dog from getting the help they require.
Exploring HEB's Range of Dog Products: A Guide for Pet Owners
Does HEB sell dog products? HEB does offer a variety of dog products that pet owners may find useful. Here are some of the most common types of dog products available at HEB:
Dog Food: HEB has a wide selection of dog food, including dry food, wet food, and even frozen food. They carry popular brands such as Purina, Pedigree, and Hill's Science Diet, as well as their own brand, HEBuddy.
Treats and Chews: HEB also offers a range of dog treats and chews, including dental chews, rawhide, and jerky treats. They have options for all types of dogs, including those with sensitive stomachs or allergies.
Toys and Accessories: HEB has a variety of toys and accessories for dogs, including plush toys, chew toys, and fetch toys. They also have leashes, collars, and harnesses available in different sizes and styles.
Grooming Supplies: For pet owners who prefer to groom their dogs at home, HEB offers a range of grooming supplies such as shampoos, brushes, and nail clippers. They also have pet wipes and deodorizers to help keep dogs clean and smelling fresh.
Health and Wellness Products: HEB carries products to support your dog's health and wellness, including flea and tick prevention, joint supplements, and calming aids.
HEB offers a wide range of dog products to cater to the needs of pet owners. Whether it's food, toys, grooming supplies, or health and wellness products, HEB has options for dogs of all sizes and ages.
FAQ
Does HEB have any outdoor areas where pets are allowed?
HEB may have outdoor areas in some locations where pets are allowed, but it's best to check with the specific store before bringing your pet.
What are the consequences of bringing a pet to HEB?
Bringing a pet to HEB, aside from a service animal, can result in being asked to leave the store. Additionally, it can create an uncomfortable environment for other customers who may have allergies or fear of animals.
What should I do if I see someone with a pet in HEB?
If you see someone with a pet in HEB, other than a service animal, you can inform a store employee or manager. They will take appropriate action to ensure that the store policy is upheld.
Are there any exceptions to HEB's pet policy?
HEB's policy is generally strict when it comes to pets, but exceptions may be made for certain events or activities hosted by the store. However, it's best to check with the store directly to confirm their policy regarding pets.
Does HEB Allow Pets In Strollers?
It's usually a good idea to inquire about the store's own policy on stroller-bound dogs. Some stores may prohibit dogs in strollers for safety concerns, owing to the ease with which they can be overturned. It is always courteous to inquire before bringing your pet inside the shop.
Can You Put A Dog In Your Shopping Cart At HEB?
No, you can not put a dog in your shopping cart. Shopping carts should only be used to convey goods and other objects. As a result, transporting a dog or any other animal is not allowed. If an HEB employee sees you carrying your dog in a shopping cart, you will most likely be asked to leave the store.
Customers have stated seeing pets and dogs riding in HEB shopping carts. This, however, is illegal (according to FDA regulations).
Can Service Dogs Sit In Shopping Carts At HEB?
At HEB, service dogs are not permitted to sit in shopping carts or be within baskets. This rule has always been in effect. The restriction is intended to protect consumers against food-borne illness by keeping the animals off of the products. It's difficult to find an exemption to the norm.
Conclusion. Are Dogs Allowed In HEB?
The official pet policy of HEB is that dogs are not permitted… Some stores, though, may appear to be more permissive. It is ultimately up to the store manager to enforce corporate policy. This is why there are people who do and will bring their dogs into specific HEB locations.