Last updated on July 4th, 2022 at 03:23 pm
200 Unique Dog Names
On Dogfriendlyareas, we have a database of over a million dogs' names. We compiled this list of unique dog names for all genders from that data. Some of the inspirations for these unique names include celebrities, Harry Potter references, world travel, and sci-fi sidekicks. Have fun!
Most Popular Unique Dog Names 2022
The dog names listed below are unique because they are at the bottom of Dogfriendlyareas top 1000 dog names list. If you're looking for a one-of-a-kind puppy name, you'll find it among these options.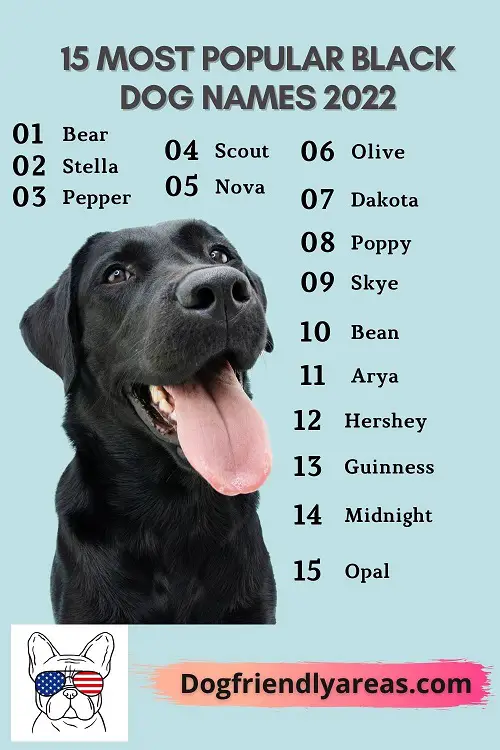 Top 117+ Male Dog Names
Charlie holds on to second place for another year, while Max reclaims the top spot for male dog names again in 2022. This year, Charlie has reclaimed second place, while Milo advanced up one position from fifth last year. Buddy is maintaining his fourth position, while Rocky jumped up five places from seventh last year to reach the top five in 2022.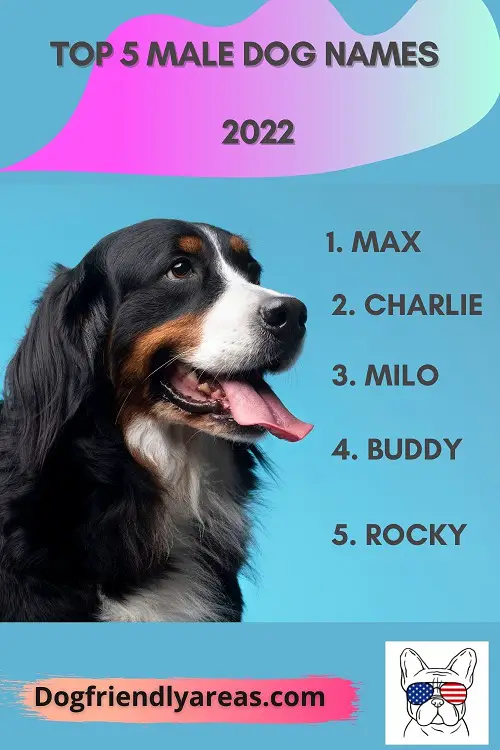 Here is a complete list of the most popular male names for dogs:
Ace
Alfie
Archie
Bandit
Barkley
Bailey
Bear
Beast
Bentley
Benny
Blaze
Bomber
Boomer
Bowie
Brutus
Bruno
Buddy
Cairo
Cash
Charlie
Chester
Chico
Champ
Chance
Copper
Coco
Dallas
Diesel
Digger
Duke
Dusty
Elvis
Flash
Fenton
Finn
Ghost
Grady
Gunner
Hank
Harley
Harry
Henry
Homer
Hunter
Indy
George
Gizmo
Jack
Jasper
Jax
Jedi
Kaiser
Kodiak
Lafeyette
Leo
Major
Maverick
Memphis
Milo
Montgomery
Murphy
Marley
Maximus
Merlin
Moses
Mulder
Ollie
Otto
Oden
Odin
Orion
Ozzie
Phoenix
Poppy
Patton
Pickles
Ranger
Remy
Ren
Rio
Ripley
Rhett
Riley
River
Romeo
Rowdy
Ryder
Reggie
Rocky
Roscoe
Rudy
Rufus
Rupert
Sawyer
Scout
Sebastian
Simon
Sniper
Soldier
Steinbeck
Stone
Shadow
Shelby
Sherlock
Snoopy
Solo
Spirit
Tank
Teddy
Thor
Tucker
Tyson
Yogi
Vader
Valor
Winston
Ziggy
Zeus
Top 69+ Female Dog Names
For the fifth year in a row, Bella takes first place among female dog names. Luna, Lucy, and Daisy follow suit. Zoe made its debut on the top five this year, replacing Jacko that didn't even make the top ten last year.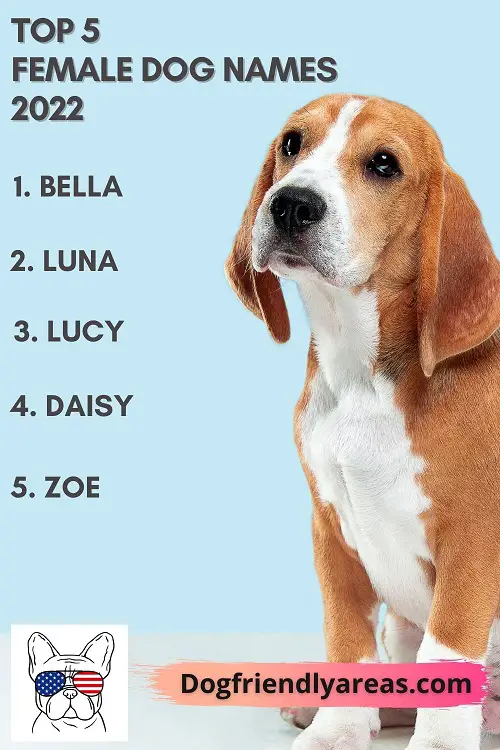 Here is a complete list of the most popular female names for dogs:
Abby
Angel
Anna
Astrid
Athena
Baby
Bambi
Beautiful
Bella
Belle
Buttercup
Candy
Carrie
Callie
Cali
Cleo
Claire
Cleopatra
Coco
Darla
Dixie
Ginger
Harley
Heidi
Khloe
Lacie
Lacey
Layla
Leia
Lena
Lexi
Lily
Lola
Lulu
Luna
Lynda
Macie
Madison
Maggie
Mia
Millie
Missy
Molly
Nala
Natalie
Nikki
Paisley
Paris
Patches
Peanut
Pepper
Phoebe
Precious
Princess
Pumpkin
Riley
Rosie
Ruby
Ruthie
Sadie
Sandy
Sally
Sammy
Sasha
Scout
Stella
Sugar
Tinkerbell
Zoey
Queenie
Best Black Dog Names
Black dogs, from the conventional black Lab to the beautiful great Dane, the schnauzer, the Portuguese water dog, or any lovable mixed-breed dog with black fur genes, are a unique breed. How do you choose a fantastic name for your new black dog? Consider size, appearance, and personality. This list includes alternatives that will make your dog feel like royalty.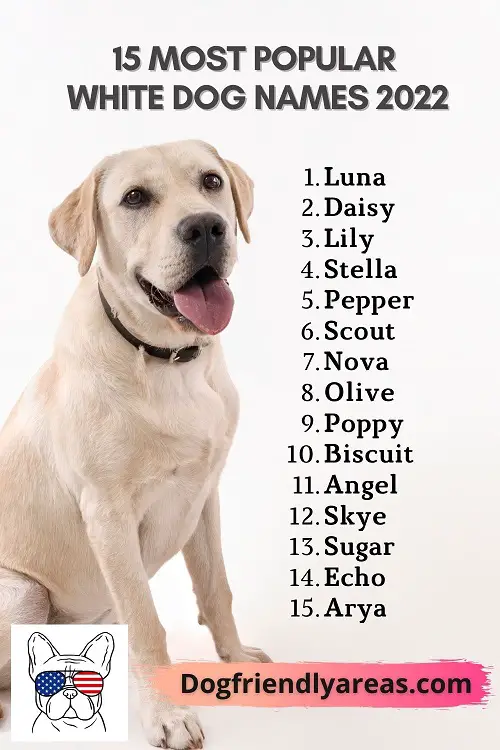 Ace
Ash
Batman
Bear
Binx
Blackjack
Blade
Bolo
Brady
Bruno
Buzz
Cayenne
Chance
Charcoal
Comet
Cooper
Crow
Damon
Darth Vader
Domino
Dracula
Ebony
Electra
Emerson
Fang
Ghost
Gizmo
Gunner
Harley Quinn
Hercules
Inky
Jet
Jett
Knight
Licorice
Midnight
MobyDick
Onyx
Oreo
Pepper
Phantom
Pitch Black Radar
Raven
Rebel
Rocky
Scar
Shadow
Shady
Sith Lord
Smoke
Sniper
Solo
Stealth
Stone
Storm
Thor
Toxic
Vader
Venom
Voodoo
Wicked
Zorro
Best Brown Dog Names
From the chocolate brown Labrador to the golden retriever, brown dogs come in all shapes and sizes. How do you choose a good name for your new brown dog? Consider size, appearance, and personality. This list includes alternatives that will make your dog feel special.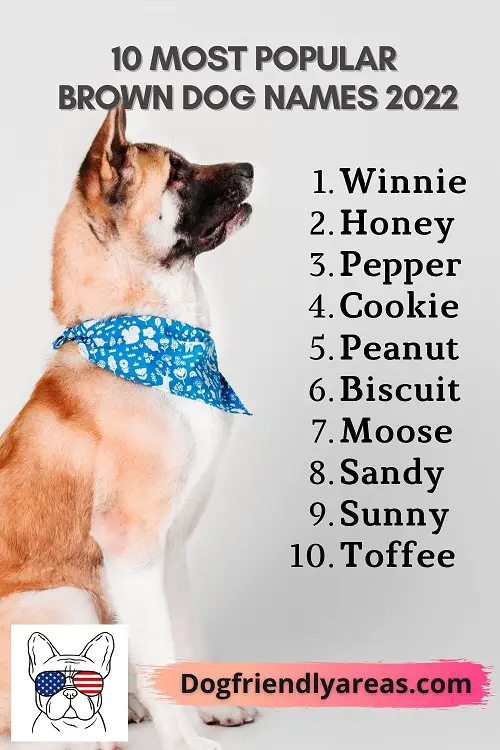 Abe
Almond
Amaretto
Autum
Bambi
Bandit
Beau
Biscuit
Brownie
Bruno
Cappuccino
Caramel
Chestnut
Cinnamon
Coconut
Cognac
Colby
Cookies 'n' Cream
Corky
Dakota
Deer
Hunter
Drifter
Earl
Fawn
Goldie
Goliath
Grizzly
Hazel
Hershey
Honey
Kahlua
Kodiak
Latte
Leatherneck
Macaroon
Mackenzie
Maple
Marron
Mocha
Monsoon
Mojo
Murphy
Nutella
Rocky
Rolo
Sable
Samoa
Scout
Sepia
Smoke
Spirit
Tan
Tawny
Timber
Toast
Twix
Whisky
Zeus