Does IKEA Allow Dogs Inside? Is IKEA Pet Friendly? Pet Policy
Does IKEA Allow Dogs? Short Answer: no, dogs are not permitted in IKEA stores unless they are service animals. Emotional support and pet dogs are not welcome inside the store, regardless of their behavior.
IKEA is one of the most well-known retailers for furniture and house accessories, with shops all around the world. If you own a dog and want to go to your local IKEA store with him, you might need to know their pet rules.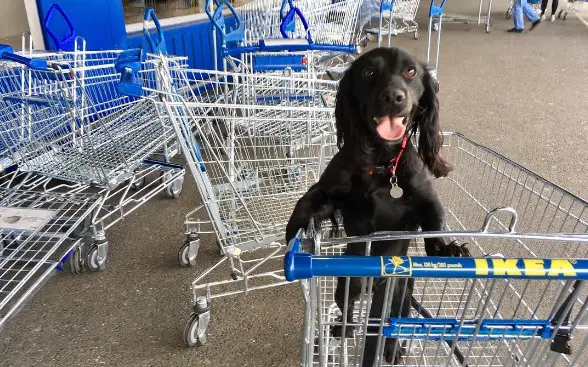 Does IKEA Allow Dogs?  
No, dogs are not permitted in IKEA stores unless they are service animals. Emotional support and pet dogs are not welcome inside the store, regardless of their behavior. Service animals alone are an exception to the rule.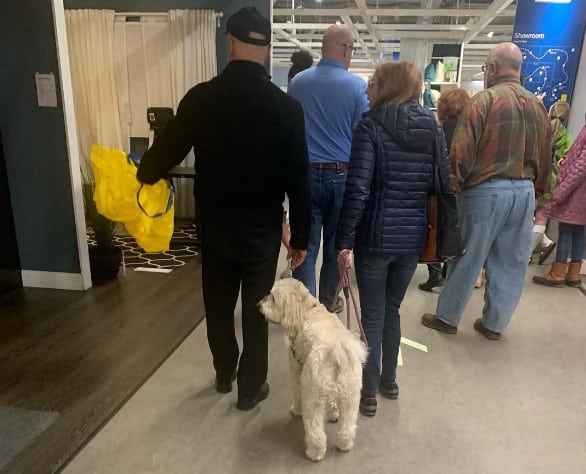 Is IKEA Pet Friendly?
IKEA US is not considered very pet-friendly from a dog owner's perspective, as according to their pet policy only service dogs are allowed on their property. IKEA is a store that values the safety and enjoyment of its customers, which is why it has such a stringent pet policy.
Some IKEA customers may be allergic to dogs, according to the company's management. Even the hair or paws of a washed dog may still contain chemicals that can cause allergies and sickness in people if they come into contact with them.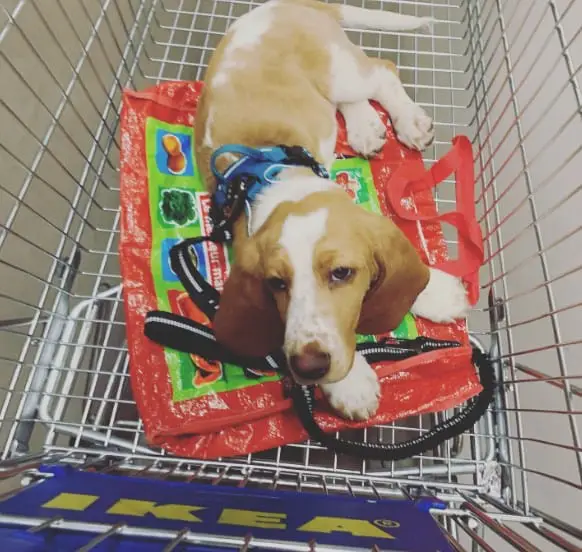 Another factor behind IKEA's ban on pets is that some consumers, especially tiny children, are afraid of dogs. In general, IKEA is not a very dog-friendly place.
IKEA Pet Policy
There are several reasons why IKEA has a no-dogs policy. To begin with, the safety of both consumers and workers is critical to the company.It's possible that allowing dogs inside the business will result in a dog bite or other dog-related injury.
Another reason why IKEA doesn't allow dogs is because they can be a distraction to shoppers. Dogs can be disruptive when they bark or jump up on people, and this can ruin the shopping experience for other customers.
Lastly, IKEA's no-dogs policy helps to keep the store clean and free of pet hair. Dogs shed, and their hair can end up all over the place – on furniture, in the bedding department, and even in the food court. Allowing dogs into the store would mean extra work for IKEA's cleaning staff.
IKEA does not allow dogs in order to comply with FDA Food Service Codes. These codes require that no live animals be allowed access to any business that sells or serves food.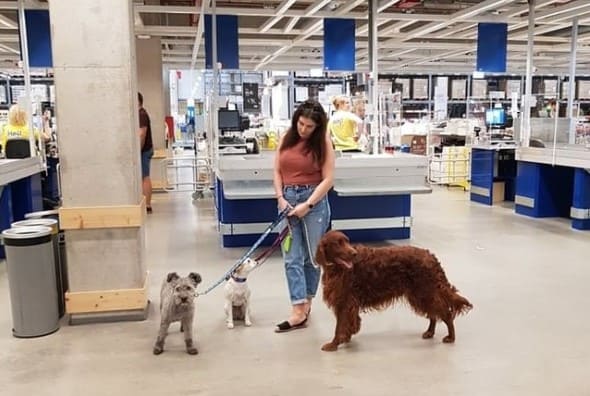 The reasoning behind this is that, as much as we love our furry friends, they can pose a serious threat to public health and safety. Dogs can carry all sorts of bacteria and diseases that can be transferred to humans, and no one wants to take that risk.
So there you have it – three good reasons why IKEA doesn't allow dogs in their stores. Safety, distraction, and cleanliness are all important factors that contribute to the company's no-dogs policy. 
They also want to create a comfortable environment or all shoppers, and not everyone is comfortable around dogs. Allowing pet dogs into the store would not be fair to those who do not want to be around them. 
Check out the posts where we check which retailers have a compassionate approach:
Does Floor & Decor Allow Dogs In Store?
Does Big Lots Allow Dogs Inside?
What Animals are Allowed in IKEA Stores?
IKEA does not allow any animals in their stores, with the exception of service dogs and service animals. This means that pet animals and emotional support dogs are not allowed at IKEA stores. The reason behind this is that emotional support animals are only therapeutic, and they do not assist shoppers in any practical way.
All are Types of Service Dogs Allowed in IKEA?
Yes. IKEA only permits well-trained service dogs to enter their locations. Service dogs are trained to perform a variety of tasks for persons with any sort of disability, whether mental or physical. As a result, we do not consider service animals to be pets. They are helpers that assist their owners in leading more self-sufficient lifestyles.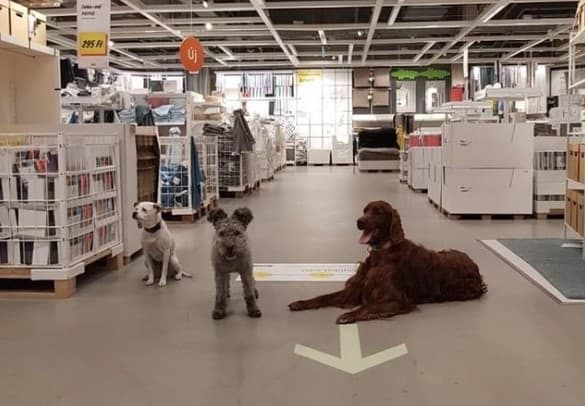 The Americans with Disabilities Act (ADA) protects the rights of those who utilize service animals in public areas. This means that IKEA staff members cannot deny entry to someone and their service animal, so long as the animal is acting appropriately. In very rare cases, however, an animal may be asked to leave if it becomes disruptive or poses a safety hazard.
Which stores allow dogs? You might be surprised at the answer:
Does Container Store Allow Dogs Inside?
Is Bed Bath & Beyond Pet Friendly?
Do You Need To Show Service Dog Documents In IKEA Stores?
If you're planning on taking your service dog to IKEA stores, you might be wondering if you need to show any documentation. The short answer is that while it's not required, it's always best to have your Service Dog Certification with you just in case.
Some store employees may not be familiar with the laws surrounding service animals, and having the documentation on hand will help to ensure that you and your dog are treated fairly. So while it's not technically required, we recommend always carrying your Service Dog Certification with you when you're out and about with your service dog.
Are Emotional Support Dogs Allowed in IKEA?
No, emotional support animals are not allowed in IKEA stores. Some people do have emotional support animals and consider them the same as service dogs, but these dogs aren't recognized as service dogs under ADA (Americans with Disability Act). If you need assistance while shopping at IKEA stores, we recommend bringing a human friend or family member with you.
What are Dog Parking Spots in IKEA? Can You Leave Your Dog Outside An IKEA?
IKEA's "dog parking spot" is a designated area for shoppers to leave their furry friends while they shop. The spot includes astroturf beds, water bowls, and shades to protect dogs from the sun or train. For small dogs, there are even kennels where they can nap.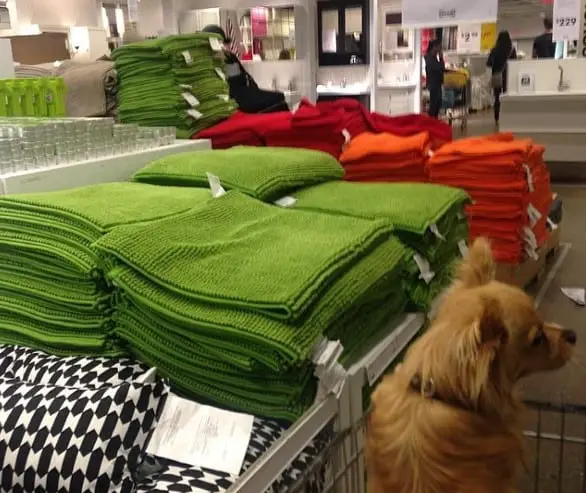 The parking spot is a fantastic concept since dog-owners may shop without having to worry about their dogs, and IKEA gets to provide a secure and enjoyable environment for everyone.So next time you're at IKEA, be sure to take advantage of the dog parking spot! Your pet dog will thank you.
Does IKEA's pet policy change depending on the store's location?
Yes, IKEA's dog policy varies in each country. Unfortunately, IKEA U.S, IKEA Canada, and IKEA Australia seem to strictly abide by the rules; they do not allow dogs unless they are Certified Service Animals. In a nutshell, if you live in the United States, you are only permitted to bring your service dog into a IKEA store with you.
In the local IKEA UK, pet policy is more flexible. You may take your dog with you into the shop if he or she is little enough to fit into your purse, which is a good idea.Outside the IKEA store, there are special park areas where your dog may wait for you in some local IKEA stores like as IKEA Germany and IKEA Switzerland.
Will IKEA Ever Go Pet Friendly?
Only time will tell if IKEA changes its policies to become more pet-friendly. In the meantime, pet owners and dog owners will need to find other places to shop with their furry friends. Let's hope that IKEA sees the value in becoming more inclusive for all shoppers!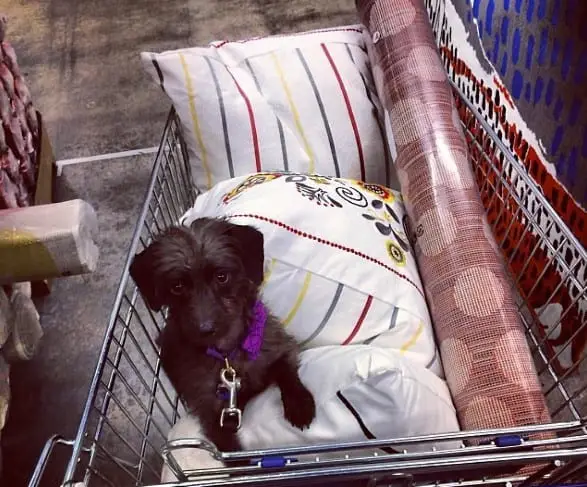 FAQ
What Should I do if I See a Dog in IKEA Store?
Please do not approach or try to pet a dog that you see in an IKEA store. Instead, notify the nearest employee, and they will be pleased to assist.
While IKEA Does Not Officially Allow Dogs
 It appears that IKEA's no-dog policy is not strictly adhered to in all regions. In fact, numerous consumers have informed me that they've seen clients with pet dogs at their local IKEA locations! Dog owners might be relieved by this news.
However, if you were hoping to take your dog along on your next trip to IKEA, keep in mind that the store's official policy is that pets are not permitted. It's likely that many stores will be firm about enforcing this rule.
Conclusion
IKEA's policy towards pets is definitely something to take into consideration when traveling with your furry friend. Be sure to check the policy of the specific country's store before bringing your dog along. Who knows, you may even get to enjoy a little shopping while your pet dog waits patiently outside!
Do you think IKEA should become more pet friendly? Share your thoughts in the comments below!